Trump's stealth attack on Obama's legacy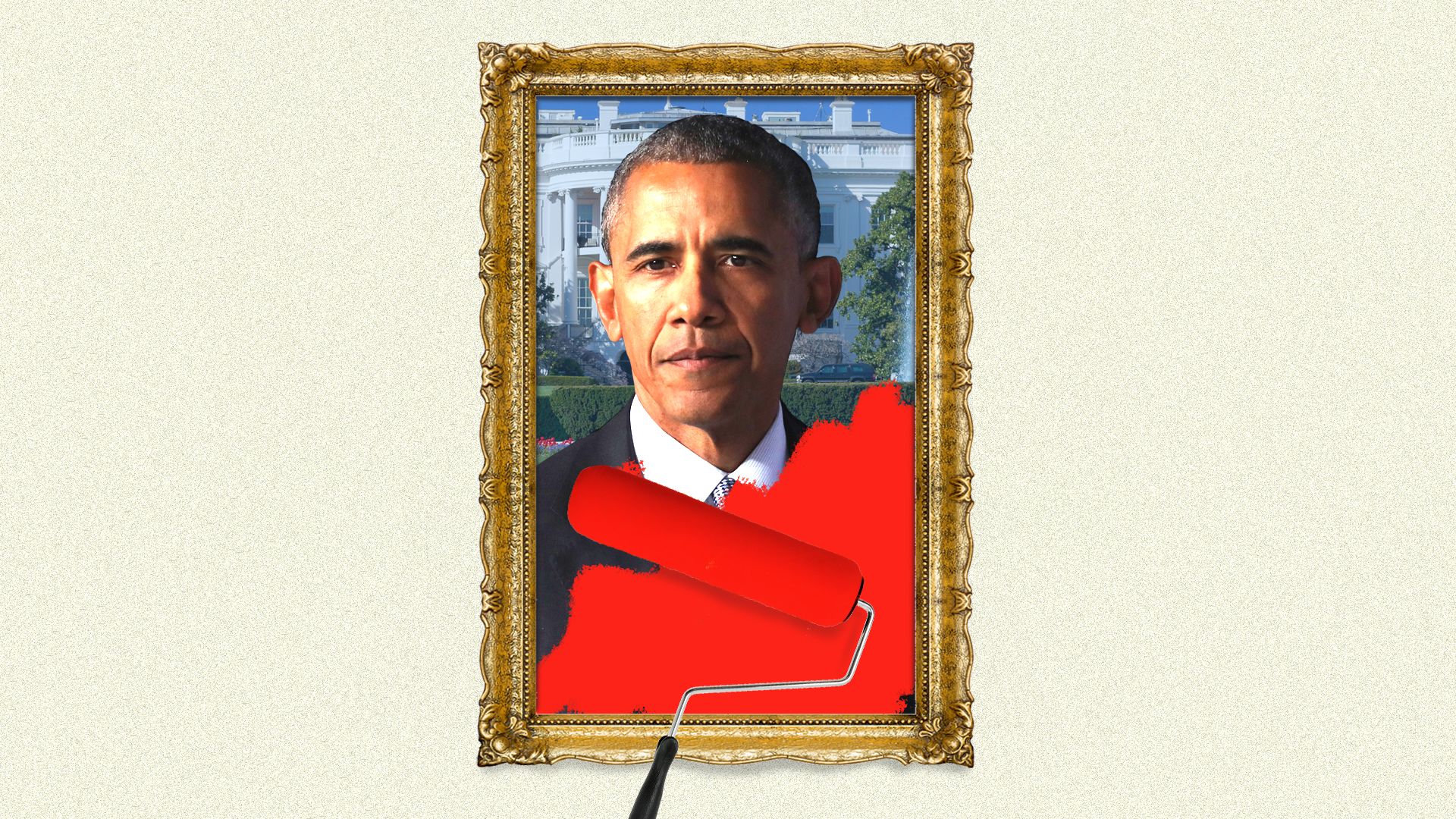 While many of us have been distracted by Rudy Giuliani's latest legal theories — and President Trump's latest tweets — the Trump administration is making two big moves that will get him closer to his goal of erasing President Obama's biggest policies.
What's happening: The administration is allowing the sale of health insurance plans that undermine some of the main rules of the Affordable Care Act. And today, it will freeze federal fuel efficiency standards, undermining Obama's goal of making them progressively tougher.
Why it matters: This is being done through rulemaking, which gets the attention of health care and environmental reporters, yet flies under the radar of the cable news networks. These moves have huge, long-term consequences — and they show how easily Trump can achieve his policy goals while the TV cameras are focused on the outrage of the day.
"The President's daily feeding of the outrage machine allows us to get work done on the agency level that would invite much more scrutiny in a 'normal' administration," a former senior Health and Human Services official tells Swan.
"Cable news anchors spend hours and hours of airtime dissecting the latest Trump tweet, yet they barely notice when we achieve long-sought conservative policy goals" — like adding work requirements to Medicaid and stripping federal funds from Planned Parenthood.
The details on the fuel rollback, from energy columnist Amy Harder:
The proposal includes a range of options, but the administration's preferred one is the most aggressive: Freezing the standards at 35 miles per gallon in 2020 for six years, instead of rising to 50 mpg under Obama's plan.
It would also revoke a federal waiver California has to issue tougher standards, which a dozen states also follow. The rollback goes further than most automakers have said they want.
Between the lines: Early in Trump's administration, business urged him to slow down on deregulating, stressing that narrow regulation is better than none in a changing political climate. Today's announcement is one of the starkest signs that Trump is throwing that advice out the window — and inviting lawsuits and regulatory uncertainty.
The details on the health care rule, from health care editor Sam Baker:
HHS finalized new rules yesterday that expand access to inexpensive, bare-bones insurance plans that don't have to comply with the rest of the ACA's rules. They're technically "short-term" plans, but they can be renewed for up to three years.
This isn't the only swipe the Trump administration has taken against Obama's health care law since the repeal effort failed:
The administration has also expanded access to other forms of non-ACA coverage.
Plus, it has slashed the budgets for programs that promote enrollment.
Congressional Republicans nullified the law's individual mandate, and now the Justice Department is using that move to try to knock out pre-existing condition protections.
None of those cuts are fatal in isolation. But they're not happening that way: Each one will pull a few more healthy people out of the ACA's insurance markets.
The bottom line: There's a lot that the agencies can do to wipe out Obama's legacy on their own — and they're making full use of the space that Trump's rhetorical battles are giving them.
Go deeper: What Trump's latest changes mean for the ACA.
Go deeper