Uncertainty looms for 4 million left off a citizen list in Assam, India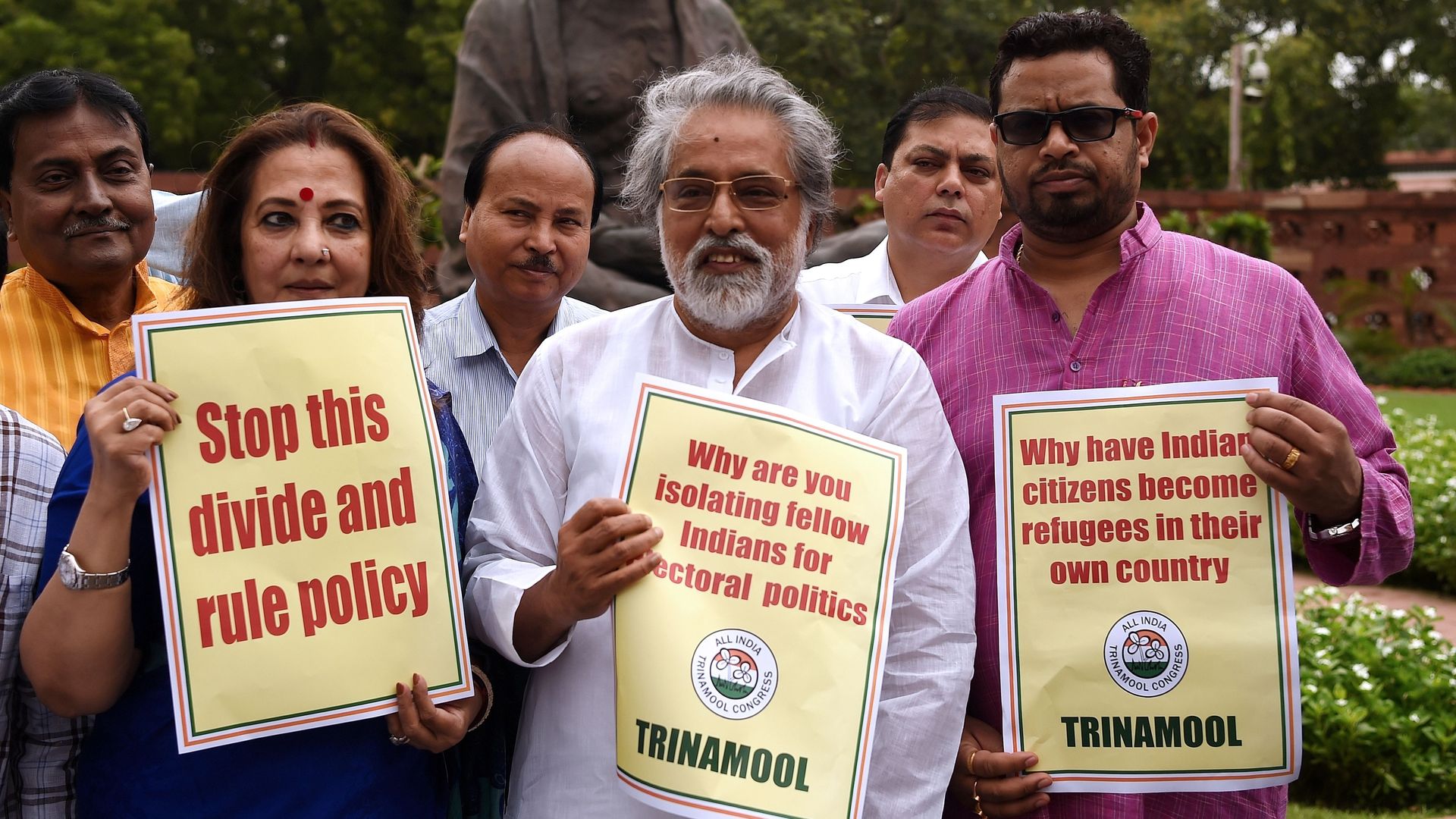 The Government of Assam, a northeast Indian state, published a list of official citizens on Monday that excluded 4 million people, heightening fears of unrest and violence. The list, called the National Register of Citizens, left off those who could not prove they came to Assam before March 24, 1971, when Bangladesh (previously West Pakistan) declared independence and millions fled, with over 900,000 settling in Assam.
Why it matters: The list has renewed panic among residents, mainly Bengali Muslims, who have neither the desire nor the ability to return to Bangladesh. The register has already stripped many of the right to vote, own property or access any other social services, and six detention camps now house more than 800 people who have been declared non-residents. It is unclear what will happen to these "illegals" who are now essentially stateless, much like the Rohingya who fled Myanmar and live in camps in Bangladesh.
Assam has witnessed much hostility, sometimes violent, between its Assamese-speaking natives and migrants. In recent years, Assam's Muslim population has grown faster than the national average, and the Bharatiya Janata Party (BJP) government has been accused of stoking and supporting anti-Muslim sentiment.
The publication of the list follows a three-month long exercise to validate the identities of 33 million citizens, conducted under the oversight of the Supreme Court. The list can also target Muslims who migrated to Assam from other Indian states but who have not been able to produce acceptable evidence, such as a birth certificate. Many of those whose names did not make it on the official registry are poor and illiterate; they lack identification papers to certify the duration of their residence in Assam. What's more, Bangladesh has repeatedly expressed that it will not accept their return.
The BJP government, meanwhile, has said that the actions will protect the Assamese and limit illegal migration.
What to watch: India's registrar general defended the action at a press conference, stating that there was no need for panic and that nothing would be confirmed until everyone left off the list had a chance to appeal between August and the end of September. It is unclear what will become of those who lose the appeal.
Tanvi Nagpal is the director of the International Development Program at Johns Hopkins' School of Advanced International Studies.
Go deeper