Rudy on Mueller probe: "They don't have a goddamn thing"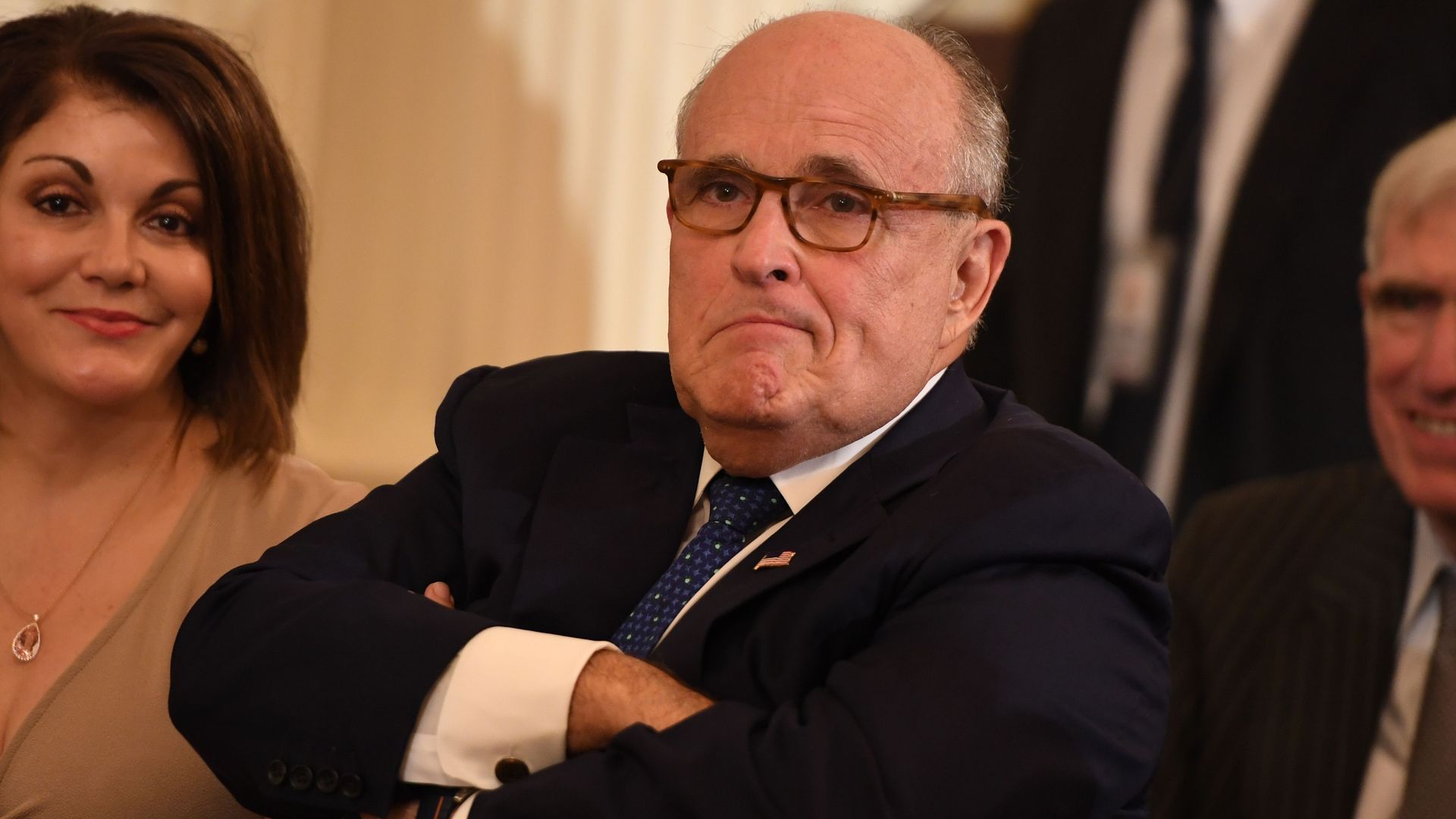 Rudy Giuliani told me that President Trump is fed up with Robert Mueller and wants him to "put up or shut up."
What he's saying: "Why don't you write a report and show us what you have, because they don't have a goddamn thing. It's like a guy playing poker. He's bluffing and he's only got a pair of twos."
Trump tweeted twice about Mueller yesterday in terms that were sharper, and with a more personal edge, than the president's usual rants about the "witch hunt."
Giuliani said Trump's view is: "Enough is enough."
Asked whether he meant Trump was considering firing Mueller, Giuliani replied: "No. No. He's thinking: 'Hey, the guy should get this over now.'"
On Michael Cohen: "The president has always had a soft spot for Cohen. He almost still does. Even now with his betrayal by taping him he still is worried about him because he believes he's only hurting himself."
Giuliani said the Mueller tweets weren't prompted by the news last week that Allen Weisselberg, longtime chief financial officer of the Trump Organization, has been subpoenaed to testify before the federal grand jury probing Cohen.
This gets into Trump's wallet. Bloomberg's Tim O'Brien, one of the longest Trump-watchers, calls Weisselberg a bigger Trump fish who "knows far more" than Cohen.
Giuliani said Weisselberg is "a great guy. He doesn't know anything that we don't know. He's completely supportive, 100 percent."
"Maybe it upsets him [Trump] in the sense that they [Mueller's team] chase down every alley, then they end up with nothing."
"Michael Cohen is blowing up on them. He's self-immolating. And it doesn't affect them [Mueller's team]. They are looking at the president's tweets. I don't know how you make an obstruction case based on tweets."
Rudy said that the Trump legal team has "183 unique tape recordings turned over to us" from Cohen, but says only one of these tapes — the one we heard last week — has Trump's voice on it.
Giuliani, who earlier discussed the 183 tapes on CBS' "Face the Nation," said the rest of the recordings capture other people talking about Trump.
"But they talk about him in a way that the liberal press won't be supportive of," Giuliani said. "It's not a campaign contribution. It's a personal matter concerning the president and his wife."
As the two sides escalate their public case, Cohen's lawyer, Lanny Davis, fought back against Rudy's complaints that Cohen is violating attorney-client privilege.
"Mr. Giuliani seems to be confused," Davis says in a statement. "He expressly waived attorney client privilege last week and repeatedly and inaccurately — as proven by the tape — talked and talked about the recording, forfeiting all confidentiality."
Go deeper: Rudy made the rounds on the morning talk show circuit Monday, arguing that "collusion is not a crime."
Get more stories like this by signing up for our weekly political lookahead newsletter, Axios Sneak Peek. 
Go deeper