What we're reading: The wild scheme to rig McDonald's Monopoly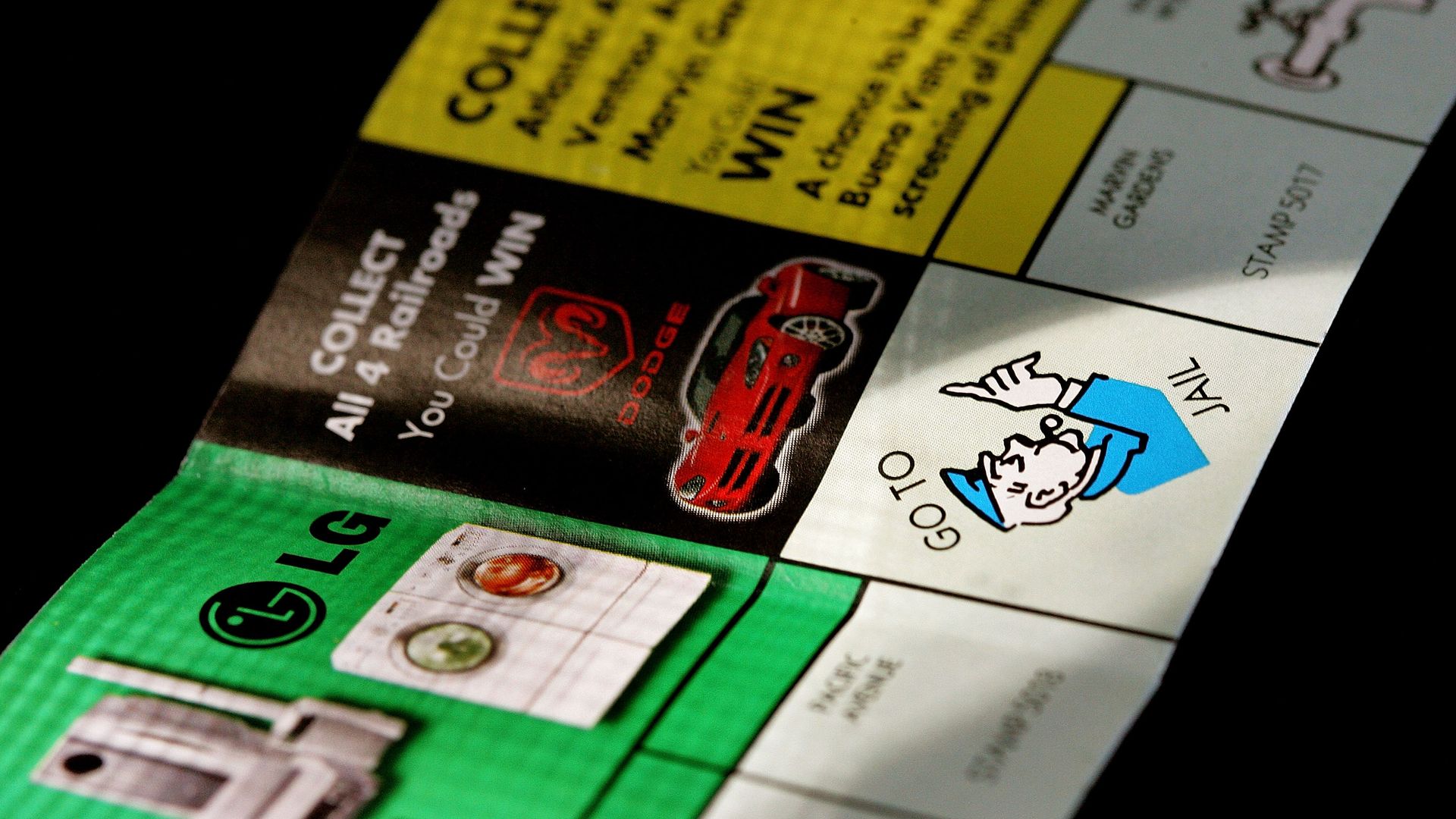 On August 22, 2001, Jerome Jacobson, director of security for a subcontracting company called Simon Marketing, was arrested along with eight co-conspirators for orchestrating a massive scheme to defraud McDonald's Monopoly promotion out of more than $24 million, writes Jeff Maysh for The Daily Beast.
The big picture: Between 1989 and 2001, "Uncle Jerry" used his position as the head of the McDonald's Monopoly account to steal winning "pieces" worth between $10,000 and $1 million. He proceeded to gift the pieces to family members and a growing network of associates — which included "mobsters, psychics, strip club owners, convicts, drug traffickers, and even a family of Mormons" — in exchange for a cut of the laundered winnings.
The backdrop: A former police officer known for his attention to detail, Jacobson was personally responsible for overseeing the printing of paper game pieces, cutting out the winning tickets, and transporting them to McDonald's packaging factories throughout the country.
In 1989, Jacobson's local butcher heard he was responsible for the prizes and offered to find a distant friend to claim a winning ticket and give him a cut of the earnings. "It was easy money," Maysh writes.
Six years later, Jacobson was directed by Simon Marketing executives to ensure that the computerized prize draw would never select a factory in Canada. Believing that the game was already rigged and armed with a company secret he could divulge if things went south, Jacobson decided to cash in himself.
Various family members and acquaintances helped Jacobson industrialize his scam, but perhaps none more so than Gennaro Colombo, a Sicilian-born Al Capone lookalike who claimed he was a member of the Mafia's Colombo crime family.
Colombo and his wife helped grow Jacobson's network outside of Atlanta to avoid suspicion. The money they earned was funneled into various high-end businesses, including a private members' club in Hilton Head.
"By the end of 1998, Jacobson had become Rich Uncle Pennybags, and America was his game board. He tooled around the United States stealing almost all the big-ticket game pieces, acquiring new properties on a whim, and collecting kickbacks from other players. Now he was hanging out with powerful Italians, he dressed in sharp suits and sometimes used the name 'Geraldo Constantino.'"
The demise of Jacobson, the Colombos, and their network of fast food fraudsters finally came in 2001, after an anonymous tipster prompted FBI agent Richard Dent to install a wiretap on Jacobson's phone. More than 50 defendants ended up being convicted as part of the criminal ring, including Jacobson, who served a reduced sentence of 37 months in exchange for a signed confession and court testimony.
The bottom line: The irony of the multimillion dollar fraud being perpetrated through Monopoly — a game "invented as a warning about the destructive nature of greed" — should not be understated.
Go deeper