Inside Trump's trade war truce with Europe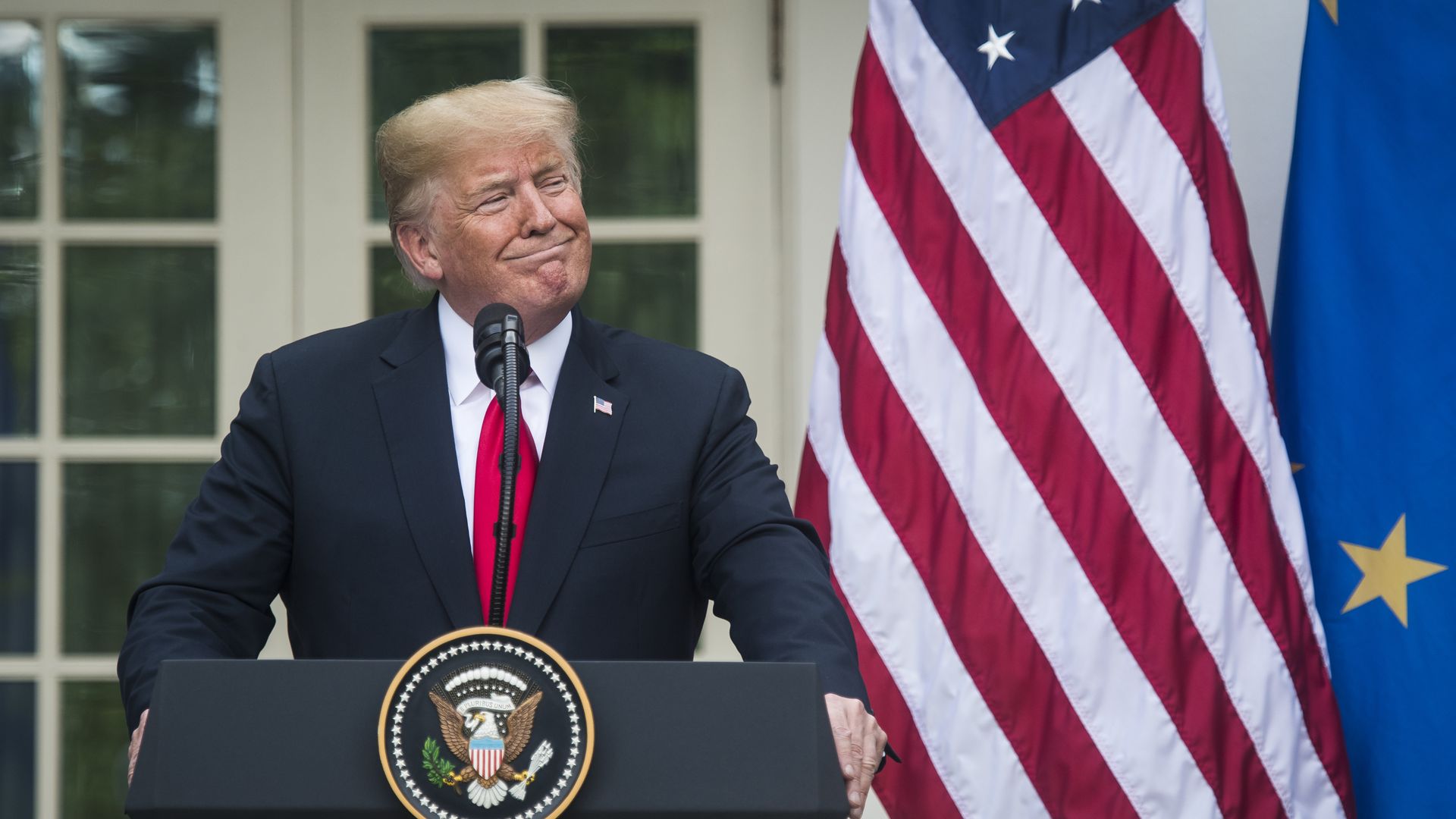 President Trump's "deal" with the EU on trade is more a fragile ceasefire — no significant territory was gained or lost, no white flags have been raised, and the president's trigger finger remains itchy. Crucially, though, the guns have gone silent.
Why it matters: Looming over the White House meeting yesterday between Trump and European Commission President Jean-Claude Juncker was Trump's threat of a 20% levy on auto imports that would hit EU countries like Germany (and U.S. consumers) hard, and could lead to a full-scale trade war. That threat is now on hold while the sides negotiate.
How it happened, per the FT:
"Mr Trump surprised the Europeans by quickly declaring that he wanted to hammer out an agreement. Within three hours there was a one-page joint statement laying out a vague plan for further discussions and a ceasefire on tariffs."
"Mr Trump seized on what he said were promises from the EU to buy more soybeans and liquefied natural gas in his announcement. Yet European officials said on Thursday that the EU delegation had done little more than describe the reality of global markets to the president."
Behind the scenes, from Axios' Jonathan Swan:
Trump keeps privately telling skeptics of his trade tactics that he needs "space" to negotiate. He's asking them to trust that, given room to maneuver, he'll bring the trade standoffs to a satisfactory conclusion.
But the $12 billion in subsidies announced Tuesday for farmers hurt by the trade war was seen almost as an admission of failure. Now, pressure is ratcheting up from the Hill and free traders in the West Wing. They want to see the light at the end of the tunnel.
After yesterday's announcement, officials in Washington, Brussels and Beijing are looking for a sign as to whether Trump has been spooked and is planning to back down. It's impossible to divine that because Trump would never articulate it out loud.
The view from Beijing...
Chinese leaders welcomed the U.S.-EU agreement, but noted that no progress has been made for a similar U.S.-China deal, Caixin Global reports.
"Both sides thought the other was a paper tiger and would fold relatively quickly," Scott Kennedy of CSIS tells Axios' Erica Pandey. "Certainly, the Chinese miscalculated and are probably regretful of some of the steps they've taken. But it's hard to say that the U.S. has the upper hand because China is not showing any signs of relenting."
"I'm sure they recognize that the U.S. collaborating with the EU puts China in a more difficult position, as the U.S. is less isolated now. They also know a statement in the Rose Garden does not equal implementation."
The view from Tokyo...
Japan is also wary of auto tariffs, and looking to ratchet down trade tensions.
"They're probably taking notes as to what kind of deal took place yesterday. They're trying to figure out if these kinds of sweeteners, like buying U.S. soybeans, will work for the Trump administration," says Mireya Solís of Brookings.
A closing thought, from FT World Trade Editor Shawn Donnan: "The biggest tension in the global trading system today is the internal one in Donald Trump. He loves tariffs. He also loves making deals."
Go deeper