Bloom Energy goes public, but won't answer big questions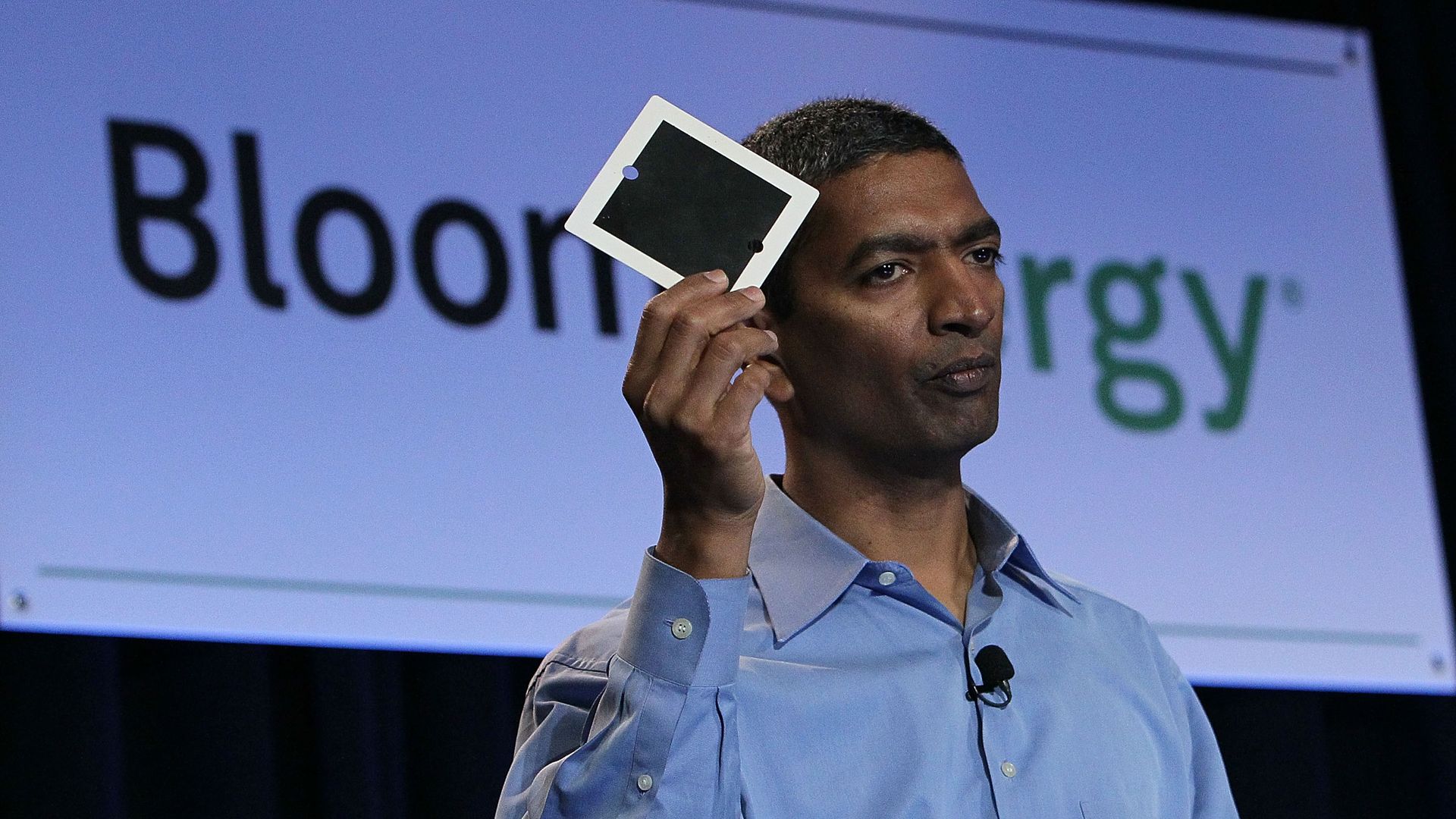 Fuel cell maker Bloom Energy last night priced its IPO, raising $270 million by selling shares at the top of its $13-$15 price range, but big questions remain about why it quietly paid millions of dollars to a pair of men who were accused by federal regulators of defrauding Bloom Energy investors.
Bottom line: One of those men wants to talk about it, but Bloom refuses to waive a confidentiality agreement.
Bloom's IPO gives it an initial market cap of nearly $1.6 billion, compared to around a $3 billion private market valuation back in 2014.
The company continues to hemorrhage cash, more than five years after its CFO told me (and prospective investors) that Bloom was on the verge of profitability.
Company directors include Colin Powell and venture capitalist John Doerr, while former Cisco CEO John Chambers is about to come aboard.
We previously reported on share payouts in 2014 to a pair of placement agents, Dwight Badger and Keith Daubenspeck, who raised millions of dollars for Bloom, but later settled with the SEC in 2012 over allegedly lying to investors on some of those deals.
Yesterday we learned the following, from WSJ's Yuliya Chernova:
[The placement agents] Mr. Badger and Mr. Daubenspeck had threatened to sue Bloom Energy in 2013, claiming that the company misled them and caused them to get sanctioned by the SEC, according to people familiar with the dispute.Bloom Energy denied those allegations, the people said, but settled with Mr. Badger and Mr. Daubenspeck.
The company recorded $16.7 million in charges to settle the dispute... [which] covered Bloom granting the men the post-IPO shares, as well as hundreds of thousands of preferred shares and warrants, and a $5 million low-interest loan, according to a 2015 Bloom Energy financial statement reviewed by the Journal.
Bloom disclosed last Friday that the pair is "seeking to compel arbitration and alleging a breach of a confidential agreement" related to the settlement. And Badger reiterated that position to me yesterday via brief phone call, saying only that he would gladly waive the confidentiality agreement were Bloom to agree.
Why it matters: Bloom will neither agree to waive the confidentiality agreement — nor even get on the phone to discuss these issues — raising an obvious question… What's it hiding? And who bought into this IPO (at the price range top!) with even the vague possibility of skeletons in Bloom's closet?
To be clear, Bloom denies any wrongdoing. And it's Badger and Daubenspeck who were nailed by the SEC, not Bloom. But something just feels very, very off here...
Go deeper