What we're reading: Excerpts from Sean Spicer's new memoir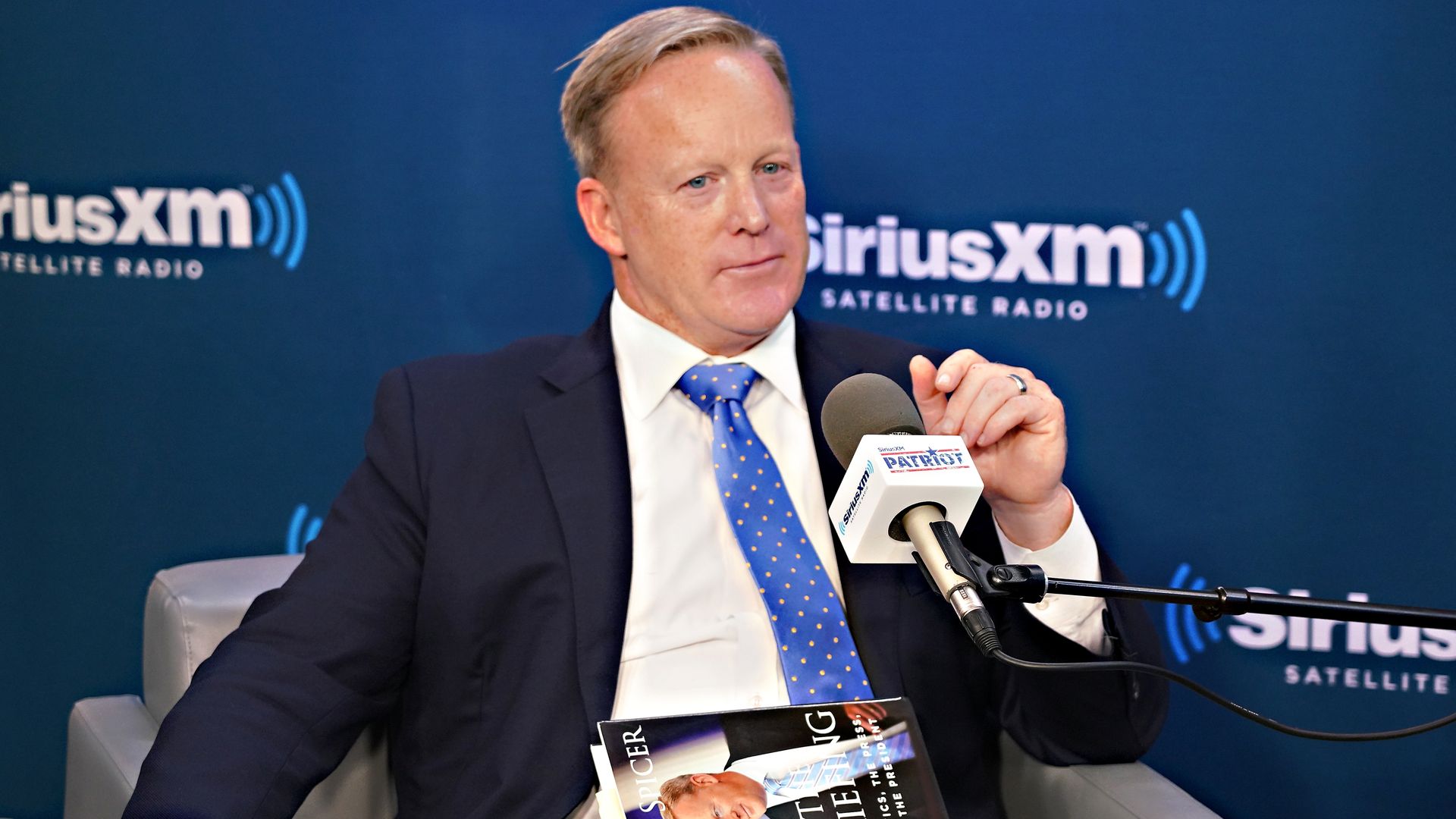 Former White House press secretary Sean Spicer is back in the spotlight to market his new book, The Briefing: Politics, the Press and the President, which dishes on his time in the White House, saying his job required the skills of a fighter jet pilot, champion boxer and tightrope artist.
What's new: To commemorate the release of his book — out today — he's holding two events in Washington, one of which is at the Trump International Hotel.
Spicer praises the president's talents repeatedly in his memoir, reports The Guardian, which obtained a leaked copy of the book.
"I don't think we will ever again see a candidate like Donald Trump ... His high-wire act is one that few could ever follow. He is a unicorn, riding a unicorn over a rainbow."
"His ability to pivot from a seemingly career-ending moment to a furious assault on his opponents is a talent few politicians can muster."
In an excerpt released exclusively to Breitbart, Spicer blames "mainstream media fact checkers" for unfair assessments.
He called the media more broadly a "herd" that "closes ranks."
According to an excerpt obtained by The Wall Street Journal Spicer explains, "One group that I find interesting is the self-appointed 'fact checkers' of the Washington Post and other media outlets, who could learn a thing or two from their more careful brethren."
"Twitter is not glue, it is a solvent. It is breaking us down. We can't settle for just keeping up with the lowest common dominator [sic] on Twitter," Spicer writes.
Spicer hits on the controversial Access Hollywood tapes — which were leaked prior to the 2016 election — saying he was surprised and impressed by Trump's creative and aggressive reaction:
"Trump succeeded by dismissing his remarks as "locker-room" talk — which many people apparently thought they were — and by pivoting against Hillary in a way that no other Republican candidate would have dared... you protected your husband after he faced a credible allegation of rape," obtained by The New York Post.
In an excerpt obtained by Axios' Jonathan Swan, Spicer tells the story of when he lent Trump a green tie for St. Patrick's day in 2017. "I delivered the green tie to the Oval Office and set it on the Resolute desk.. ... The billionaire president wore my green tie that entire day ... He must have liked it because I've never seen that tie again."
Bonus... Trump tweeted his approval of the book in June: "A friend of mine and a man who has truly seen politics and life as few others ever will, Sean Spicer, has written a great new book, 'The Briefing: Politics, the Press and the President.' It is a story told with both heart and knowledge. Really good, go get it!"
Flashback: When excerpts from Comey's book were leaked, Trump called him an "untruthful slime ball."
Go deeper