Tech firms' bike-sharing ambitions face pushback from city officials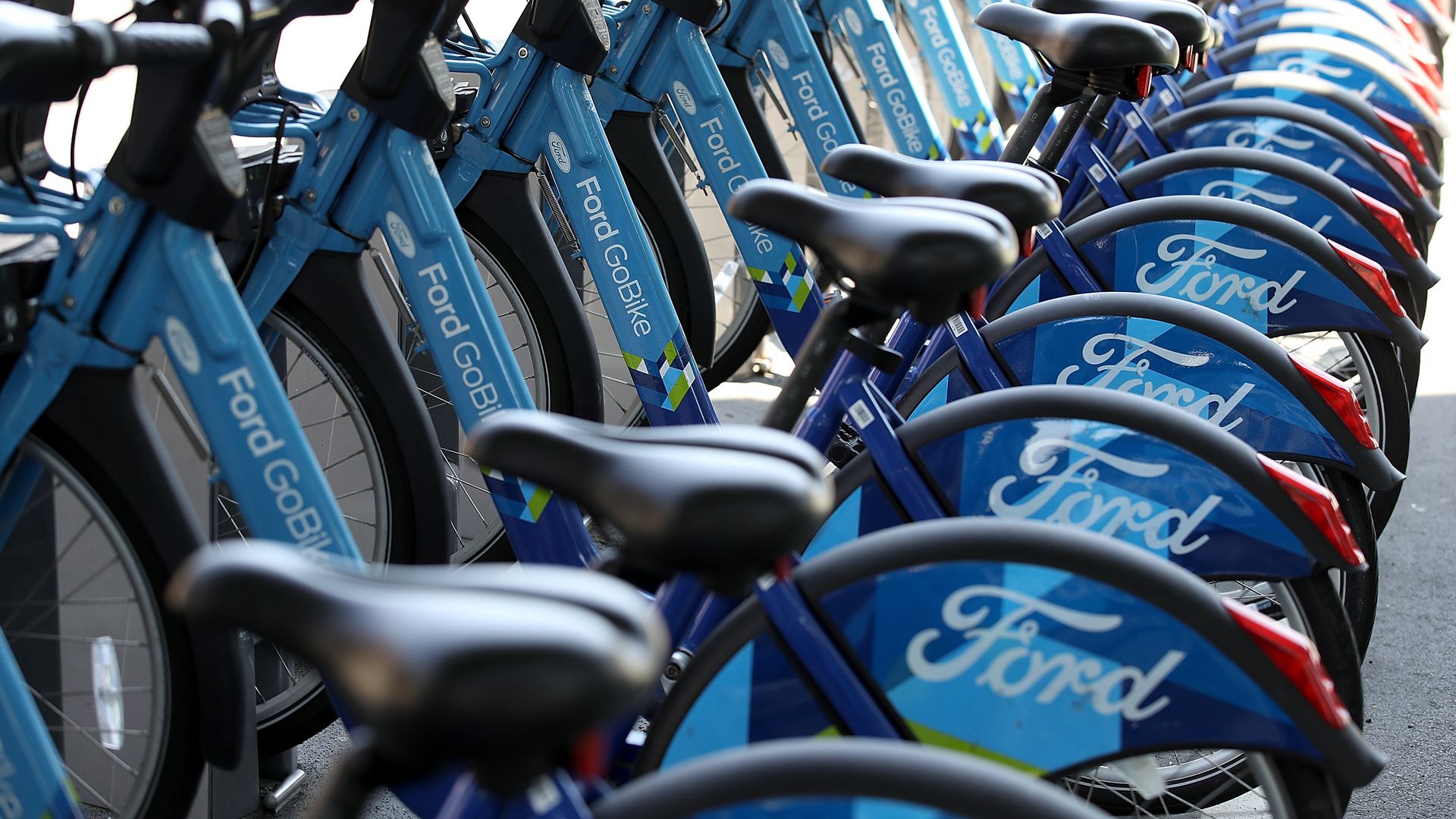 As well-funded tech companies are getting in the highly regulated scooter and bike-share business, subsidies for certain groups like low-income communities and students are emerging as the next battleground.
Why it matters: In cities like San Francisco, long-standing tensions between city officials and tech companies, namely Uber and Lyft, are back in the spotlight and could create problems for the latter group.
In San Francisco, Lyft's acquisition of bike-share operator Motivate has prompted government officials to suggest that the deep-pocketed company should subsidize a program for low-income students at San Francisco State University to rent its bikes for free, as the SF Examiner reported.
"It seems to me we have not gone to Lyft and said … 'do you want to offer low income individuals at SF state a discounted rate?'" San Francisco Supervisor Aaron Peskin told the Examiner."I don't think public dollars should go into that."
The board has previously refused to fund certain programs because it would mean taxpayer dollars going to ride-hailing companies, as the SF Examiner notes.
Last week, startup Lime — which recently took funding from Lyft rival Uber and inked a partnership — reportedly offered to provide free use of its bikes to the students, taking advantage of situation. However, unlike Motivate, Lime doesn't currently have a permit from the city to operate a bike-share service, so it's unclear how far this could go.
San Francisco is only one of several cities where Motivate operates a bike-share program, and where similar questions or backlash could emerge.
Of note: Jump, the sole other bike-share company that's secured a permit from the city to operate in San Francisco (albeit through a different program), is now owned by Uber. It wouldn't be surprising if city officials decide to apply similar pressures on the ride-hailing giant as well.
What they're saying: For its part, Motivate says that it's "committed to working with them on a solution." Lyft told Axios that government officials likely recognized that the company may want to play a role in making this service more affordable, holding off on the decision until the parties could have a discussion.
The bottom line: Companies like Uber and Lyft (and scooter startups like Lime and rival Bird) have publicly pledged to make their services accessible to underserved communities, so they could very soon be asked to put their money where their mouths are.
Go deeper