Behind the podium: "He wanted me to repeat his answers verbatim"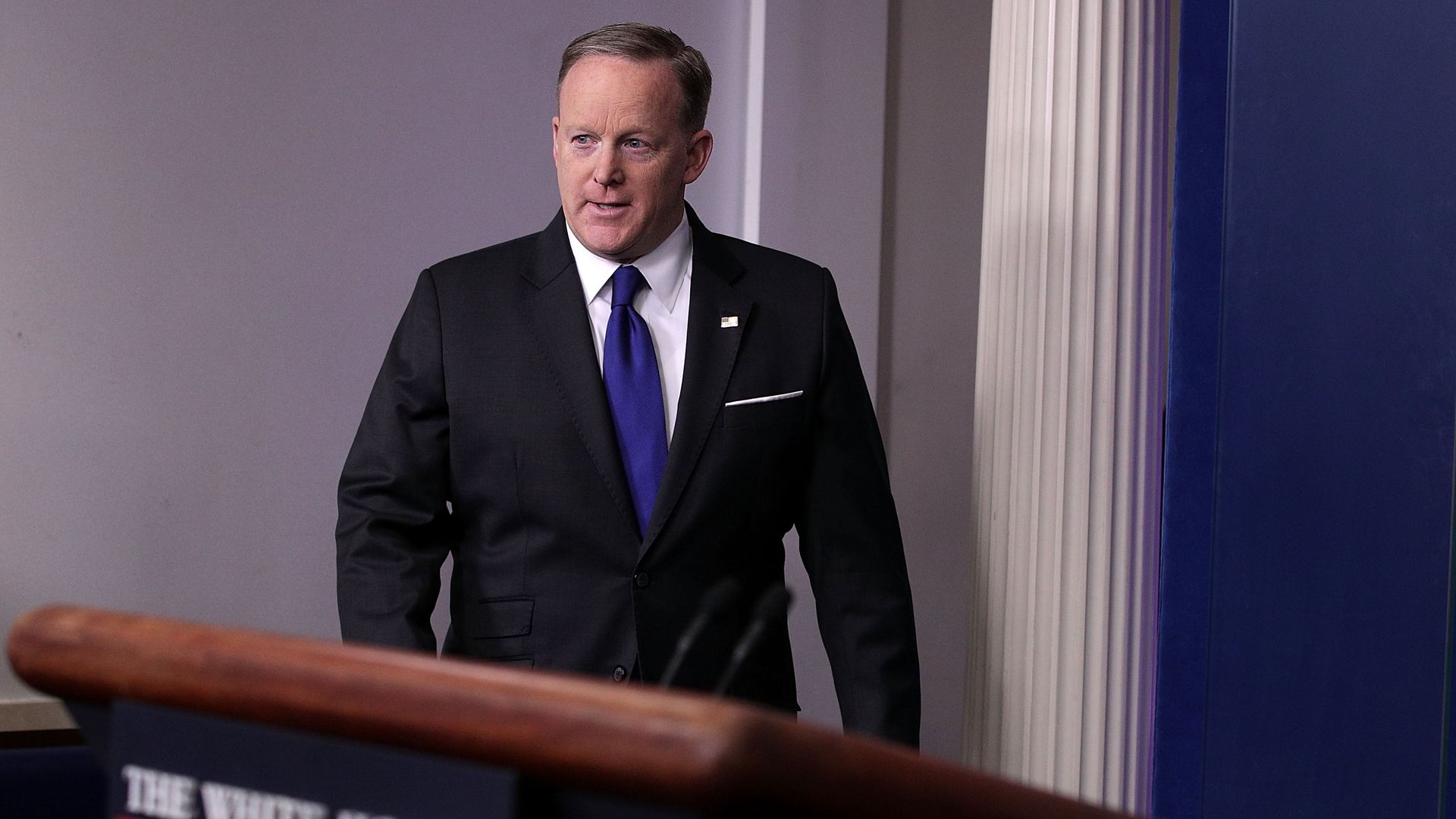 Here's a fresh window into his media mind, in this exclusive preview from Sean Spicer's book, The Briefing: Politics, The Press, and The President (Regnery), out July 24.
"[B]etween 10:00 a.m. and noon, Sarah Huckabee Sanders and I would poke our heads into the Oval Office ... [Trump] was always full of questions, wanting background on where a story came from and, of course, curious to know what we were going to say about it. And he was never shy about giving us directions."
"I'd be peppered throughout the day with calls from the president as stories evolved. He was extremely engaged, very particular, and insistent about how he wanted his points delivered."
"The more time I spent with him, the more I came to understand that President Trump wanted me to repeat his answers to the press verbatim."
Spicer, calling Trump in the residence the evening before St. Patrick's Day, 2017:
Spicer: "Sir, just a reminder about the St. Patrick's Day event tomorrow — do you have a green tie?"
Trump: "Yeah! Of course I have a green tie."
Spicer: "For tomorrow?"
A long pause. "Well, I have one in New York, but I don't have one here."
Spicer: "I've got an extra green tie. Would you like me to bring it in?"
Trump: "Thanks, sure, but let me see what I can do. It'd be great to have a backup in case I can't find one. Let's touch base in the morning."
"First thing that day, I delivered the green tie to the Oval Office and set it on the Resolute desk.. ... The billionaire president wore my green tie that entire day ... He must have liked it because I've never seen that tie again."
Spicer's pre-briefing ritual:
"Before I walked out, I would try and have a moment of reflection and read a daily passage from the book Jesus Calling."
"Behind my desk was a wooden table with two drawers. On top of the table sat a box with a picture of St. Gabriel on if that [my wife] Rebecca had given me as a gift when I took the job. In the box, I had two medals that I would slip into my pocket: one of St. Michael in honor of my dad and another of Mother Teresa ... given to me early in my tenure by John Gizzi of Newsmax."
Go deeper