Wildfire perilously close to Yosemite is filling the park with smoke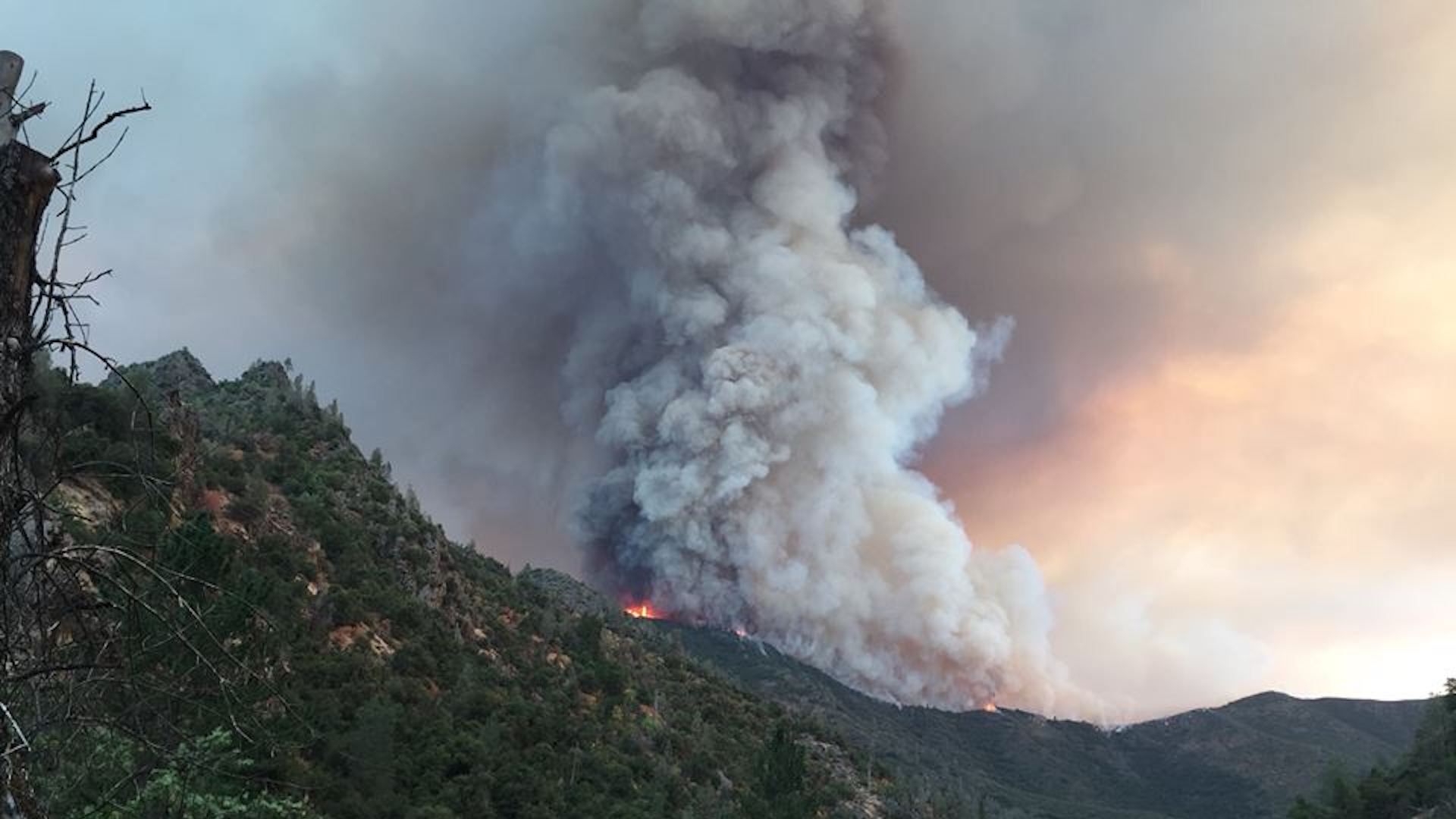 The Ferguson Fire burning in the rugged Sierra National Forest next to Yosemite National Park is causing air quality within the park to plunge to hazardous levels.
Why it matters: The fire has already burned about 17,300 acres, and was only 5% contained as of July 17. The smoke is causing unhealthy amounts of particulate pollution to drift into the park, and is contributing to poor visibility as well.
From the scene: Livecams from the park on July 18 showed obscured views of iconic landmarks such as El Capitan. The National Park Service is warning visitors to Yosemite to "be prepared to limit any strenuous outdoor activity during the periods of high concentration" of smoke.
The Ferguson Fire is burning in a heavily wooded area on the western edge of the park. Trees in this region have been weakened or killed by relentless drought conditions, making them especially vulnerable to wildfire.
Threat level: Measurements of particulate matter 2.5 — which are less than 2.5 microns across, or less than the width of a human hair — in the park have spiked to unsafe levels, based on standards set by the Environmental Protection Agency. Prolonged exposure to particulate matter 2.5 can contribute to heart attacks, strokes, and high blood pressure, among other ailments.
The big picture: The Ferguson Fire is one of 61 large fires burning across the U.S. as of Wednesday, most of which are in the West. So far this year, about 3.5 million acres have burned across the country, which is about 200,000 acres above average.
In recent decades, scientists have observed a trend toward larger wildfires and longer fire seasons in the West, which studies have shown is partly linked to the effects of climate change.
The bottom line: The Ferguson Fire, like many other blazes in the West, is unlikely to be extinguished anytime soon. The weather forecast shows continued hot and dry conditions, with scattered thunderstorms that could both help firefighters by dropping rain, and hinder them by causing erratic winds and lightning strikes that start new blazes.
This means that the air quality problem within Yosemite is likely to continue. It's also possible that the fire could spread into a portion of the national park, which would force further evacuations and road closures at the height of the summer tourism season.
Go deeper