Why startups aren't pushing the feds to break up Big Tech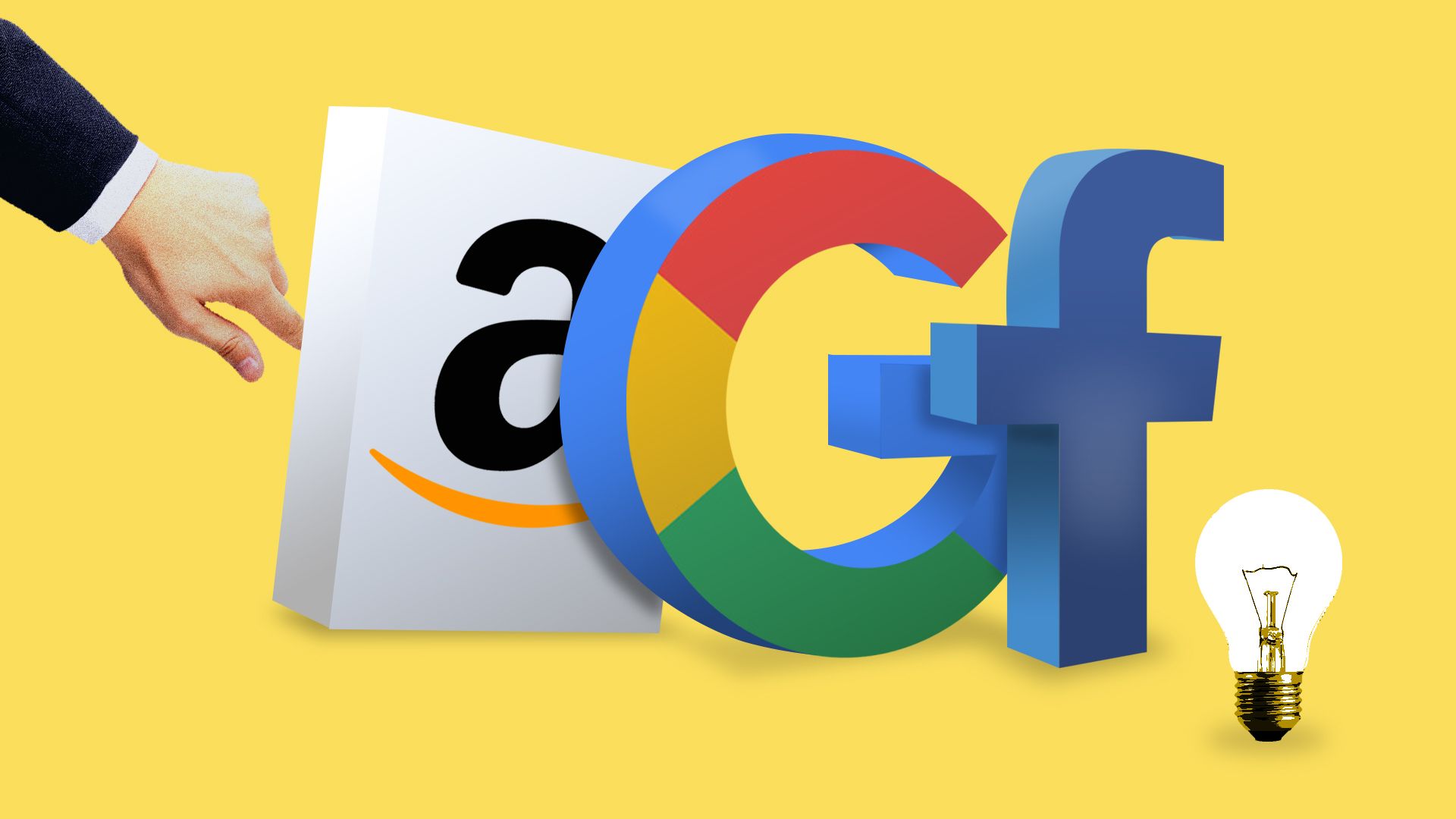 Today's tech startups have largely stayed out of the debate over whether antitrust law should be used to humble — and possibly break up — giants like Facebook, Google and Amazon.
Why it matters: Startups are often in position to lead the antitrust charge against major competitors. But entrepreneurs face a dilemma: If they go running to regulators, they have to admit they're in danger and tick off a powerful player in their world. If they do nothing, they risk bleeding out.
We've been here before: Two of the biggest historic tech wins for antitrust cops over the past 50 years followed aggressive public advocacy by a startup that became the face of the giant's anticompetitive conduct.
MCI's advocacy in the 1970s helped trigger the process that led to AT&T's 1982 breakup.
Twenty years later, Netscape was the poster child for the ill effects of Microsoft's dominance, inspiring the Justice Department's landmark antitrust lawsuit against the software giant.
The big picture: Tech giants have immense leverage over startups. "The tech hypercaps have never been more powerful relative to startups, including Microsoft in the '90s," said Sam Altman, the president of startup accelerator Y Combinator. "[T]he resources are so mismatched it's an unfair fight."
How it works: Startups (or larger competitors) can confidentially press their case before staff members at the Department of Justice or the Federal Trade Commission, or the startups can go public with their concerns.
Be smart: With the exception of Yelp, there are no major startups in the U.S. that have turned to regulators to take on today's biggest companies, like Facebook, Amazon, or Google.
Snap has ridiculed Facebook for copying its features but, despite reportedly considering it, so far Snap has not made a public antitrust case against its giant rival. (A spokesperson for Snapchat declined to comment beyond CEO Evan Spiegel's previous statements that the company can hold its own against Facebook.)
Houseparty was featured in a Wall Street Journal story on how Facebook copies startups, but the company hasn't turned to either Washington or Brussels to fight back. (A spokesperson for Houseparty declined to comment on the record beyond executives' prior comments.)
Walmart eCommerce U.S. CEO Marc Lore has been trying to take on Amazon. But when Jeff Bezos subjected a previous Lore startup, Quidsi, to a campaign of price cuts, Lore ultimately sold the company to the e-commerce giant rather than turning to regulators. (Lore did not respond to an interview request.)
Why startups don't lodge antitrust complaints: "Running a startup, running a growth company there's so many things to do, and every hour is precious," said Albert Wenger, a managing partner at Union Square Ventures.
You sometimes have to admit you're in trouble: "On the one hand, were you to go to the government or, worse yet, go public, you kind of have to make the case that these guys would put you out of business or are trying to put you out of business," said Gary Reback, a lawyer at Carr & Ferrell LLP who is famous for his role in encouraging the Justice Department to take on Microsoft in the 1990s and has advocated against Google. "And that's bad for investment. If you're a public company, it's terrible for your stock price."
Silicon Valley's cultural aversion to government means it doesn't embrace regulators: "There is this libertarian thread that runs through Silicon Valley that leads to people feeling bad talking about this issue," said Yelp CEO Jeremy Stoppelman, who has led an antitrust campaign targeting Google.
And tech loves acquisitions: "The vast majority of companies exit through M&A, so I do think people are worried about foreclosing M&A options, and founders as well," said Wenger.
Why they do: It can be their only option. Philip Verveer, a longtime telecom lawyer who helped to lead DOJ's examination of AT&T, said that, for MCI, speaking out "was a pretty easy decision because they were dealing with an adversary that was going to try and kill them."
How Yelp came around: "I think it was a very natural, organic progression for us because Google was being so nasty and abusive with its power, and sort of projecting itself as this wonderful corporation," said Stoppelman. "[W]hen we spoke out about it, that was our only recourse."
The other side: The largest tech companies reject charges that their size damages competition. Spokespeople for Google and Amazon declined to comment on the record. A spokesperson for Facebook pointed Axios to this point from the venture capitalist Ben Horowitz (Horowitz's business partner is on the board of Facebook):
"If you look at the numbers there's probably more startups than there've ever been. What we're seeing and what we're funding is super interesting, and for the most part isn't existentially threatened all the time by those [large tech] companies."
The nature of modern American antitrust law — which focuses on whether there is harm to consumers as the result of market dominance — also makes a competition case against Big Tech more difficult.
What to watch: As internet economy growth stalls for smaller players, Wenger points out, startups might be readier to take their case to Washington.
Editor's note: This was corrected to show Marc Lore is CEO of Walmart eCommerce U.S., not Walmart.
Go deeper