Trump deepens Russia contradictions at Helsinki summit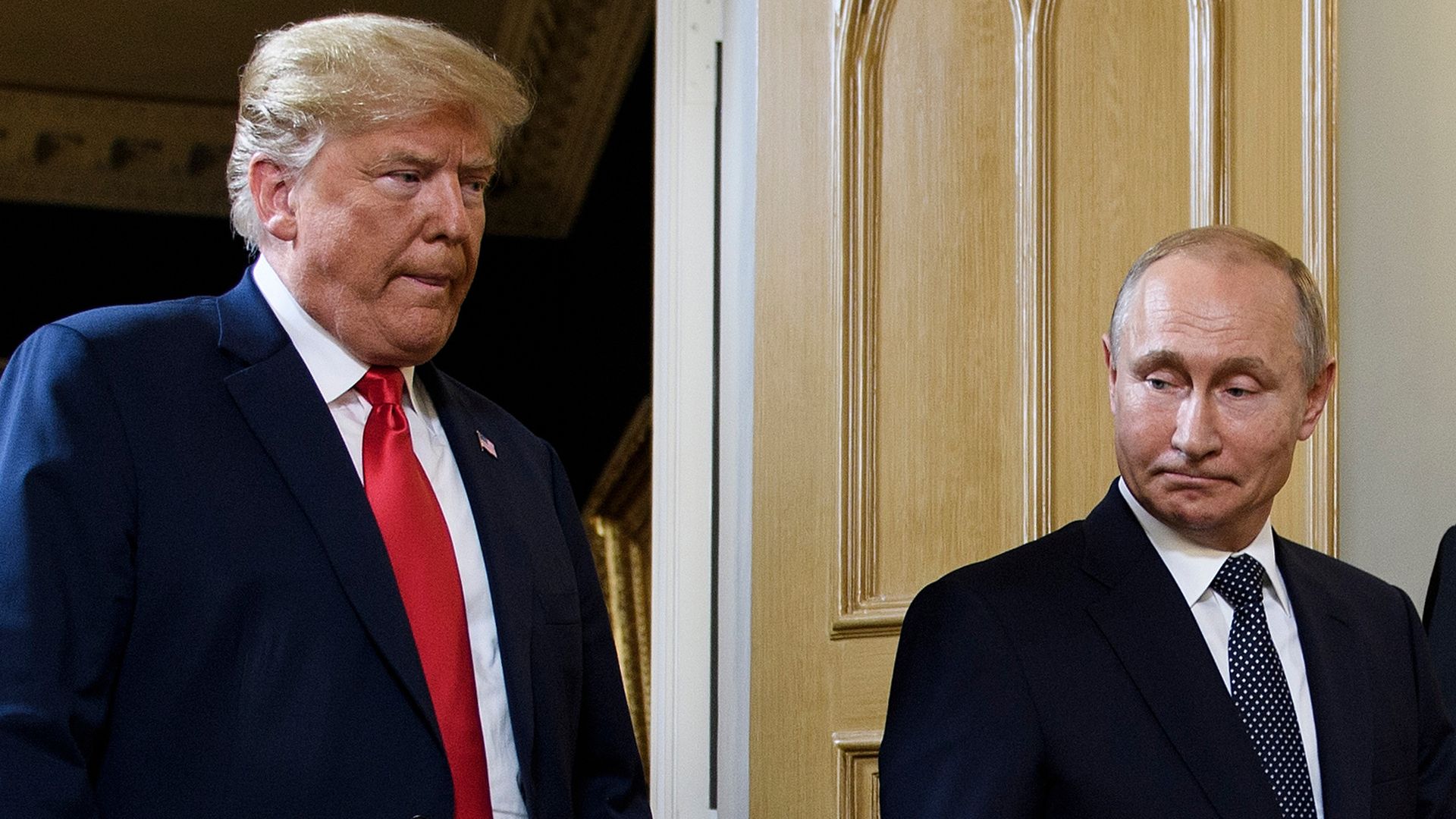 President Trump's warm embrace of Vladimir Putin at their summit in Helsinki has rightly drawn sharp criticism from across the political spectrum. Though Trump leads the far stronger country, it often seemed as if he was on the defensive while Putin set the tone and agenda.
Why it matters: Following Trump's rhetorical attacks on NATO allies in Brussels last week, the summit will be remembered for normalizing an adversary while weakening transatlantic solidarity. And it stands to deepen the administration's highly contradictory approach to Russia.
In their post-meeting press conference, Trump challenged his own intelligence agencies' conclusion that Russia interfered in the 2016 presidential election. He blamed the United States for deteriorating relations with Russia, and was silent about Moscow's invasion of Ukraine, its annexation of Crimea and its military attacks on Syrian civilians.
While Trump waxes rhapsodic about the chances for U.S.–Russia partnership, the substance of his administration's policy has actually hardened, not softened. This includes targeted sanctions on top Russian oligarchs, the shuttering of Russian consulates and expulsion of diplomats, further military reinforcement of NATO's eastern flank, the dispatch of anti-tank weapons to Ukraine, and the use of military force against both the Assad regime over Russian threats and objections and against Russian mercenaries when they moved on U.S. forces in eastern Syria.
While Trump said he didn't "see any reason why" Russia would have meddled in American elections, his own Director of National Intelligence, Dan Coats, pointed to "Russian meddling in the 2016 election and their ongoing, pervasive efforts to undermine our democracy."
The bottom line: Russian statecraft aims to divide the transatlantic allies, sow division in the United States and make both less capable of mustering the will to confront Moscow's depredations. For whatever reason, the President seems keen to play into that approach. By fracturing even the Trump administration itself, the Putin and NATO summits are bound to assist Russia's "divide and neuter" approach to foreign policy.
Richard Fontaine is the president of the Center for a New American Security.
Go deeper