GOP Senate candidates stick with Trump after Helsinki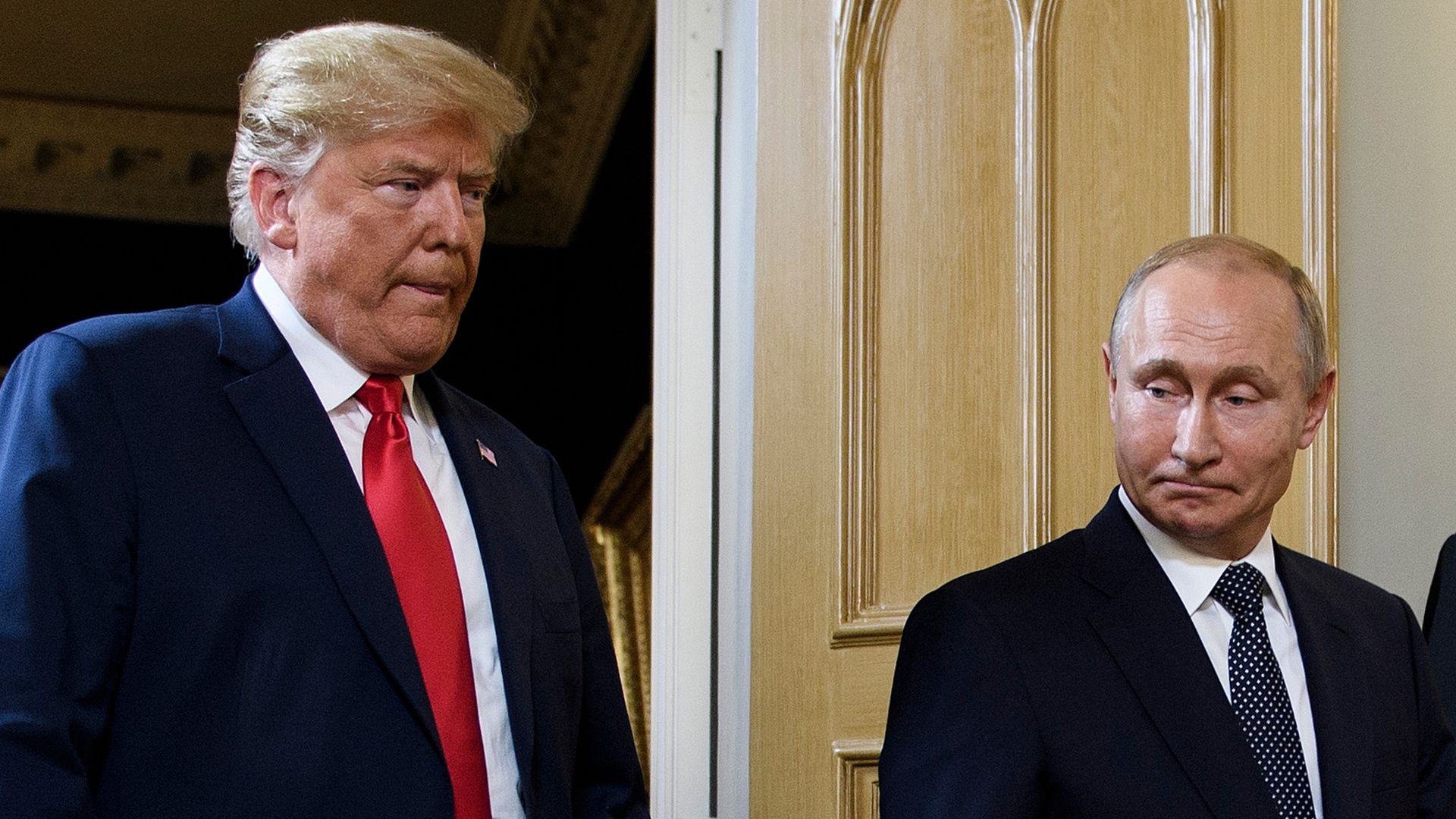 Republican Senate candidates are mostly sticking with President Trump after his disastrous press conference with Russian President Vladimir Putin in Helsinki, which provoked so much criticism that he tried to walk back some of his comments today.
Why it matters: It's another clear sign the Republican Party is now the party of Trump. Even when he does the unthinkable — something that embarrasses White House officials and GOP allies — hopeful GOP senators aren't willing to deviate from their leader.
I reached out to 11 GOP Senate candidates to get their response to Trump's remarks about Russian election interference, when he seemed to side with Putin over the U.S. intelligence community. Of those, only two responded, but some have commented in other settings.
What they're saying:
Wisconsin's Kevin Nicholson called Russian leaders "ruthless, uncooperative and untrustworthy," but said he supports Trump.
Arizona's Kelli Ward tweeted: "Ignore the

#

TrumpDerangementSyndrome crowd - he's keeping his promise & more importantly he's keeping us safe."
Pennsylvania Rep. Lou Barletta told a local news station that he agrees with U.S. intelligence agencies' conclusion that Russia interfered in the election, but that "it's important to continue the dialogue between our two nations."
The other side: Not everyone is sticking with Trump. North Dakota GOP candidate Rep. Kevin Cramer told CNN: "President Trump is harder to defend than he is to explain sometimes. I wish he would have been more forceful."
Another Arizona candidate, Martha McSally, told the Green Valley News: "I do wish the President's words on Putin ... were as strong as his actions."
And one candidate dodged the question. Instead of responding to the president's remarks, West Virginia candidate Patrick Morissey's campaign asked if Democratic Sen. Joe Manchin had released a statement.
The reality is that they have no room to be disloyal. Trump has proven his power over the midterm elections, weighing in to boost his preferred candidates (like North Dakota's Kevin Cramer) and urging voters to oust fellow Republicans he doesn't like (Alabama's Martha Roby and West Virginia's Don Blankenship).
Today, Trump told reporters that he accepts the intelligence community's conclusion that Russia meddled in the election, adding that he meant to say, "I don't see any reason why it WOULDN'T be Russia."
Go deeper