Earth had its third-warmest June amid sizzling global records
Earth had its third-warmest June on record this year, according to NASA data released Monday. The month saw numerous heat milestones set worldwide, from the U.S. to the Middle East.
Why this matters: The planet is headed for a top 5 warmest year despite the lack of an El Niño event in the tropical Pacific Ocean, which would help boost temperatures in addition to human-caused global warming.
What NASA found: According to NASA, the global average surface temperature was 0.77 degrees Celsius, or 1.4 degrees Fahrenheit, above the 1951-1980 average, tying with June 1998 as the third-warmest June in 138 years of modern record-keeping. Only June 2015 and 2016 were warmer.
Most areas of the globe, with the notable exception of Greenland, saw above average temperatures during June, with the most pronounced warm temperature anomalies seen in north-central Siberia, where record warm temperatures along with numerous wildfires were observed.
During June, severe heat waves swept across North America, including a deadly event in Quebec that featured the hottest temperature on record in Montreal on June 29.
Meanwhile, in Oman, a new world record for the highest minimum temperature during a 24-hour period and a calendar day was likely set in Qarayyat on June 25. The weather station there failed to register a temperature below a sizzling 42.6 degrees Celsius, or 108.7 degrees Fahrenheit, during a 24-hour period.
How NASA did it: NASA is one of the agencies responsible for keeping tabs on global temperatures, and it based its data on readings from about 6,300 weather stations, including ship and buoy instruments, located around the world.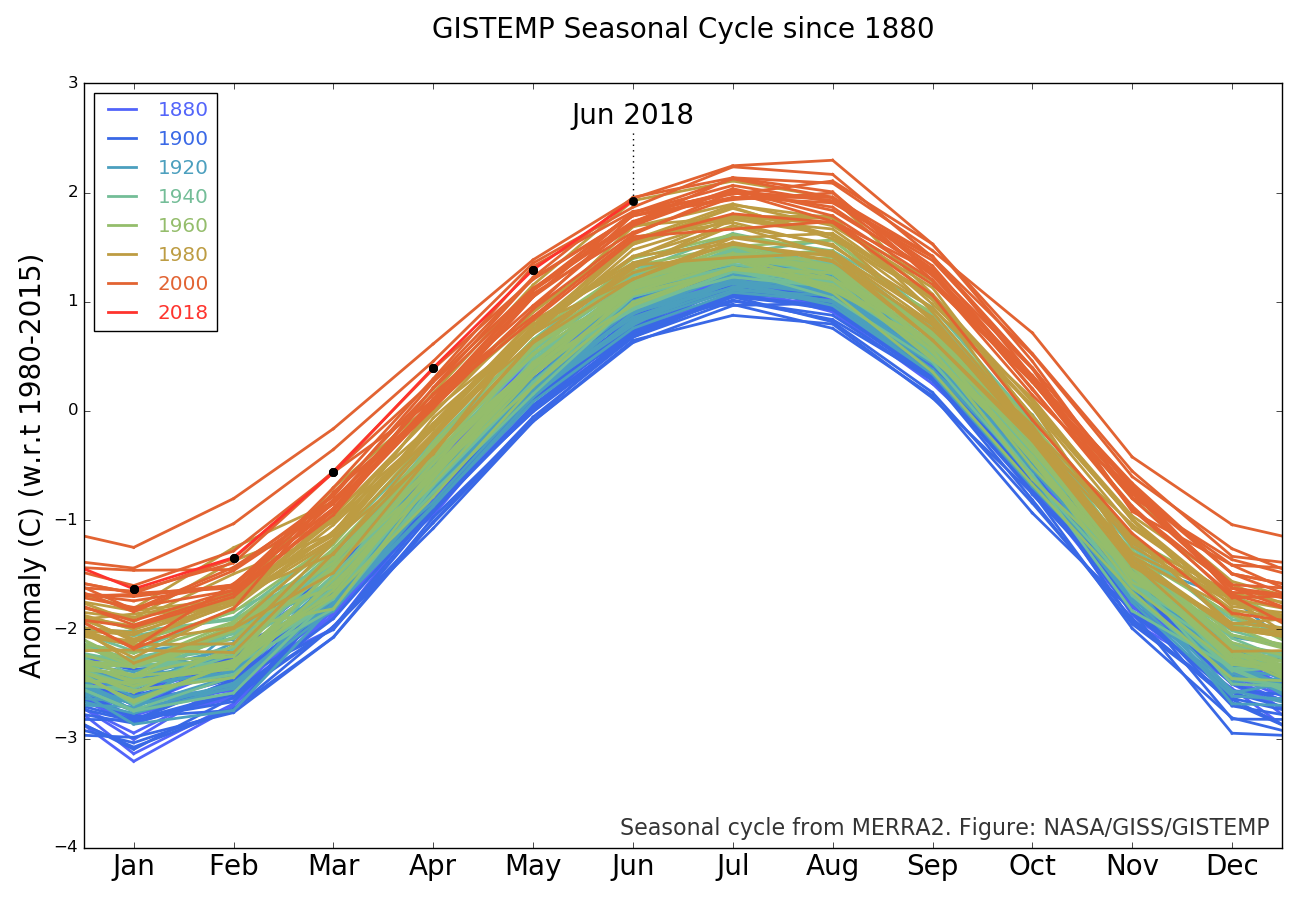 The long-term context: The new data shows that 2018 is following the pattern of recent years, with a clear, long-term global warming trend that scientists have shown is mainly due to human activities, including emissions of greenhouse gases.
The bottom line: A 2017 U.S. government report found that the last 115 years have been: "The warmest in the history of modern civilization."
Go deeper