Go deeper: The nuclear arms deals in focus for Trump-Putin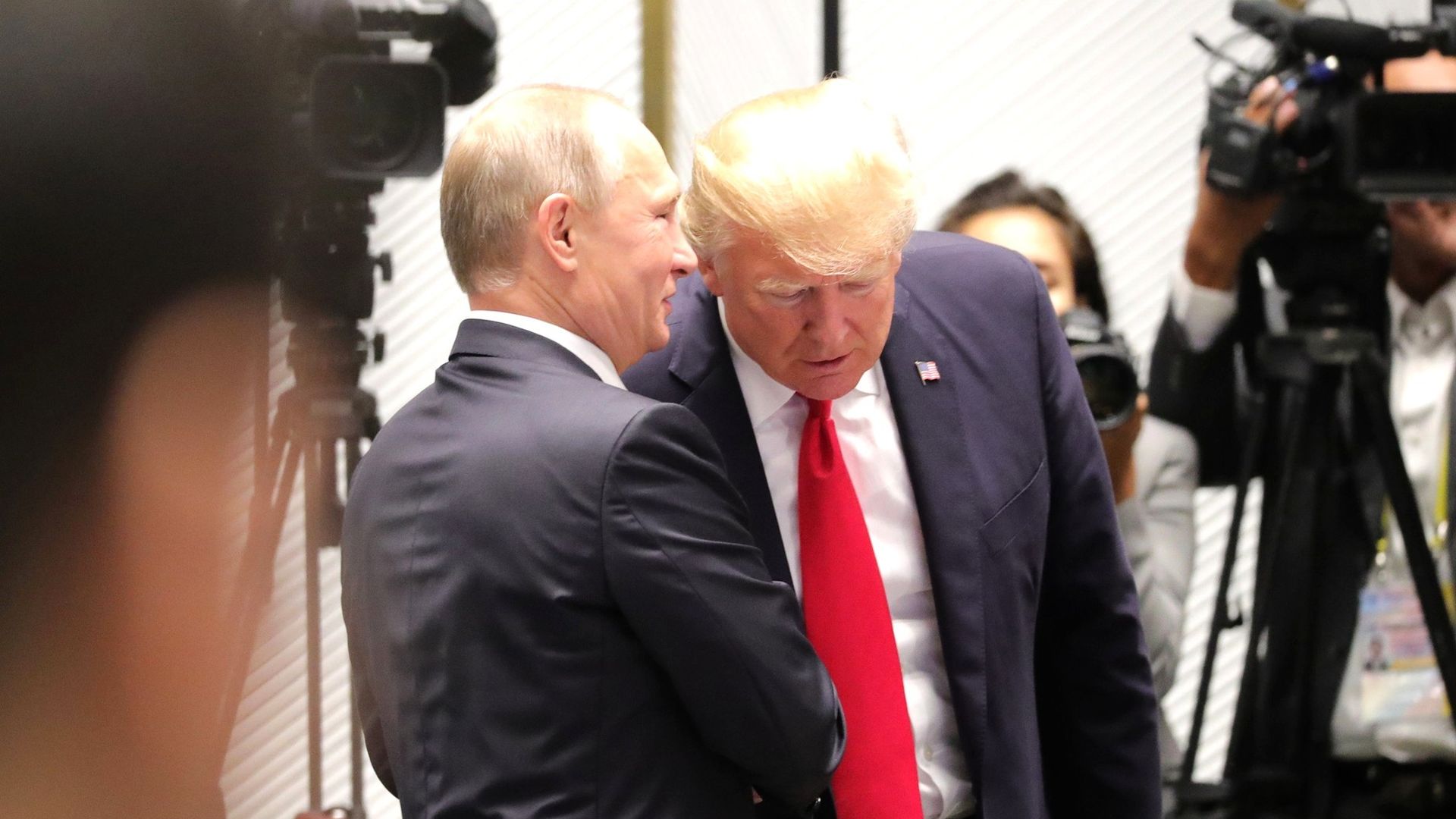 When I asked President Trump on Friday what were the three or four things he wanted to achieve from his meeting with Putin, his answers contained no detail.
Between the lines: One little riff stuck out. He said: "I think... that would be a tremendous achievement if we could do something on nuclear proliferation."
A former senior administration official who discussed nuclear weapons with Trump said the president speaks in generalities, commenting wistfully about how wonderful it would be to rid the world of nuclear weapons.
And a source with direct knowledge of Trump's private conversations with British Prime Minister Theresa May told me Trump mentioned nuclear weapons a fair bit last week, but only in general terms, saying he'd raise the subject with Putin.
While it's impossible to predict what Trump will say to Putin on the weighty subject, here's a primer on the two treaties that should be in focus:
1. New Strategic Arms Reduction Treaty (aka "New START"):Ratified by Obama in 2011, this has been one of America's more successful arms control treaties with an adversary. The agreement allows the U.S. and Russia to conduct thorough inspections to ensure the other is complying.
Bottom line: By the deadline of February this year, both Russia and the U.S. had fulfilled their promise of deploying no more than 1,550 strategic offensive nuclear weapons and no more than 700 strategic nuclear delivery vehicles.
What's next? The deal expires in 2021 and will need to be extended (for a max of five years) or amended into a new deal. Early last year, Trump, without knowing basic details about the treaty, called it a bad deal for America. But he hasn't said anything substantive, since, about his plans to change it.
2. The Intermediate Range Nuclear Forces Treaty (aka the INF Treaty): Ronald Reagan and Soviet leader Mikhail Gorbachev signed the INF Treaty in 1987, to ban the Cold War rivals from having ground-launched ballistic and cruise missiles that could fly between 500 and 5,500 kilometers.
Bottom line: This treaty is in trouble. It remains in force today but in 2014 the Obama administration publicly said that Russia was violating the treaty. The Russians are still violating it today, despite multiple U.S. warnings.
What's next? The Trump administration has taken some tougher actions against Russia over its INF violations, including beginning research and development of weapons that would — if ever developed — themselves violate the treaty. But nothing seems to work. Russia goes on violating and pretending it's doing nothing wrong.
The administration has all but exhausted its remedies within the terms of the treaty, so they find themselves at a crossroads here with Russia.
Go deeper