Amazon leaves retail competitors in the dust, claims 50% of U.S. e-commerce market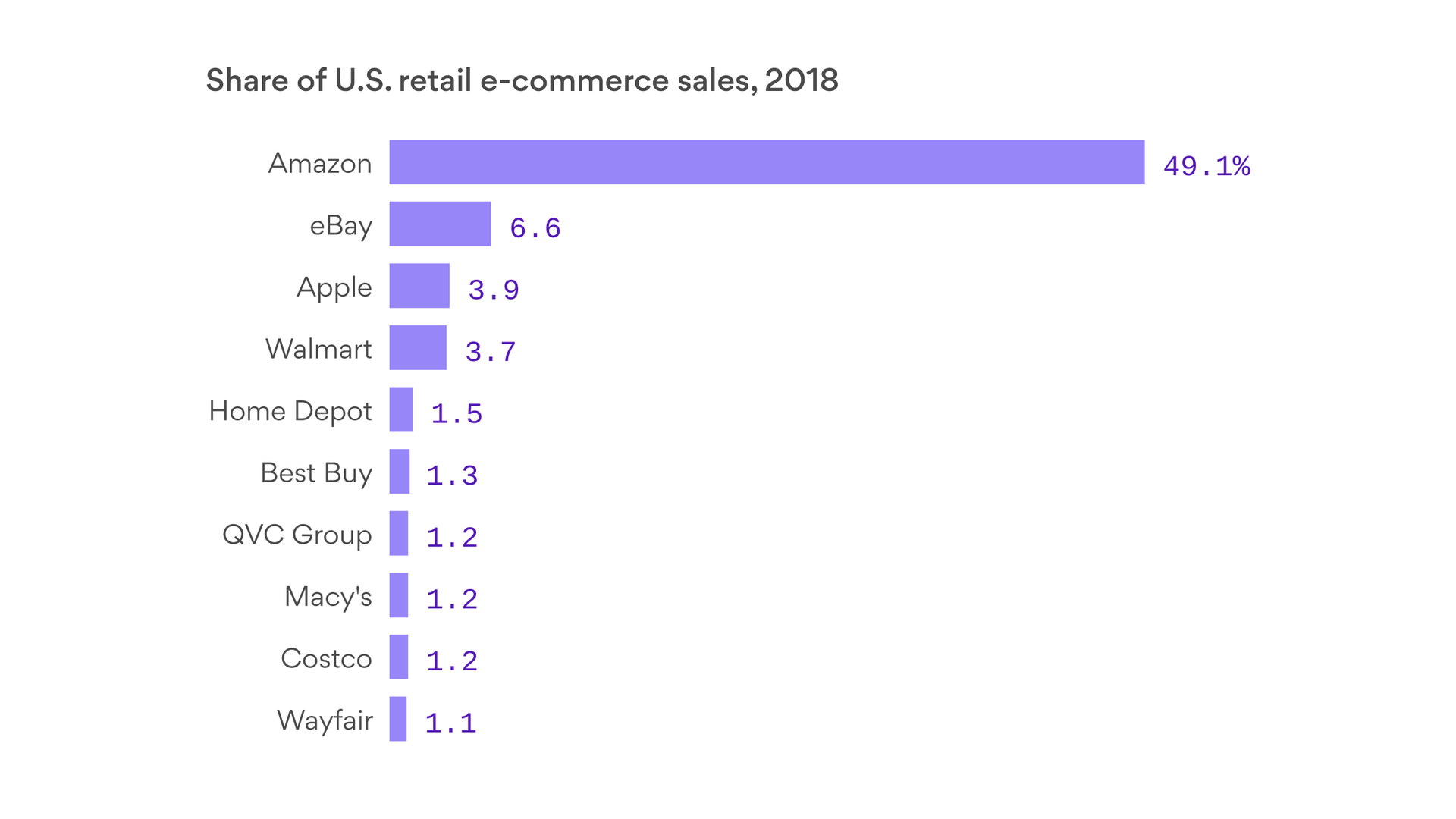 Amazon's e-commerce sales are expected to top $258 billion this year, up 30% from one year ago with projections for 2018 even more staggering in each Amazon category, according to a survey by eMarketer.
Why it matters: The survey shows the reality of Amazon's untouchable advantage against other retail companies. E-commerce giant eBay, is second to Amazon and only has 6.6% of the market share. The projections of each category on Amazon are more staggering, as each one is expected to grow in 2018 by massive margins.
The details: Computer and consumer electronics is the No. 1 category for Amazon, with sales of $65.82 billion in the U.S. this year, or one quarter of the company's retail e-commerce.
Almost 40% of all apparel and accessories in the U.S. will come from Amazon in 2018.
By the end of 2018, sales generated from Amazon's Marketplace will be more than double of Amazon's direct sales in the U.S.
Food and beverage is expected to grow by more than 40% in 2018, health and beauty is projected at 38%.
Yes, but: Amazon still only has 5% of the total U.S. retail market — online and offline.
What's next: Amazon has one objective in every sector it sells: to dominate. On deck is its growth of books; music; video category, furniture and home furnishing and toys.
Be smart: Amazon Prime Day starts Monday and goes on for 36 hours. The millions of items on sale on the site and in Whole Foods will help Amazon further reach the 50% market share. The Prime membership program has more than 100 million members and continues to grow with its loyal fan base.
Go deeper