What they're saying: Top Democrats urge Trump to cancel Putin summit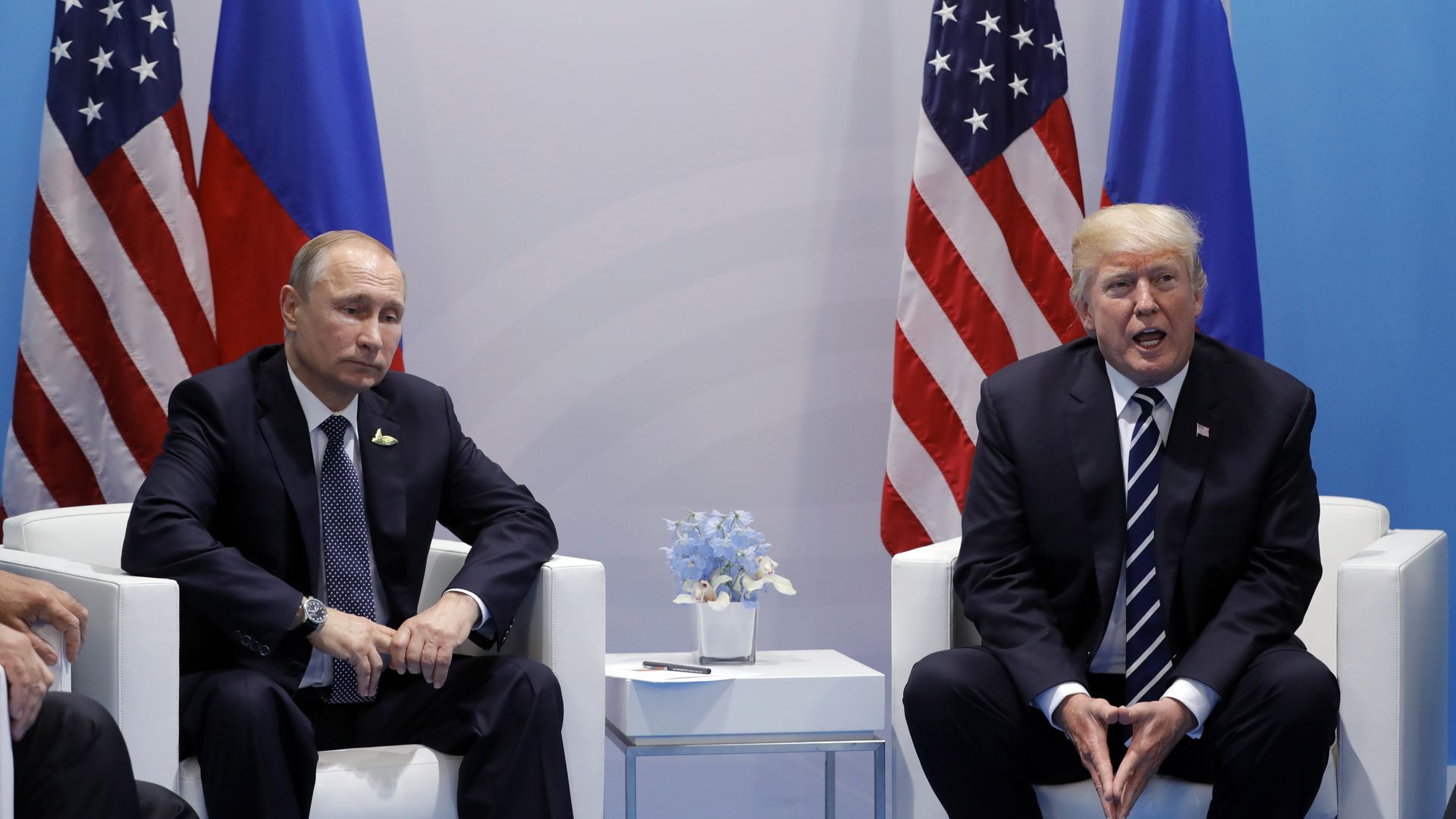 Top Democratic leaders are calling on President Trump to cancel his one-on-one meeting with Russian President Vladimir Putin in Helsinki on Monday following a federal grand jury's indictment of 12 Russian military officers for conspiring to interfere in the 2016 U.S. presidential election.
What they're saying: The Vice Chairman of the Senate Intelligence Committee Mark Warner, Minority Leader Chuck Schumer, and Ranking Member of the House Intelligence Committee Rep. Adam Schiff, among several others, argue that the U.S. should pull out of the meeting until Russia agrees to offer evidence that it will stop interfering in American democracy.
Democratic lawmakers:
Sen. Warner called on Trump to "cease and desist" from calling the Mueller investigation a "witch hunt," and argued the administration should designate a person in the White House to work with the Congress on keeping election systems safe. "It is time for this country to step up," Sen. Warner said.
Sen. Schumer: "President Trump should cancel his meeting with Vladimir Putin until Russia takes demonstrable and transparent steps to prove that they won't interfere in future elections. Glad-handing with Vladimir Putin on the heels of these indictments would be an insult to our democracy."
Rep. Schiff: "The president, knowing that there's unequivocal proof that the Russians hacked our institutions, to go into the summit and to continue to make these comments so favorable to Putin and the Russians is utterly inexplicable from the perspective of U.S. national security interests. It can only be explained by the fact that Donald Trump has a single ideology that trumps everything else, and that is the ideology of self."
The White House:
Rudy Giuliani said he thinks the indictments are "good news for all Americans. The Russians are nailed. No Americans are involved. Time for Mueller to end this pursuit of the President and say President Trump is completely innocent." Note, it's not true that no Americans were involved — the indictment just says that no allegations are made about Americans knowingly interacting with Russian intelligence officers.
White House Spokesperson Lindsay Walters said "Today's charges include no allegations of knowing involvement by anyone on the campaign and no allegations that the alleged hacking affected the election result. This is consistent with what we have been saying all along."
Those affected by the hack:
John Podesta, Hillary Clinton's former campaign chairman who had his email hacked, said he is "pleased that there's enough criminal evidence to bring an indictment." He added that, despite the Mueller investigation being called a "witch hunt," Mueller appears to have just gotten the so-called witches.
DCCC Communications Director Meredith Kelly said "The DCCC was the victim of a cybersecurity intrusion during the 2016 election cycle, and this indictment relates to that incident."
Rep. Debbie Wasserman Schultz, who resigned as DNC chairwoman in July 2016 after emails revealed some DNC officials preferred Hillary Clinton over Bernie Sanders, said "I'm pleased that the Justice Department is following the facts wherever they may lead, despite Donald Trump's dangerous distortions and his refusal to acknowledge the conclusions reached by the American Intelligence Community."
Go deeper