Trump gives interview attacking May ahead of meeting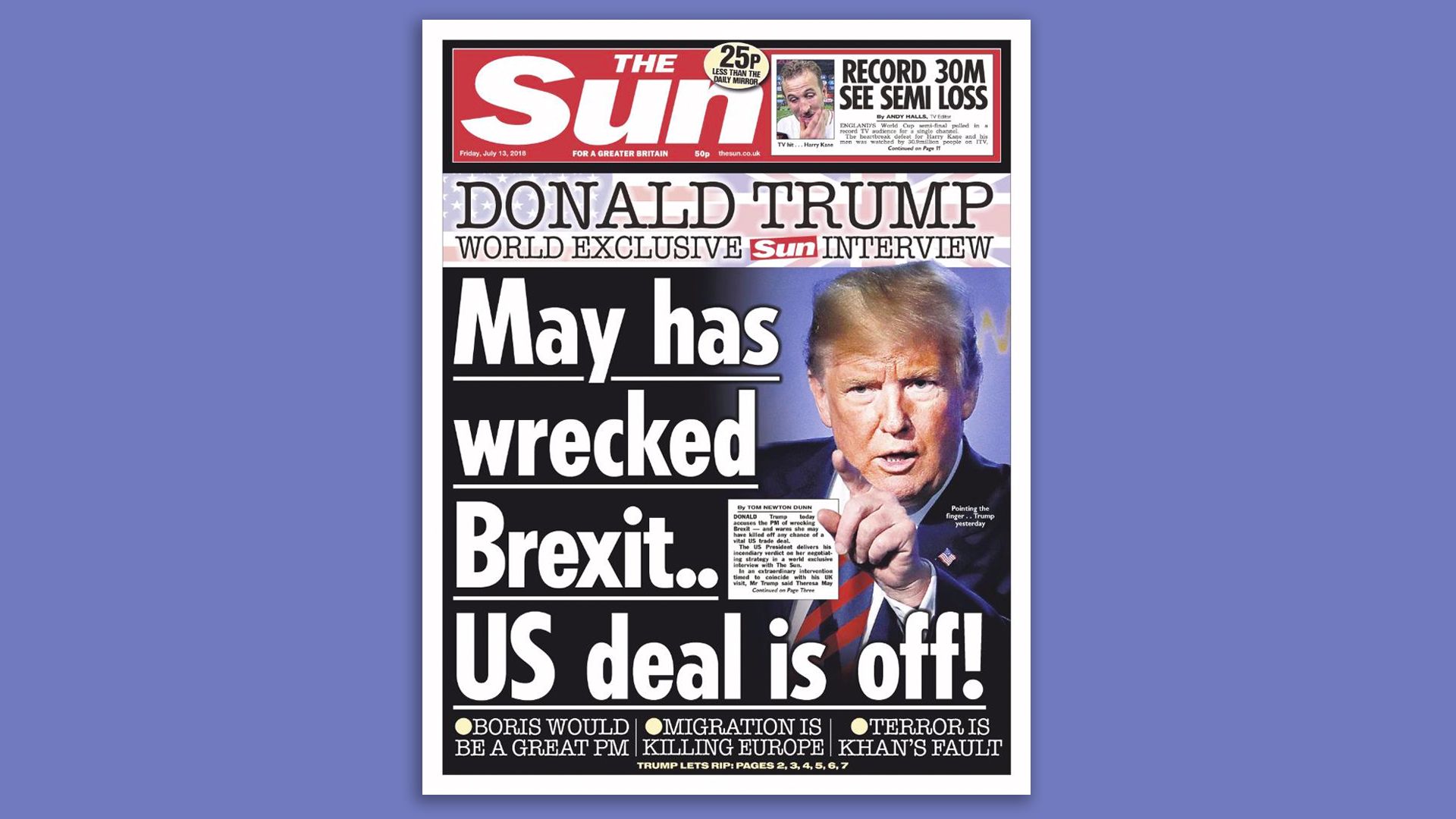 President Trump, in an interview with the popular British newspaper the Sun, criticizes Prime Minister Theresa May's handling of Brexit, says the mayor of London doesn't do enough to fight terrorism, and said May's rival Boris Johnson would make a "great prime minister."
Why this matters from Axios World Editor David Lawler: May is in the fight of her life with hardliners within her own party, and President Trump — while visiting the U.K. — has just openly sided with the rivals that may attempt to force her from power.
In the interview, Trump said May "had ignored his advice by opting for a soft Brexit strategy" and said any possible trade deal between the U.S. and U.K. would be wrecked by May's strategy of keeping close ties to the EU.
Thought bubble, from Axios' Jonathan Swan in London: This is literally the exact opposite of what the Brits were hoping for from this trip. They were eager to improve the relationship between Theresa May and Donald Trump. They were hoping for support from Trump — and a signal to voters that there's a positive road ahead with May's Brexit plan. They wanted Trump to talk up the possibility of a U.S.-Britain bilateral trade deal. In this interview he trashes that idea, rubbishes her approach to negotiating Brexit, and props up her political nemesis and future leadership rival Boris Johnson.
In more details (as bulleted by the Sun) Trump:
Accused EU leaders of destroying its culture and identity by allowing in millions of migrants
Tore into London Mayor Sadiq Khan for not standing up to terrorists
Blamed Khan for spiralling crime in the capital
Insisted former Foreign Secretary Boris Johnson would make "a great Prime Minister".
Denied once branding Theresa May a "bossy schoolteacher"
Maintained he would keep ties with Russian tyrant Vladimir Putin despite the Salisbury Novichok poisonings
Demanded Britain and other Nato countries spend more on defence
Spoke of his sadness at feeling unwelcome in the capital by anti-Trump protesters
Claimed millions of Brits backed his policies
Told of his pride at taking wife Melania to meet the Queen
White House statement on the interview: "The President likes and respects Prime Minister May very much. As he said in his interview with the Sun she "is a very good person" and he "never said anything bad about her". He thought she was great on NATO today and is a really terrific person. He is thankful for the wonderful welcome from the Prime Minister here in the U.K."
Go deeper