NATO strengthened at summit, despite Trump's threats and gripes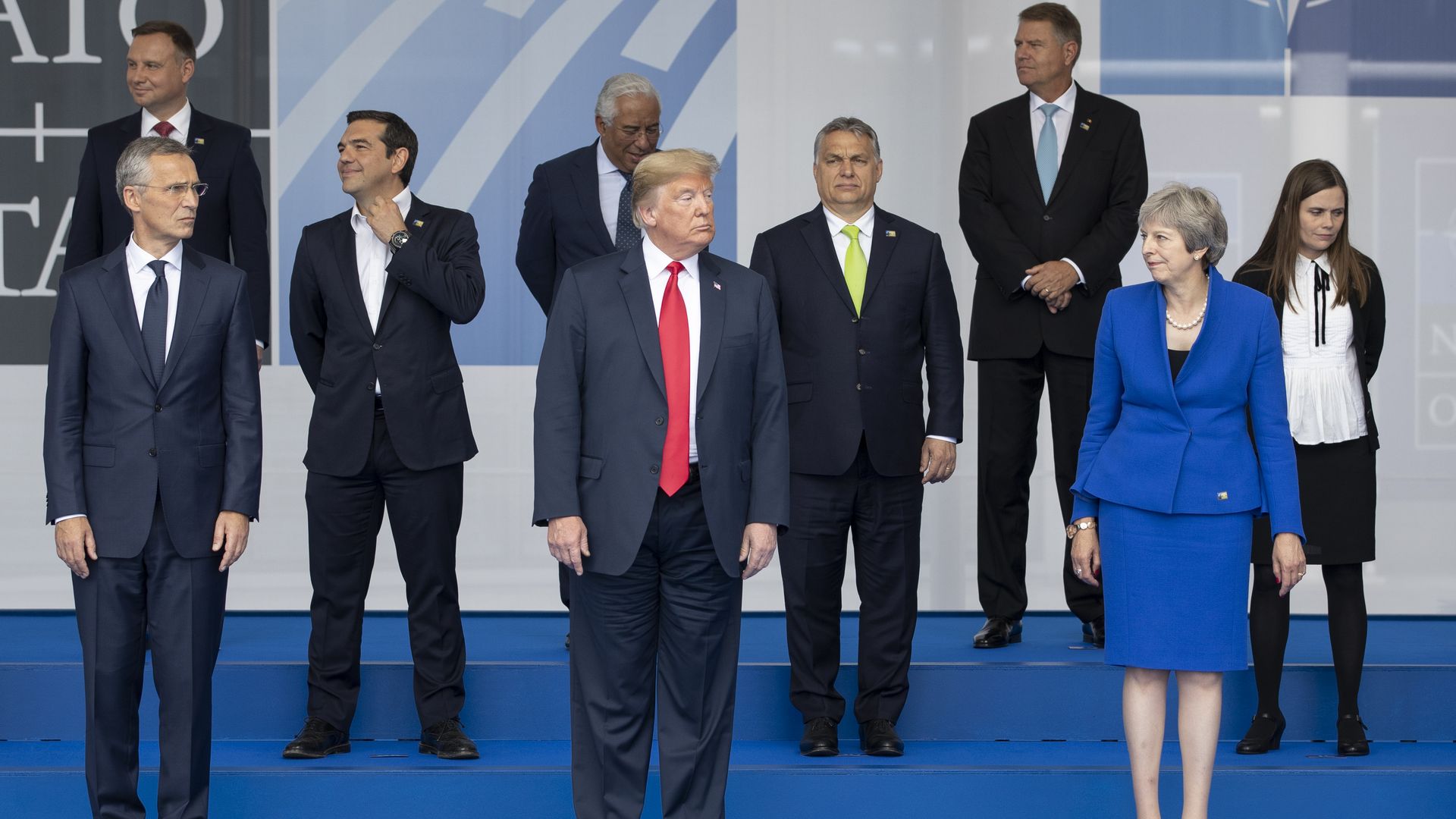 On President Trump's first day at the NATO Summit, he scolded Germany as "a captive of Russia," accused allies of being delinquent on defense payments and called on member countries to double their defense spending from 2% to 4% of GDP. But he then joined 28 allied leaders in signing a declaration that bolsters NATO deterrence and defense and starkly criticized Russia for its illegal annexation of Crimea.
Why it matters: The first set of statements are deeply divisive and call Trump's commitment to NATO into question. Germany is hardly controlled by Moscow, allies don't owe the U.S. any money and even the U.S. doesn't spend 4% of GDP on defense. These are all statements designed to undermine NATO.
Nevertheless, NATO made important decisions that strengthen the alliance:
Agreement to deploy 30 battalions, 30 air squadrons and 30 war ships in 30 days by 2020 to defend NATO territory
Reform of the integrated command structure to enable rapid reinforcement across the Atlantic and Europe to defenses in the East
Reaffirmation of the commitment to spend 2% of GDP on defense by 2024
Strengthening of the counterterrorism training mission in Iraq
The bottom line: Allies will ignore the Trumpian bluster for now, even if they see it as deeply unfortunate and challenging, focusing instead on the important steps taken to strengthen NATO.
What's next: The real test will come Monday, when President Trump meets Vladimir Putin in Helsinki. If Trump stands up to the Russian leader and underscores differences over Ukraine, Syria and arms control, allies will be reassured. But if Trump agrees to concessions — like halting the deployment of troops in the East, limiting missile defenses or ending NATO enlargement — allies will know that Trump's bluster is real.
Ivo Daalder is the president of the Chicago Council on Global Affairs and a former U.S. ambassador to NATO.
Go deeper