The big picture: High-profile departures shake Westminster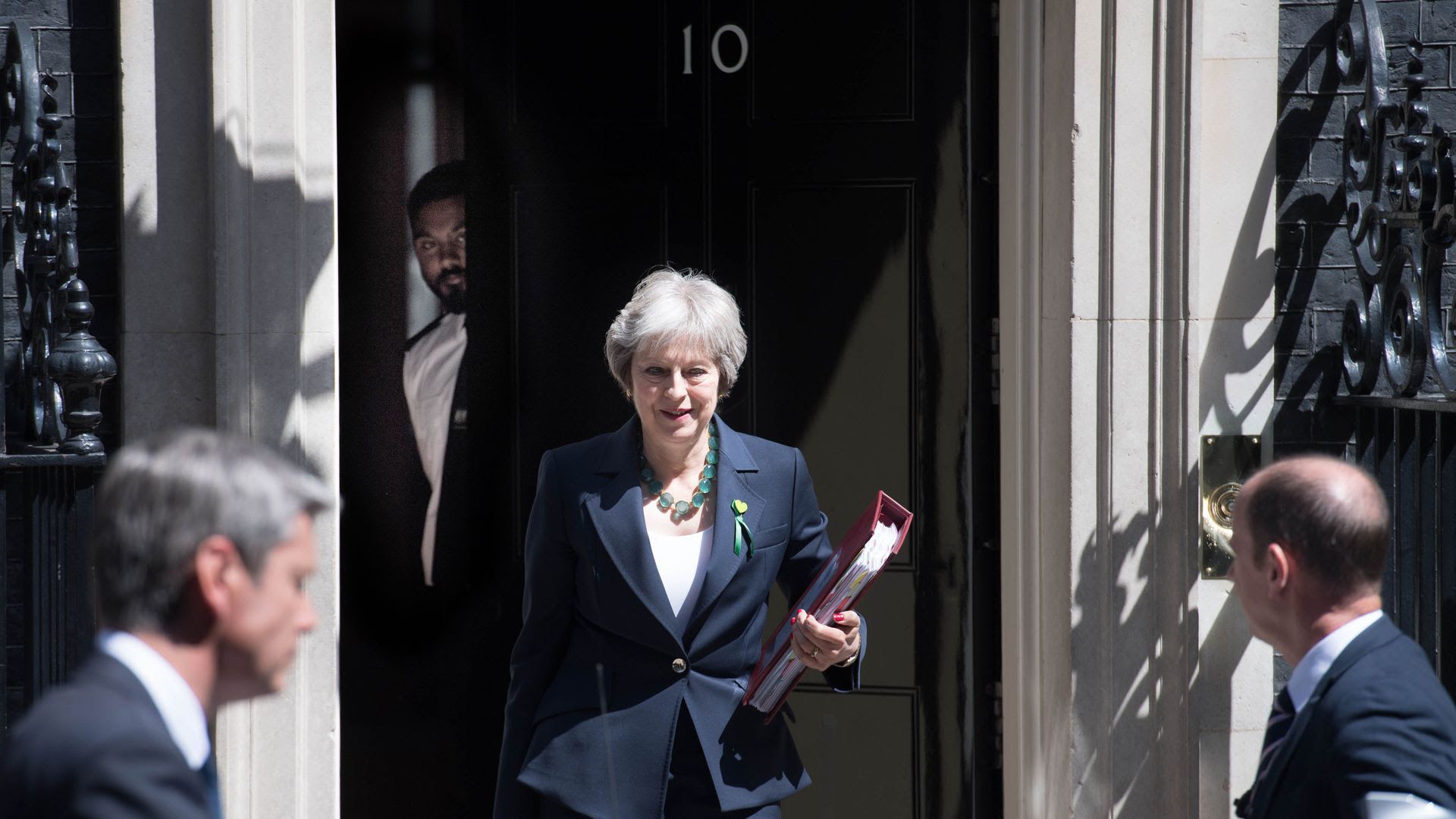 The ground is shaking under U.K. Prime Minister Theresa May's feet after two top cabinet officials resigned over her blueprint for Brexit.
The big picture: Two years after May moved into Downing Street in the wake of the Brexit referendum, and nine months before the U.K. is set to leave the EU, the truce she worked tirelessly to maintain within the Conservative Party has officially broken down, and the path to Brexit remains far from clear.
How it happened:
David Davis, the outgoing Brexit secretary, went fairly quietly, saying he couldn't advocate for a plan he doesn't support. Boris Johnson does little quietly, and landed several parting shots in resigning as foreign minister, including the proclamation that the Brexit "dream is dying, suffocated by needless self-doubt."
The departures followed a Friday cabinet gathering at Chequers, the prime minister's country retreat, that produced a so-called "soft Brexit" plan, which would see the U.K. maintain close economic ties with the EU after Brexit. It was designed in part to alleviate concerns from business, but infuriated hardline brexiteers who want a sharp break from Brussels.
May, who announced Johnson's departure before he had a chance to, wrote that she was "a little surprised" to receive his letter after the cabinet agreed to her proposal.
May replaced Johnson with Jeremy Hunt, the long-serving health secretary and a loyal supporter. The top jobs in her cabinet are now all held by officials who opposed Brexit.
Jeremy Corbyn, leader of the opposition Labour Party, said May's government must "get its act together and do it quickly. And if it can't, make way for those who can."
Be smart: The risk of an imminent ouster seems to be fading for May, though things remain fluid some eight hours after Johnson's resignation. Ben Roback of the Cicero Group consulting firm emails from London with his analysis:
"Today's resignations have shown Theresa May is vulnerable, but the question has become when the Brexiteers strike more than if. Their worst option is to try but fail to oust May, whose strength is that she is still the only one offering a Brexit solution. But Brexiteers like Johnson, Davis and the European Research Group are now together on the back benches in Parliament and may start plotting their own plan for Brexit, as well May's downfall, soon."
Where things stand:
Having seen off two chief critics and survived (assuming she does), May could actually emerge from this with a stronger hand and a more united cabinet. As Sam Coates of the Times quips, it's "totally unclear whether the U.K. political classes are one step closer to sanity or one step closer to calamity."
A new Sky News poll shows just 22% of Britons trust May to run Brexit negotiations, down from 54% in March 2017 (the last time the poll was taken). The fact is, though, they might trust the alternatives to May even less.
Reminder: President Trump heads to the U.K. on Thursday.
Go deeper