The year's most consequential campaign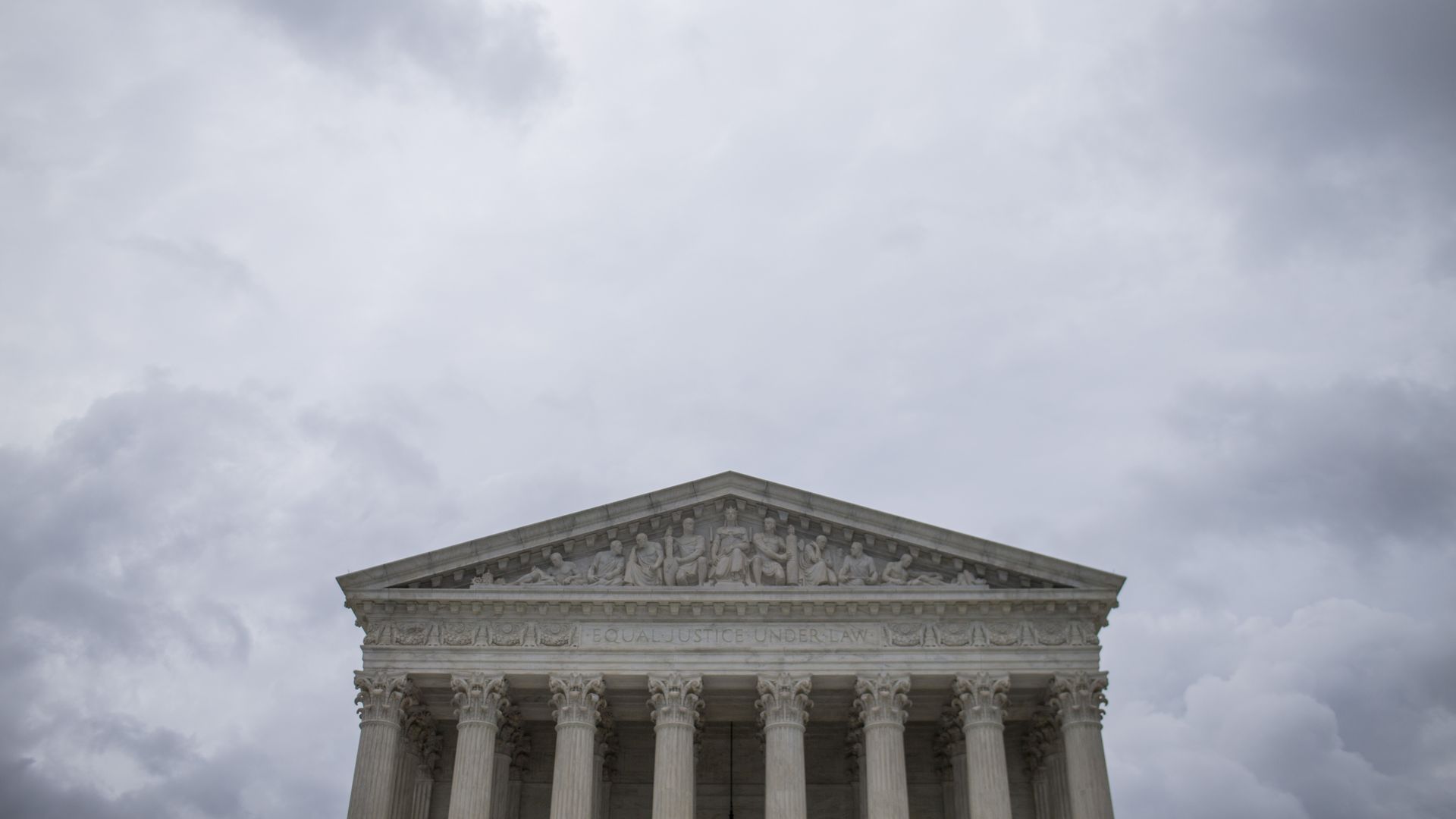 Within seconds of President Trump's announcement of his Supreme Court pick at 9 tonight, the conservative Judicial Crisis Network will begin running digital ads targeted at Democrats in red states who might vote for confirmation. On the left, Demand Justice — a group launched in May to prepare progressives for a Court fight — plans to spend at least $5 million to oppose Trump's nominee, with a pincer plan that pressures both Republican and Democratic senators in key states.
Why it matters: For the rest of the summer, the confirmation fight will overshadow the congressional midterms, which were supposed to be the year's most momentous melee.
This battle will be fought both inside the Beltway and in the country, focused in a few key states from Alaska to Maine, with Alabama, Indiana, North Dakota and West Virginia in between.
"If you combine the intensity of the health care and tax fights, and condense it all into three months running right up to the midterms, that's what's in store on SCOTUS," said Brian Fallon, executive director of Demand Justice.
As former (and perhaps future) House Speaker Nancy Pelosi can tell you, congressional control can be undone every two years, with a wave and the whim of the voters:
Seats on the Court, a more durable prize, exist outside the political calendar — open based solely on a given justice's health and personal plans.
An opening is an opportunity to cement history that every president wishes and plans for, but none can count on.
Trump has now had two in two years, meaning his imprint on the nation is likely to last decades past the inauguration of his successor in 2021 or 2025.
The fight now takes on a calendar of its own:
Demand Justice is partnering for a Week of Action this week with groups that include Indivisible, MoveOn, Planned Parenthood and NARAL.
And groups that support abortion rights will be back with a Day of Action on Aug. 26, the 98th anniversary of the adoption of the 19th Amendment, which gave women the right to vote.
Court TV ... Here's how the air war looks from the right:
Tomorrow, the Judicial Crisis Network will launch an introductory bio spot about the nominee on national cable and on TV in Alabama, Indiana, North Dakota and West Virginia.
That ad will run for a week as part of a $1.4 million buy (including digital), and JCN has reserved another four weeks of air time nationally and in the four states.
The group has already spent $1 million on a campaign called "Another Great Justice" that launched the day after Justice Anthony Kennedy announced his retirement.
... And from the left:
NARAL and Demand Justice plan a #SAVESCOTUS rally on the steps of the Supreme Court tonight to react in real time to Trump's announcement.
Demand Justice is already up with a Roe-focused ad in the home states of Sen. Susan Collins of Maine and Sen. Lisa Murkowski of Alaska, urging those Republicans to oppose an anti-abortion nominee.
Later this week, Demand Justice will go on TV in red states to bolster Democratic Sens. Heidi Heitkamp of North Dakota, Joe Donnelly of Indiana and Joe Manchin of West Virginia. The ads will praise those senators for pushing to preserve the Affordable Care Act's protections for people with preexisting conditions.
Get more stories like this by signing up for our daily morning newsletter, Axios AM. 
Go deeper