Behind the scenes: Trump's Supreme Court suspense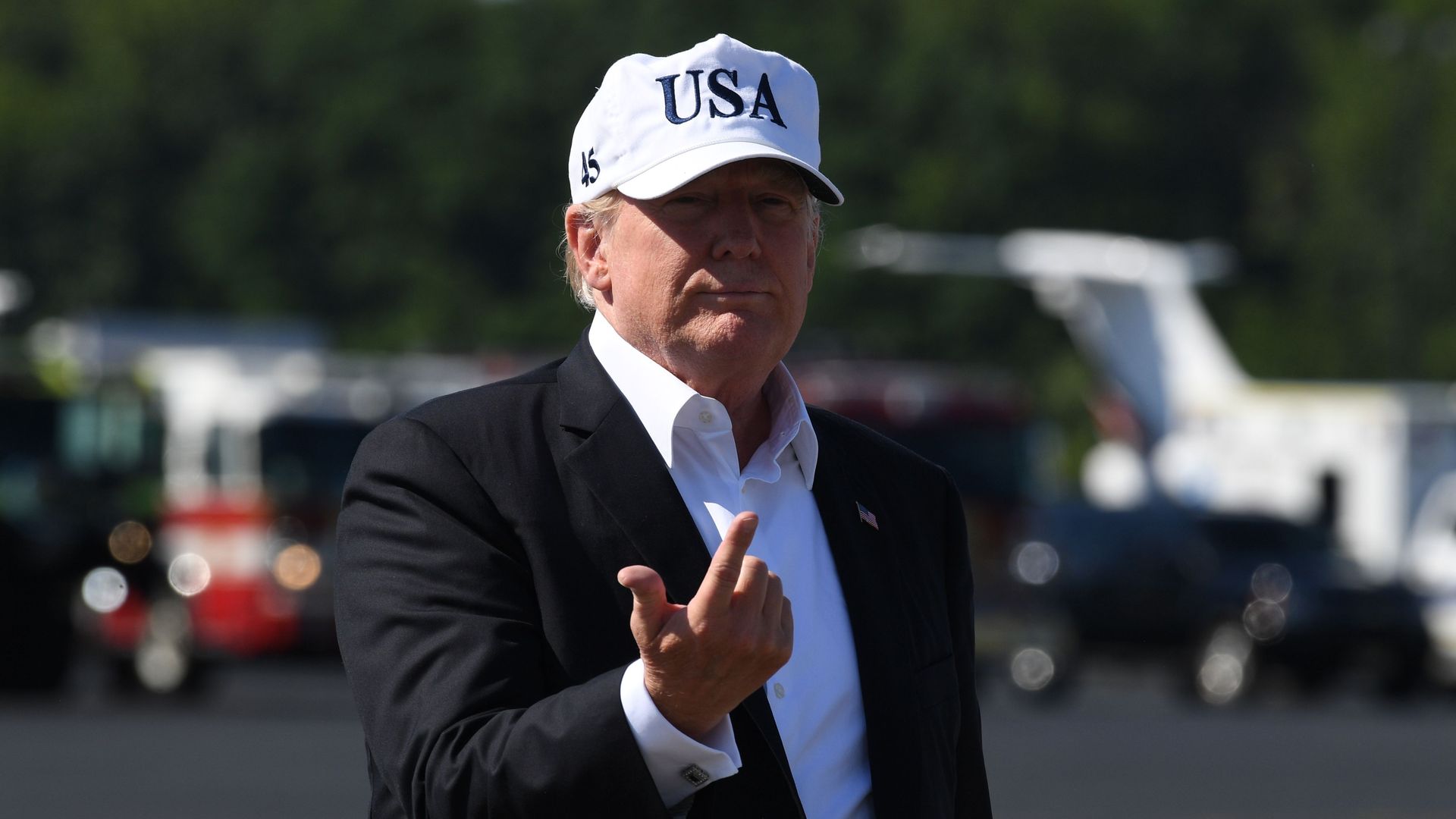 President Trump is trolling everyone. Either that or he's genuinely undecided, right up until the final day before he announces, in a prime-time address on Monday night, who he's picked to replace Anthony Kennedy on the Supreme Court.
What we're hearing: Sources who've spoken to the president over the past 24 hours tell me, as of Sunday afternoon, that he still truly hasn't made up his mind and is still vacillating in phone calls to friends and advisers between his "final four" judges: Brett Kavanaugh, Amy Coney Barrett, Thomas Hardiman and Raymond Kethledge.
Kavanaugh has always been the frontrunner — and is a favorite of White House Counsel Don McGahn — but Trump has been mentioning Hardiman more frequently over the past few days.
Politicos outside the White House, including Trump allies Lou Barletta and Rick Santorum, have been lobbying hard for Hardiman, touting his political benefits to White House officials, according to a source with direct knowledge.
They've argued that Hardiman better matches the blue collar, outsider, western Pennsylvania coalition that helped elect Trump in 2016. (Trump also feels comfortable with Hardiman, who was one of his two finalists last year.)
The judge who's most exciting for the Republican base appears to be Barrett — a 46-year-old judge on the Seventh Circuit Court of Appeals, a staunch social conservative and mother of seven children.
White House staff — even at a very senior level — have been given no guidance on who Trump has chosen and those who've discussed the decision with him are genuinely of the view that he hasn't made up his mind.
The White House team working on the Supreme Court nomination process had built out detailed roll-out scenarios for each of these final four judges I mentioned above. They've crafted messages to sell each potential candidate and have compiled lists of potential validators to promote each judge in the media and on Capitol Hill.
McGahn has led the process internally, working with his team. From a communications standpoint, the White House's principal deputy press secretary Raj Shah is in charge.
But, but, but: Don't discount the possibility that Trump has made up his mind — or all but done so — and is simply enjoying keeping everyone, even those closest to him, guessing. A source who spent a lot of time talking to Trump during last year's Neil Gorsuch confirmation told me "he loved the drama and theatrics of the announcement where no one knew before he revealed Gorsuch in the East Room."
"My guess," the source continued, "is that he's pretty much made up his mind but he's not telling anyone because he wants the surprise effect like last time. He's capable of keeping a secret when it's in the service of a PR success."
Behind the scenes: Trump has chosen an interesting cast of characters to surround himself with for his final hours of deliberation. The president spent the weekend hanging at his New Jersey golf club with friends and aides, including Fox News host Sean Hannity, former Fox News co-president Bill Shine (who recently joined the White House in a senior role), chief of staff John Kelly and son-in-law and senior adviser Jared Kushner.
Go deeper