Trump and Merkel: An explosion-in-waiting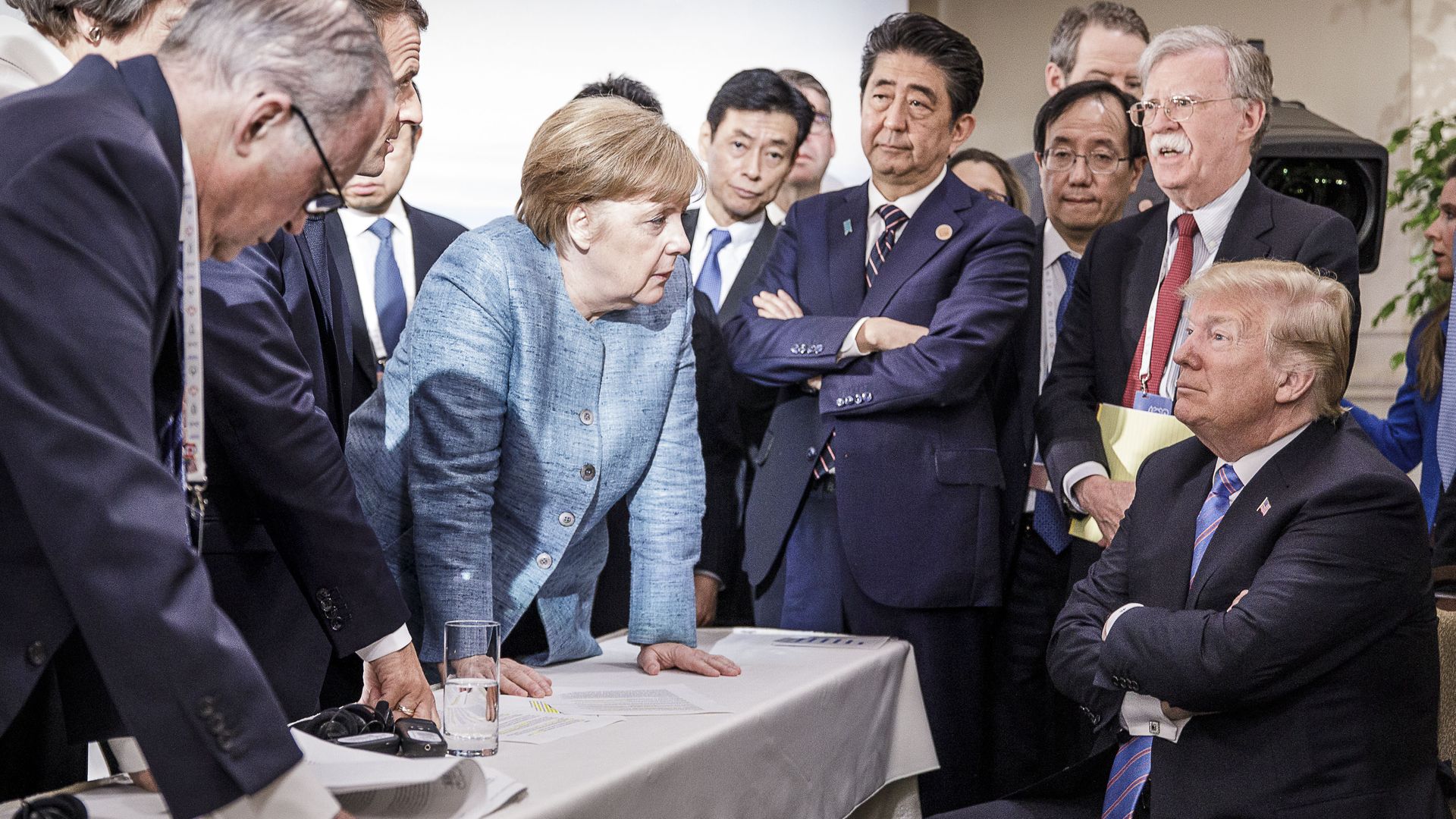 Trump often saves his harshest words for Germany and its leader Angela Merkel — and their feud could explode this week at the NATO summit.
What's happening: Trump has perfected what European officials describe as a 10-minute monologue on what he views as Germany's major sins: unfair trade with the U.S. (especially on cars), inadequate defense spending, and loose immigration policy leading to an invasion of radical Islamists.
Between the lines: Merkel is politically weak, domestically, and Trump has been exploiting this situation. He's been hammering away at her for months, saying that he thinks it's hypocritical that Germany views Russia as a bad actor worth confronting and yet at the same time spends a paltry amount on its defense and appears eager to purchase Russian gas.
The big picture: To illuminate how the German political establishment is grappling with a new aggressive America under Trump, I interviewed Karen Donfried, president of the German Marshall Fund of the United States and former senior director for European affairs in Obama's National Security Council.
Donfried, who recently returned from Germany, said there's a "very robust debate" going on, both within and outside of the German government, about how to relate to the United States and the Trump administration.  
"Strategic patience" vs. "strategic autonomy": "You had one group that argued robustly that Germany should be exercising strategic patience," she said. "They see Donald Trump as a singular U.S. president and, whether he serves one or two terms, that after that presidency the pendulum would swing back to a United States that exercises a more traditional relationship to its European allies."
"Then there is another school of thought arguing that, no, the changes in how the U.S. views its role in the world began prior to the presidency of Donald Trump and will extend beyond his presidency, arguing very much that Donald Trump is a symptom of deeper trends relating to the U.S. role in the world, not the cause of them.  "
"And, therefore, the U.S. is no longer a reliable ally..."
The bottom line: "Now, those in the second camp would admit that they are far from being strategically autonomous in 2018 but that that's where their focus should be rather than on limiting damage for a day when the pendulum swings back and the U.S. assumes a more traditional role."
What's next? "You've seen the European Union create — the acronym is PESCO —  a permanent structured cooperation on security and defense. And the French have put forward an idea for a European Intervention Initiative, where they're trying to bring together a smaller number of European countries to focus on building up more robust military capabilities that would allow the Europeans to intervene militarily on their own."
Go deeper