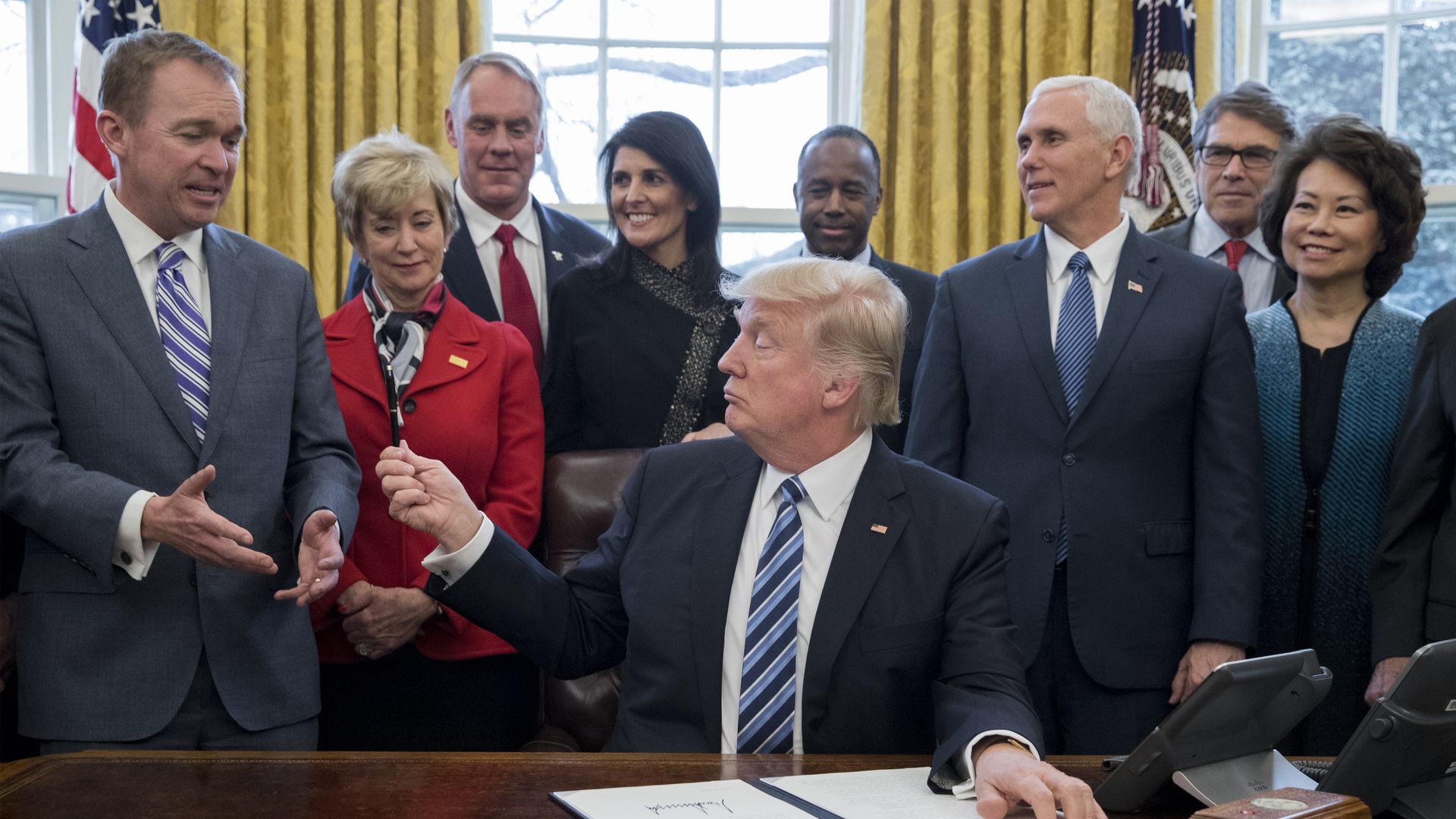 The AP today paints a picture of Trump's cabinet as a life of "everyday doses of presidential adulation, humiliation, perks and pestering" after interviewing almost two dozen officials, lawmakers and outside advisers.
Why it matters: "Trump has had more turnover of Cabinet-level positions than any president at this point in their tenure in the last 100 years," the AP reports
Highlight reel:
"The president has complained to confidants that more members of his Cabinet "weren't good on TV.""
Rex Tillerson and Trump "never clicked" and Tillerson's "passive-aggressive manner infuriated the president, delivering retorts like "if you say so" and "you know best, sir.""
At the end of a speech praising the EPA for its deregulatory accomplishments, "Trump turned to Pruitt across the Oval Office to discuss one other matter, [Scott Pruitt's scandals.] "Knock it off," Trump said.""
When Attorney General Jeff Sessions announced his recusal from the Russia investigation, "Trump screamed at" staffers he'd called to the Oval Office, including Jared Kushner, then-adviser Steve Bannon and then-Chief of Staff Reince Preibus.

"He demand[ed] to know how Sessions could be so "disloyal" while musing that he should fire the attorney general…"
"Earlier this year, to mark the one-year anniversary of his confirmation, his senior aides gave [Sessions] a gift: a bulletproof vest emblazoned with his name."

"Trump has remained fond of hard-charging Budget Director Mick Mulvaney, praising his combative briefings with the press."
Secretary of Defense Jim Mattis is believed to be the "most successful in managing Trump because he is "soft-spoken in his interactions with the president — often passing up the chance to speak in meetings."

"Mattis is a frequent guest at White House lunches and dinners, a sign of his elevated status. He frames his suggestions to the president in terms of his expertise ... White House officials have noticed that Trump sometimes later repeats historical military anecdotes that Mattis related to him — evidence the president was really listening."
Go deeper: Read the full report.
Go deeper