Wildfires rage in West as drought, heat wave take a toll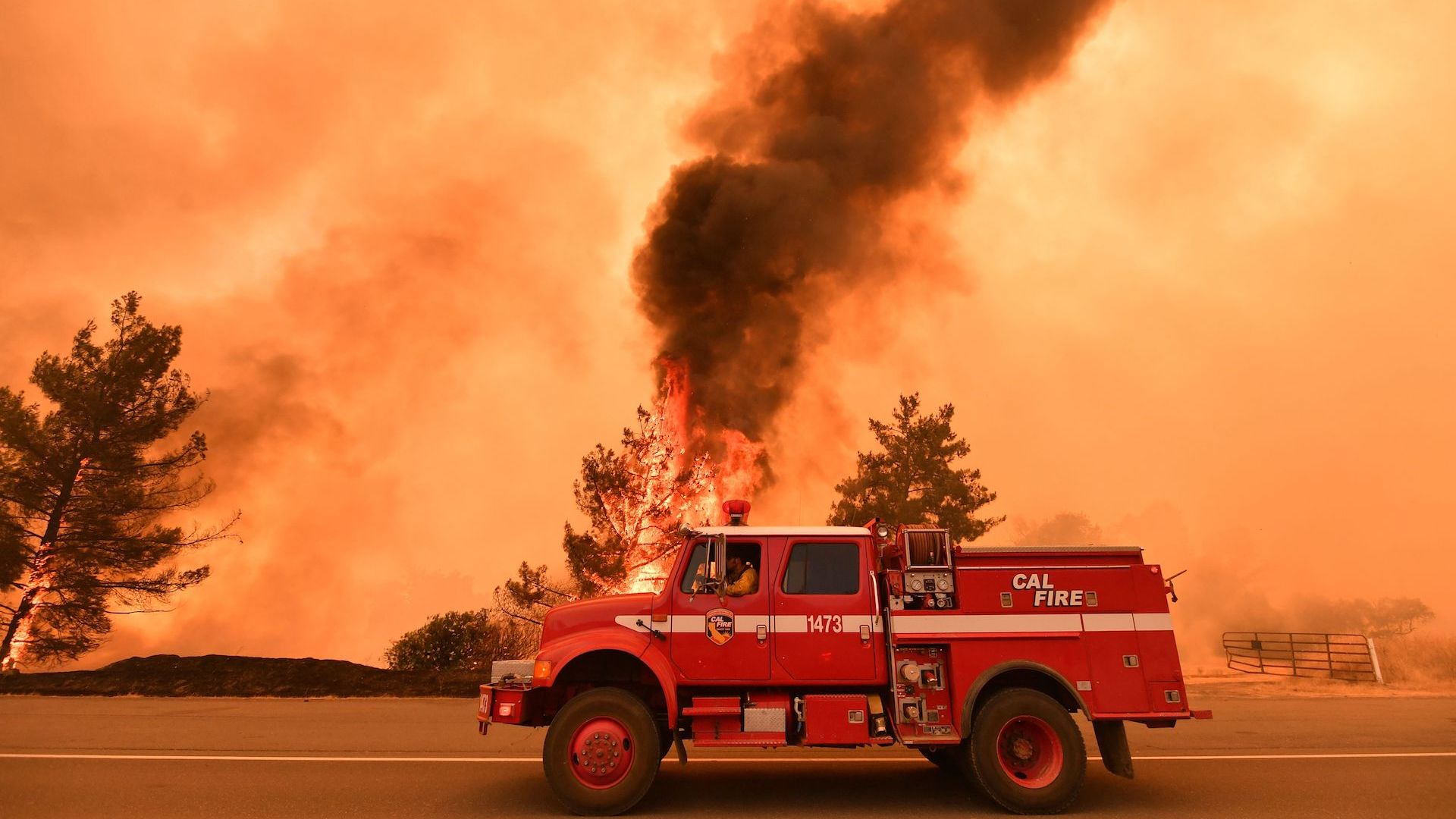 Dozens of wildfires are burning across the West, from California to Colorado, with thousands of firefighters toiling away in hot, dry weather, trying to prevent the blazes from burning down homes and businesses.
Why it matters: These fires are coming early in the wildfire season, which is potentially a bad sign for how the rest of the summer and fall may proceed, before winter rains and snow presumably return. In other words, the horrific wildfire season of 2017, which was the worst in California history, could be nearly equaled or exceeded this year.
The big picture: In vast stretches of the warming, drying American West, there is no well-defined wildfire season anymore. Instead, fires are now popping up at almost any time of year, even during passing warm spells in the winter. Right now, hot, dry and windy conditions are combining to turn the West into a tinderbox, particularly in California, New Mexico, Arizona and parts of Colorado. Large wildfires are burning in each of these states.
The details: In California, for example, the County Fire in Yolo and Napa counties has turned the sky over San Francisco into an eerie orange haze while fouling air quality in the Central Valley of the state.
As of Tuesday morning, this blaze had already burned more than 70,000 acres and was only 5 percent contained, with more than 2,000 personnel devoted to fighting it.
In California, through July 1, more than twice as many acres had gone up in smoke in California compared to the same period in 2017.
"It has been basically very dry since the beginning of April," Paul Ullrich, a climatologist at UC Davis, told the Sacramento Bee. "I wouldn't be surprised if the (fire) season is among the worst on record." According to the newspaper, the County Fire has spread at a rate of 1,000 acres per hour, due to high winds and dry conditions.
In 2017, just four large California wildfires combined caused $18 billion in damages, which made them the costliest in U.S. history, according to NOAA.
In Colorado, fires have been burning for weeks in the southwestern part of the state, with firefighters unable to squelch the blazes in rural areas and national forests.
Colorado officials have warned residents to expect one of the most severe wildfire seasons on record there too.
What we're watching: A heat wave that is building westward across the U.S. is forecast to make fire weather conditions more perilous across the West through the weekend, according to the National Weather Service. The heat wave may bring the first big fires of the season to Southern California, where temperatures at the coast are forecast to reach near 100 degrees Fahrenheit on Friday and Saturday, with "Elevated to possibly critical fire weather conditions."
The heat may return to the West, and settle in for a longer period, during the second week in July.
Be smart: Scientists have already observed a trend toward larger wildfires in the West, along with wildfire seasons that start earlier, due to more rapid snowmelt in the spring and warmer, drier conditions. In addition, summers are now hotter than they used to be across the West.
These shifts have links to global warming, according to numerous scientific studies. Wildfires are also getting more destructive because of land use and fire suppression policies over the years.
Our thought bubble: California saw its deadliest and largest blaze on record in 2017, which killed 41 and burned 281,000 acres. Leaders there are hoping they don't have to contend with anything like that again this year. But chances are that with a warming climate leading to drier vegetation and more erratic precipitation patterns, that record may be equaled or even toppled sooner rather than later.
Go deeper:
Go deeper