Slim prospects for Syria headway at Trump-Putin summit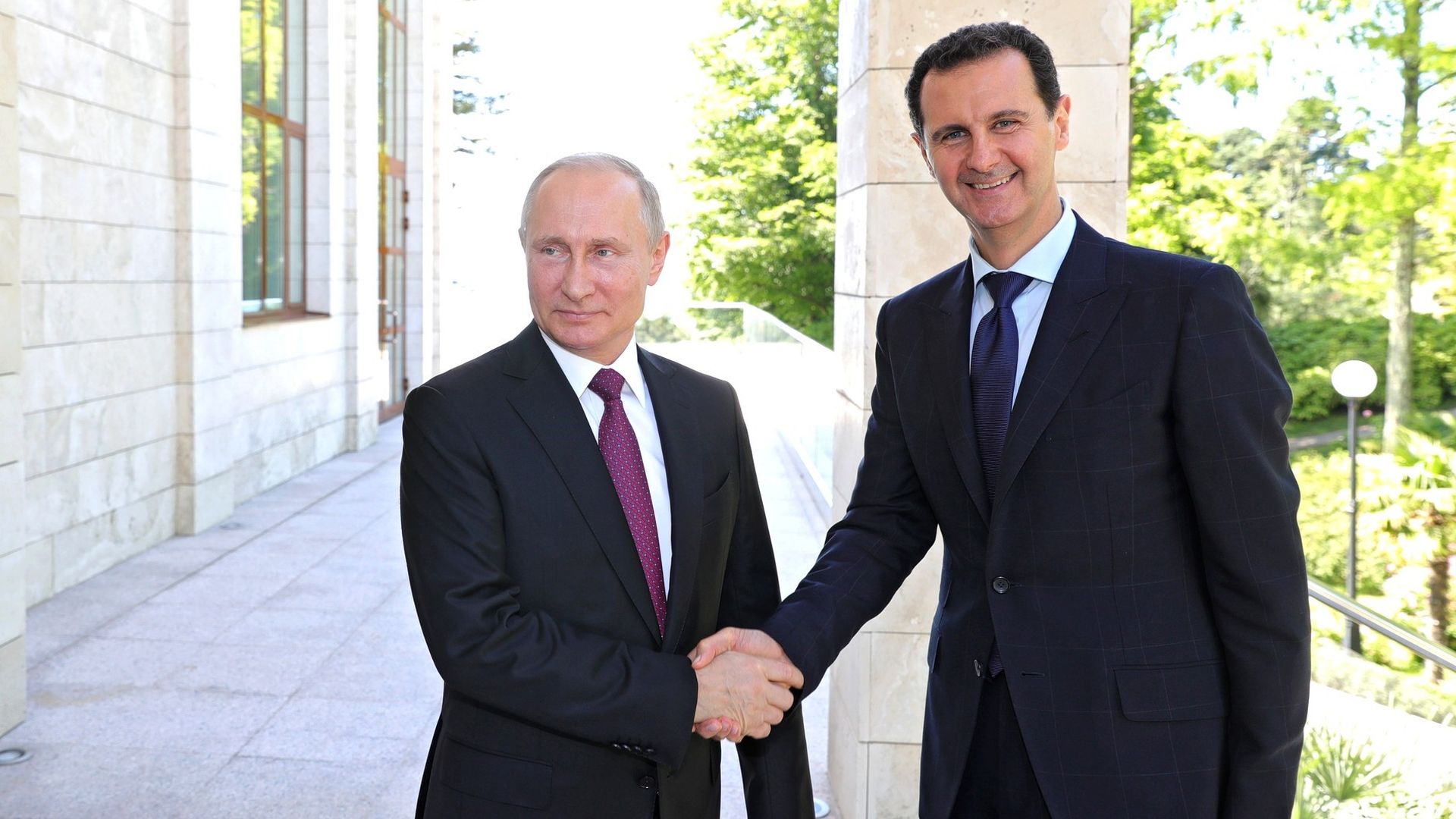 Backed by Russian airpower, the Assad regime has begun retaking Syria's rebel-controlled southwest. Using a mix of infiltration, negotiated surrenders and brute military force, the regime has overrun nearly all of the rebel-held southwest's eastern sector, displacing more than 270,000. The western sector adjacent to the Israeli-occupied Golan is likely next.
Why it matters. Syria's southwest corner, abutting Jordan and Israel, is where the uprising began seven years ago. For the Syrian regime, this marks one of the last chapters of this phase of the war, in which Assad seeks to reconquer all territory unprotected by foreign boots on the ground. With the northwest overseen by Turkey and the northeast controlled by U.S.–backed Kurdish forces, that leaves only this southwest pocket up for grabs.
Who wants what:
Jordan hoped for a gradual, nonviolent return of regime control in the southwest, if only to prevent another refugee influx. It had been banking on the U.S. and Russia to accede, but American resistance created an impasse.
Israel insists that Iranian forces stay away from its borders. If the Assad regime advances with only Russian support, Israel likely will acquiesce; if there's an Iranian presence, however, it could hit back. Russia will attempt deconfliction between the two.
Russia would have preferred a deal with the U.S. to enable an uncontested regime return, but is happy playing its usual game: claiming it is not wedded to Assad but displaying no willingness to divorce.
The U.S. has been hobbled by disputes between those who want to focus on the Islamic State and were prepared for a deal with Russia; those fixated on Iran and inclined to help the opposition to resist a regime they see as Tehran's extension; those focused on countering Iran but unconcerned about a southwest likely to fall regardless; and then Trump himself, intent mainly on getting the roughly 2,000 U.S. troops out of Syria. The end result has been a hands-off approach: neither acceding to, nor opposing, the regime advance.
The bottom line: Syria was always going to be part of the Trump–Putin conversation. But if Putin gets to the planned Helsinki summit with the southwest in regime hands, there will be little left to negotiate. Russia wants the U.S. out of Syria but so does Trump, so it's not clear what Putin might trade for something Trump's eager to do anyway. Trump also wants Iran out of Syria, but that's not something Russia can deliver. The end result could well be a statement that speaks loftily of a complete foreign-force withdrawal and the noble goal of a political solution, followed by few if any changes on the ground.
Robert Malley is president and CEO of the International Crisis Group.
Go deeper