Rep. Jim Jordan accused of ignoring sexual abuse claims at Ohio State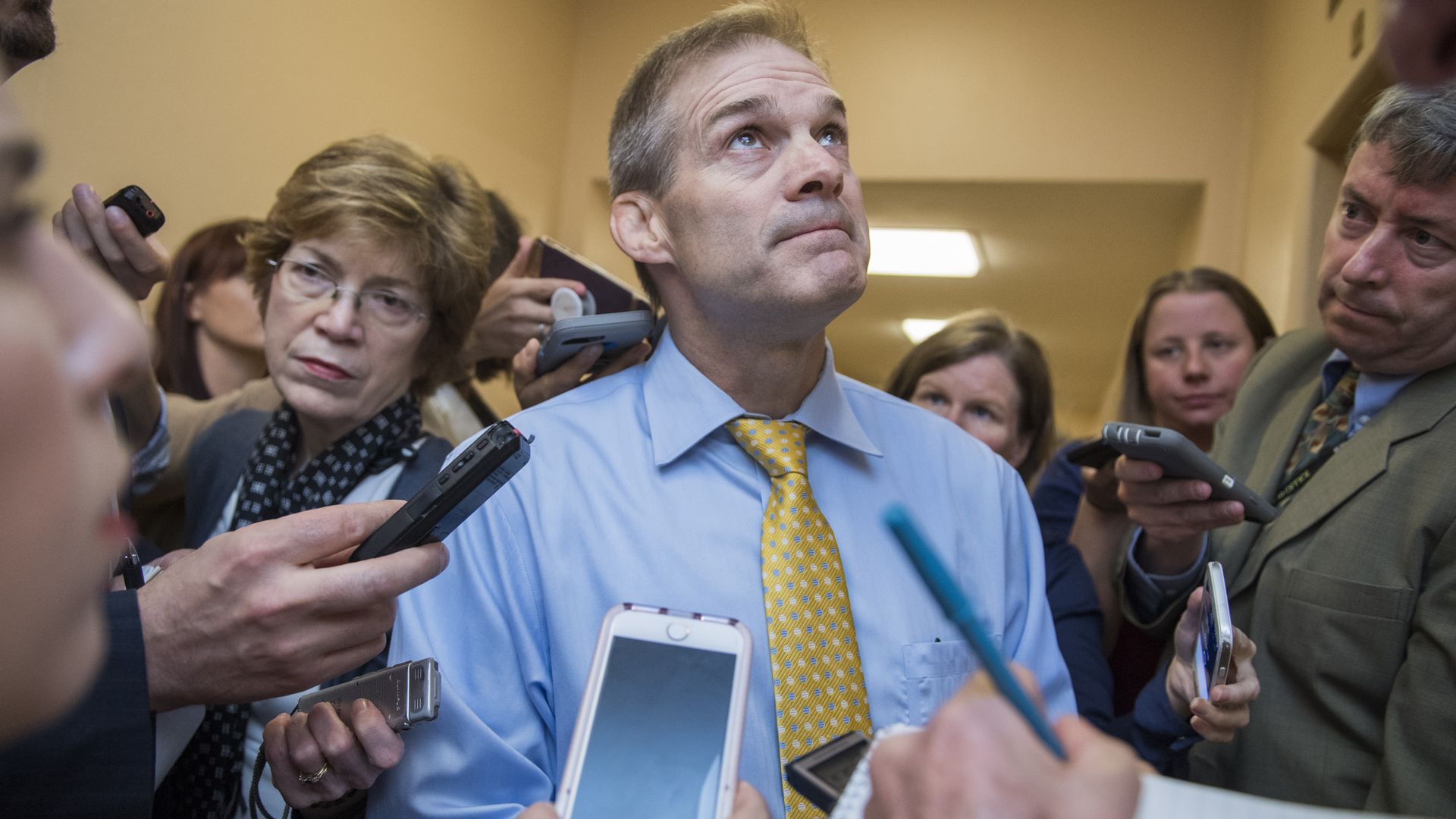 Former Ohio State University wrestlers are accusing Rep. Jim Jordan (R-Ohio), a founding member of the House Freedom Caucus and the university's assistant wrestling coach from 1986 to 1994, of ignoring or failing to act against accusations of sexual abuse against the team's doctor, NBC News' Corky Siemaszko reports.
The details: Jordan denies having ever heard of, seen, or known about allegations of sexual abuse against Dr. Richard Strauss, who died in 2005. But former wrestler Mike DiSabato, whose allegations prompted OSU to open an investigation earlier this year, told NBC News that Jordan "is absolutely lying if he says he doesn't know what was going on."
Two wrestlers, DiSabato and Dunyasha Yetts, went on the record with NBC News about their disappointment with Jordan's denials. Three other former wrestlers told NBC it was impossible for Jordan to be unaware — and one claimed he told Jordan directly.
In an email to the law firm representing OSU, DiSabato wrote that "Strauss sexually assaulted male athletes in at least 15 varsity sports during his employment at OSU from 1978 through 1998. ... Based on testimony from victim athletes from each of the aforementioned varsity sports, we estimate that Strauss sexually assaulted and/or raped a minimum of 1,500/2,000 athletes at OSU from 1978 through 1998."
The university confirmed to NBC that it received "confidential reports of sexual misconduct committed by Strauss" from athletes in 14 sports.
Timing: OSU wrestlers came forward about Strauss after the case against Olympics gymnastics doctor Larry Nassar.
[I]t's sad for me to hear that he's denying knowing about Strauss. I don't know why he would, unless it's a cover-up. Either you're in on it, or you're a liar.
— Yetts to NBC News
What they're saying:
Ian Fury, Jordan's spokesman, told NBC: "Congressman Jordan never saw any abuse, never heard about any abuse, and never had any abuse reported to him during his time as a coach at Ohio State. ... He has not been contacted by investigators about the matter but will assist them in any way they ask, because if what is alleged is true, the victims deserve a full investigation and justice."
OSU said in a statement on the investigation: "Our efforts will continue to be focused on uncovering what may have happened during this era, what university leaders at the time may have known, and whether any response at the time was appropriate."
Doug Andres, spokesman for House Speaker Paul Ryan, told Axios: "These are serious allegations and issues. The university has rightfully initiated a full investigation into the matter. The speaker will await the findings of that inquiry."
Go deeper