Changing course on Crimea is a bad deal for the U.S.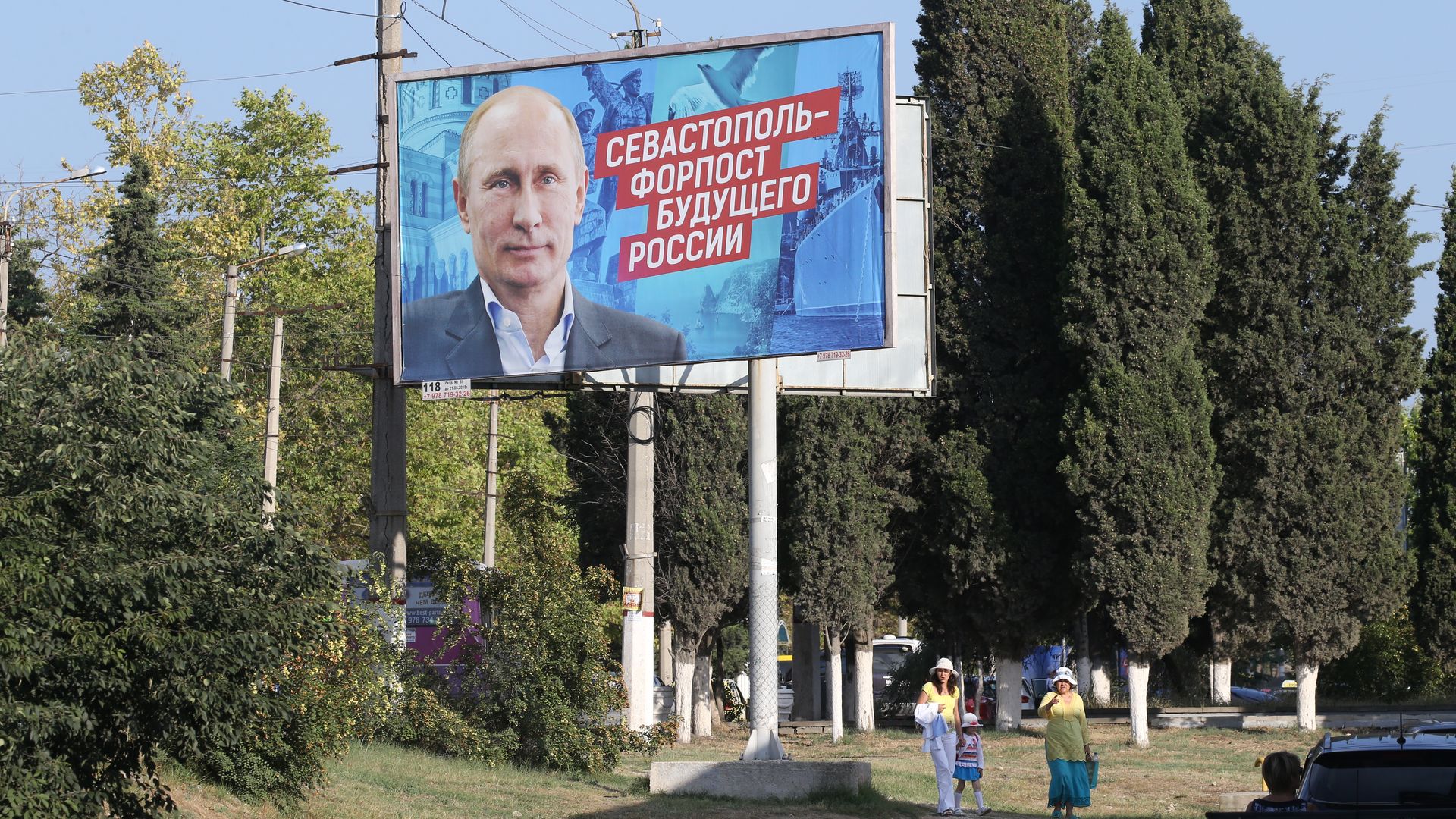 President Trump told reporters last week that he would "have to see" if the U.S. would change its policy on recognizing Russian occupation of Crimea, implying that the issue would be on the table when he meets President Putin later this month. But Putin's spokesperson, Dmitri Peskov, said Crimea was not on the agenda for the summit because the peninsula, which Russia took by force in 2014, is already an "inseparable part of Russia."
Be smart: The truth is that a 180º shift in U.S. policy on nonrecognition of Crimea is exactly what the Kremlin wants. It would give Putin a big win at home and abroad while setting a precedent for future land grabs by Russia, China and others.
During the Cold War, the U.S. never recognized Soviet occupation of the Baltic States —Estonia, Lithuania and Latvia — a policy enshrined in the 1940 Welles Declaration, which established that the U.S. would not allow predatory behavior contrary to international law. And the U.S. government stood by this principle for five decades, until the Soviet Union collapsed in 1991. Today, the Baltic states are NATO members as well as EU and U.S. allies. In short, the nonrecognition policy kept the U.S. on the moral high ground on the basis of principles, values and commitment to international law.
If the Trump administration moves to recognize Crimea, it would mark a de facto acknowledgment that international laws are obsolete; that other states have the right to take territories by force; and that U.S. sanctions tied to Russian occupation of Crimea are irrelevant. This would establish a dangerous precedent. No doubt, China would take such a move as a sign that it can ramp up its expansion into the South China Sea without much consequence.
The bottom line: In opening the door to a policy change on Crimea, the U.S. would give up significant leverage over Russia, a country the administration has called a U.S. adversary. The U.S. should seek to negotiate from a position of strength with Putin — changing course on Crimea would only achieve the opposite.
Alina Polyakova is the David M. Rubenstein Fellow for Foreign Policy at the Brookings Institution.
Go deeper