A look at catchphrases in Trumpworld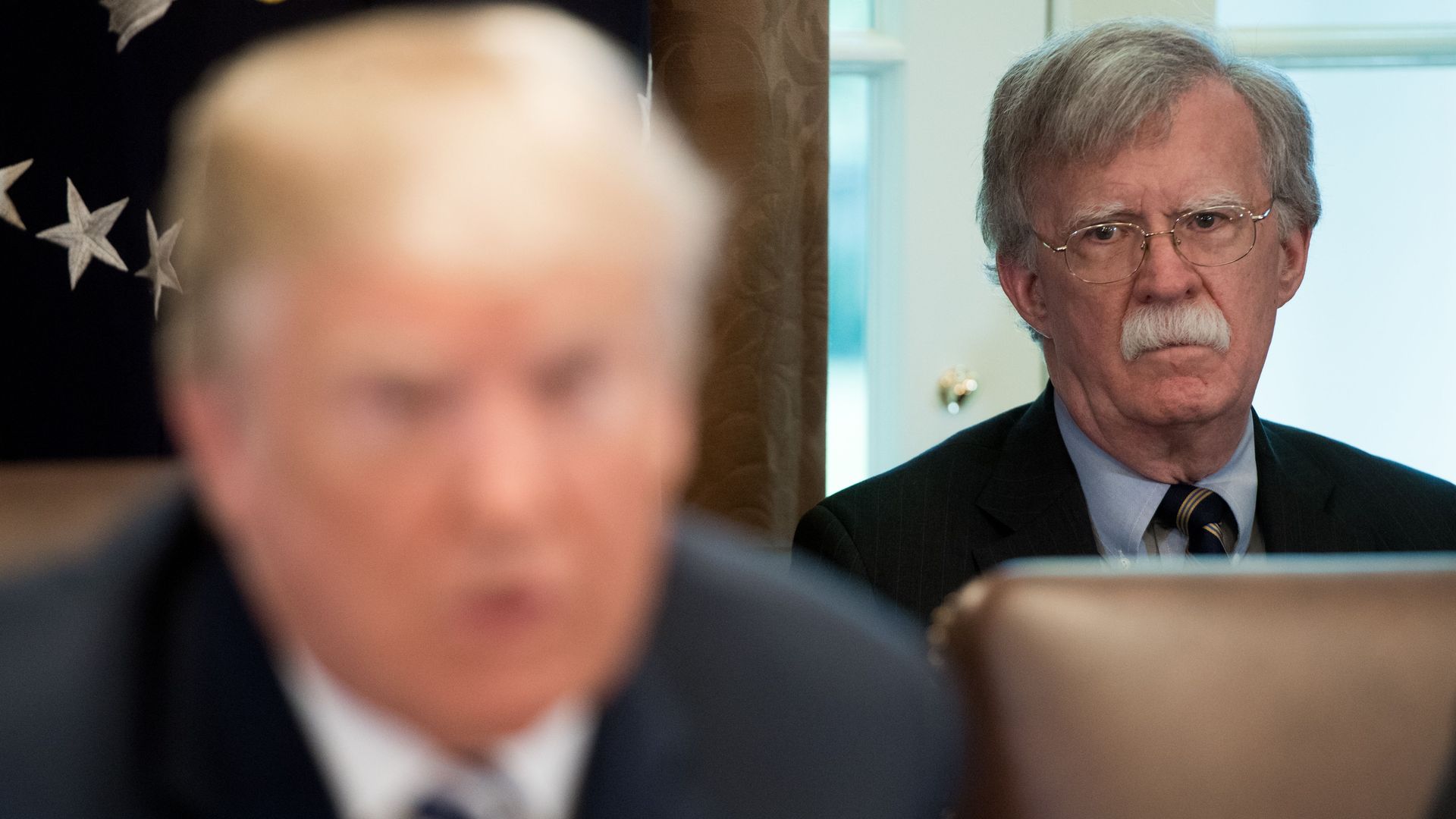 Those who speak in public on behalf of Donald J. Trump have all developed their own phrases to try to tread that tightrope between maintaining integrity and not angering or defying the boss. Sean Spicer's catchphrase was "the tweet speaks for itself." Sarah Sanders is understandably a big fan of "I'd refer you back to the president's outside counsel."
What's happening: Now, it looks like John Bolton is developing a good one: "That's not the position of the United States."
From today's CBS interview between "Face the Nation" host Margaret Brennan and Trump's national security adviser:
Brennan: "On Air Force One this week, President Trump when he was speaking to reporters seemed to leave the door open to recognizing Russia's annexation of Crimea, saying we'll have to see what happens when the issue comes up in the meeting. Is the U.S. endorsing the idea that international borders can be redrawn by force? Is this actually a topic?"
Bolton: "No that's not the position of the United States. But I think —"
Brennan: "This is why it was newsworthy when he said it."
Bolton: "Well I don't know that that's what he said. ... I think the president often says 'we'll see' to show that he's willing to talk to foreign leaders about a range of issues and hear their perspective. President Putin was pretty clear with me about it and my response was, 'We're going to have to agree to disagree on Ukraine.'"
Brennan: "But that's not up for negotiation."
Bolton: "That's not the position of the United States."
Brennan: "Right. But saying 'we'll see' suggests it might be."
Bolton: "Well, we'll see."
Flashback: Axios, June 28 — In his private meeting with G7 heads of state, Trump told the leaders "NATO is as bad as NAFTA" after saying earlier in the conversation that Crimea probably should belong to Russia because everyone there speaks Russian.
Go deeper