Trump says OPEC "has to" pump more oil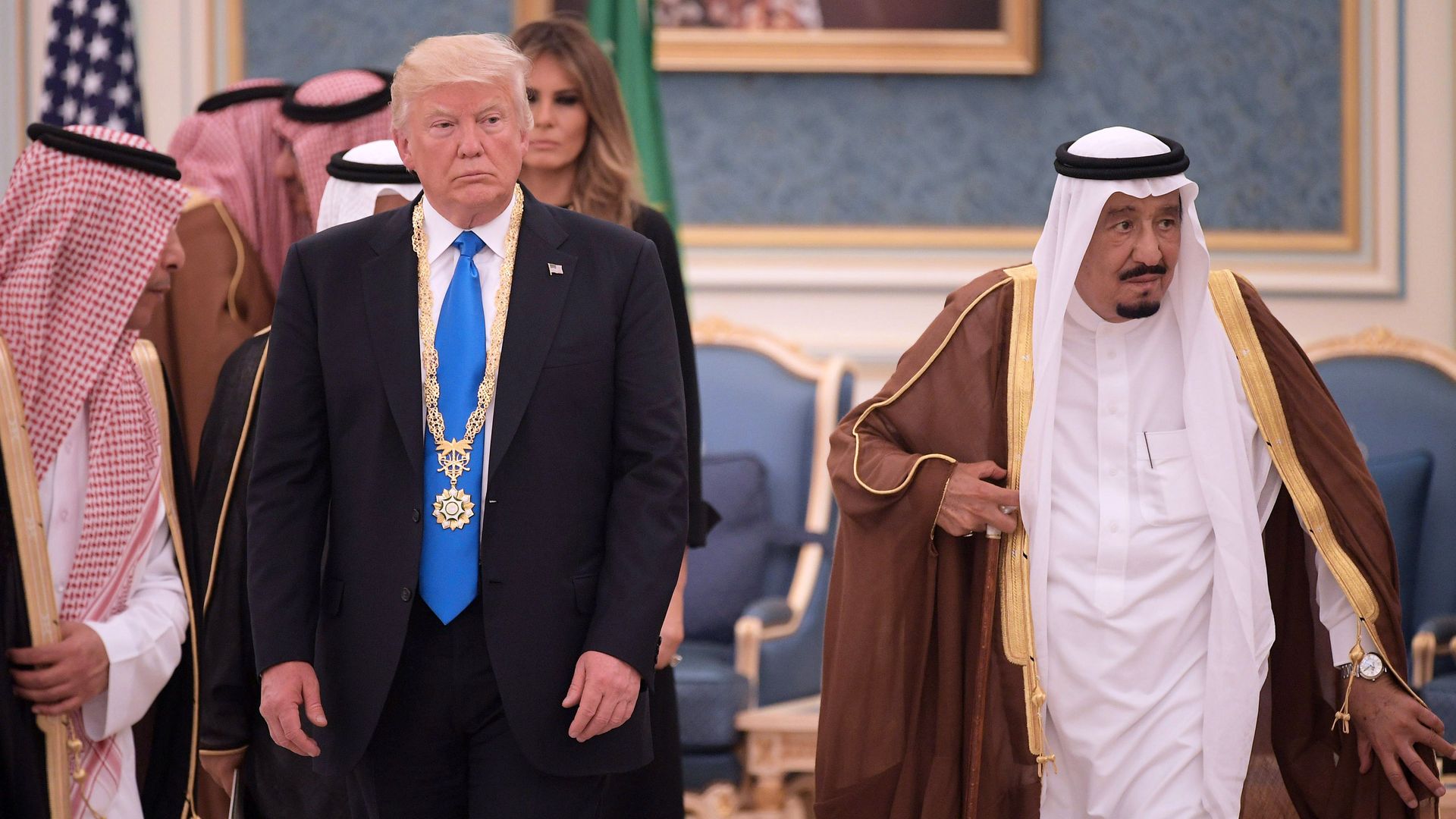 In an interview on Fox today, President Trump appeared to change his claim that Saudi Arabia had committed to pumping an additional 2 million barrels of oil a day, saying instead that OPEC countries "are going to have to put out more oil."
Why it matters: Resurrected U.S. sanctions on Iran will reduce OPEC supply to the market, and are already pushing up prices. In a tweet yesterday, Trump asserted that he had persuaded Saudi King Salman to raise production, but last evening, the White House said it was more like Salman agreed only to meet global demand. The new interview with Maria Bartiromo suggests that any commitment in the conversation may have been even vaguer.
Thought bubble: For the last several years, shale has obliterated the four-decade-long U.S. economic dependence on OPEC oil. But Trump's conversation with Salman put the U.S. back in the pre-shale age, when American presidents routinely went to the Saudis asking and sometimes pleading for boosts or cuts in production for U.S. economic purposes.
As a number of analysts have been pointing out in recent days and weeks, one spillover effect of Trump's aggressive posture toward Iran is to give Saudi Arabia and other OPEC members, as well as Russia, an even stronger hand in global markets.
Late last night, White House Press Secretary Sarah Sanders issued a readout of Trump's conversation with King Salman that backed off his original tweet, stating instead:
"In response to the President's assessment of a deficit in the oil market, King Salman affirmed that the Kingdom maintains a two million barrel per day spare capacity, which it will prudently use if and when necessary to ensure market balance and stability, and in coordination with its producer partners, to respond to any eventuality."
Between the lines: That summary is consistent with prior statements by Saudi officials that they stand ready to respond to the demands of the tightened oil market.
This Twitter thread by Hedgeye Risk Management's Joe McMonigle has some helpful insights, noting at one point: "Don't focus too much on 2 [million barrels per day] number. Trump likely doubled 1 mbd number to give Saturday morning tweet some sizzle. (US reportedly asked for 1 mbd before OPEC meeting.) Trump's real barometer is oil price not production number."
One level deeper: The White House is facing a tricky dynamic. It's trying to punish Iran with sanctions that, if successful, would lead a steep cut in Iranian barrels on global markets.
But a big drop in Iranian exports combined with Venezuela's collapse could put upward pressure on U.S. gasoline prices absent an aggressive response by other producers. Pump prices are higher than they were over the last couple years, creating election year risks for Republicans.
Go deeper: Trump's pyrrhic OPEC outcome.
Go deeper