Gary Cohn's golf analogy to sway Trump on trade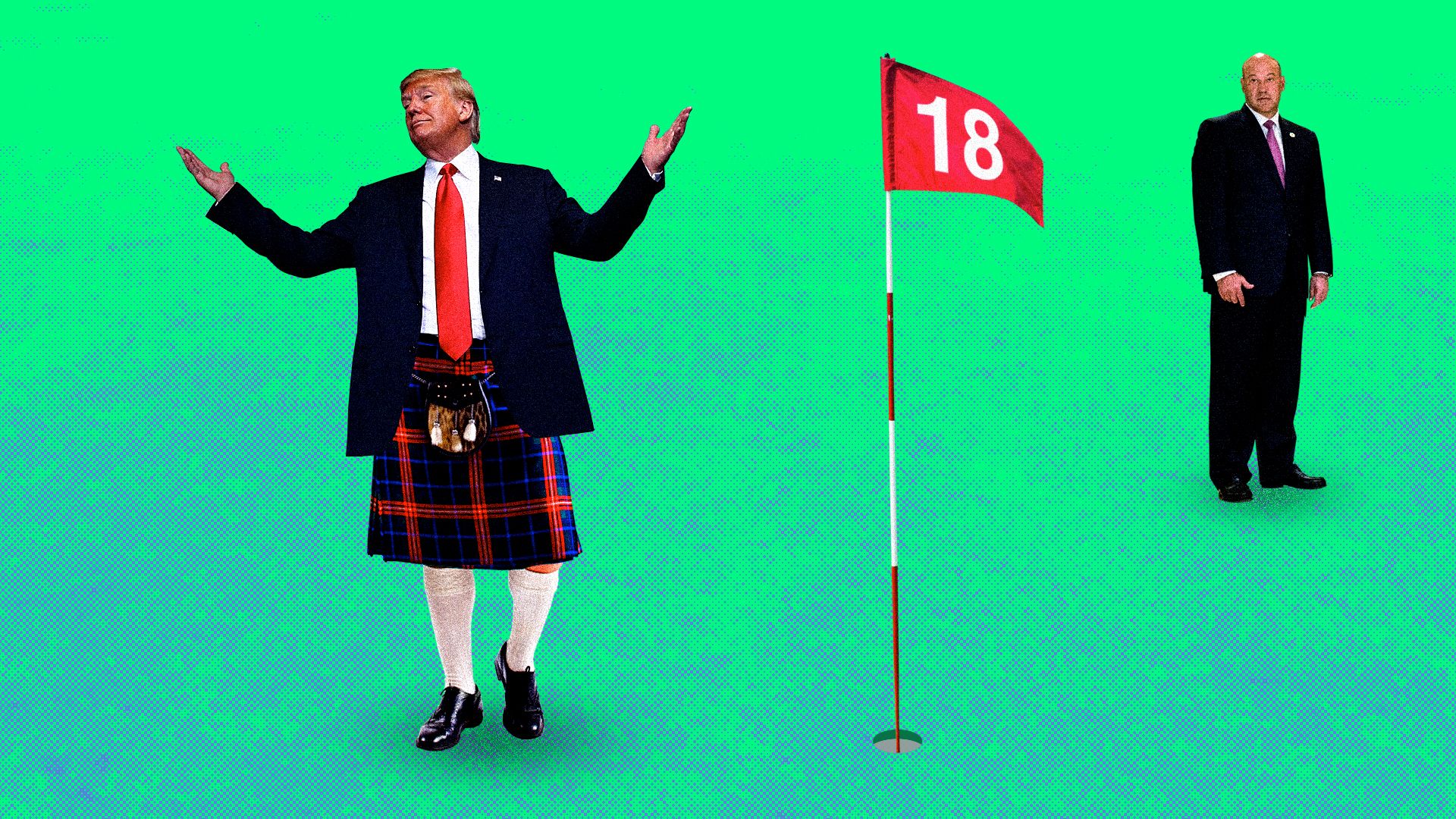 During his year and a bit as Trump's chief economic adviser, Gary Cohn tried many different tactics to persuade the president why some of his most hardwired instincts on trade were, in Cohn's view, misguided.
What we're hearing: In one memorable Oval Office meeting, Cohn told a fictional story about Trump's Scottish golf course to explain why Trump shouldn't try to remove a key protection in international trade deals, according to three sources familiar with the meeting.
Cohn said to Trump: "Mr. President, think about your golf course at Turnberry. If a bunch of birds started nesting in the bunker on the 18th hole and they were an endangered species, what if the town of Turnberry decided to close down the 18th hole to protect the endangered species?
"Without ISDS," Cohn continued, "that case would be heard in the local court in Turnberry," and the local court would decide whether Trump was owed compensation.
The killshot — or so Cohn apparently thought: "Mr. President, which would prefer? Having the local court in Turnberry hear the case where they'd probably shut down the hole forever and take it from you [without compensation]? Or go to ISDS, which is an arbitration panel where you choose on arbitrator, Turnberry chooses one, and the two of you mutually agree upon a third?"
What happened next: Trump's trade negotiator Robert Lighthizer interjected and said Cohn's golf course example was "ridiculous." Then Trump agreed it was ridiculous and went off on a tangent about what a magnificent property Turnberry was, how it was "one of the greatest places in the world," and mentioned all the things he'd done for Scotland, meaning this imaginary situation would "never happen."
Why this matters: The fight over whether to keep the investor-state dispute settlement (or ISDS) is a major sticking point in the Trump administration's NAFTA negotiations with Canada and Mexico.
Cohn vehemently opposed Trump's and Lighthizer's desire to rid NAFTA of ISDS — a provision, commonly negotiated in trade deals, that allows U.S. investors to sue foreign countries before international tribunals for alleged expropriations or discriminatory practices.
Trump and Lighthizer believe ISDS undermines American sovereignty because it allows foreign companies to sue the U.S. government. And they believe the legal certainty it provides incentivizes American investments overseas.
Ya can't make it up: The Trump Panama Hotel is in a commercial dispute involving the Panamanian government. The Trump Organization's lawyers are invoking rights under the countries' investment treaty and threatening to bring a claim for damages.
In other words: Trump's lawyers are invoking, in Panama, the very provision Cohn tried to talk Trump out of removing from NAFTA.
Go deeper