SCOTUS contender Brett Kavanaugh's Bush 43 photobomb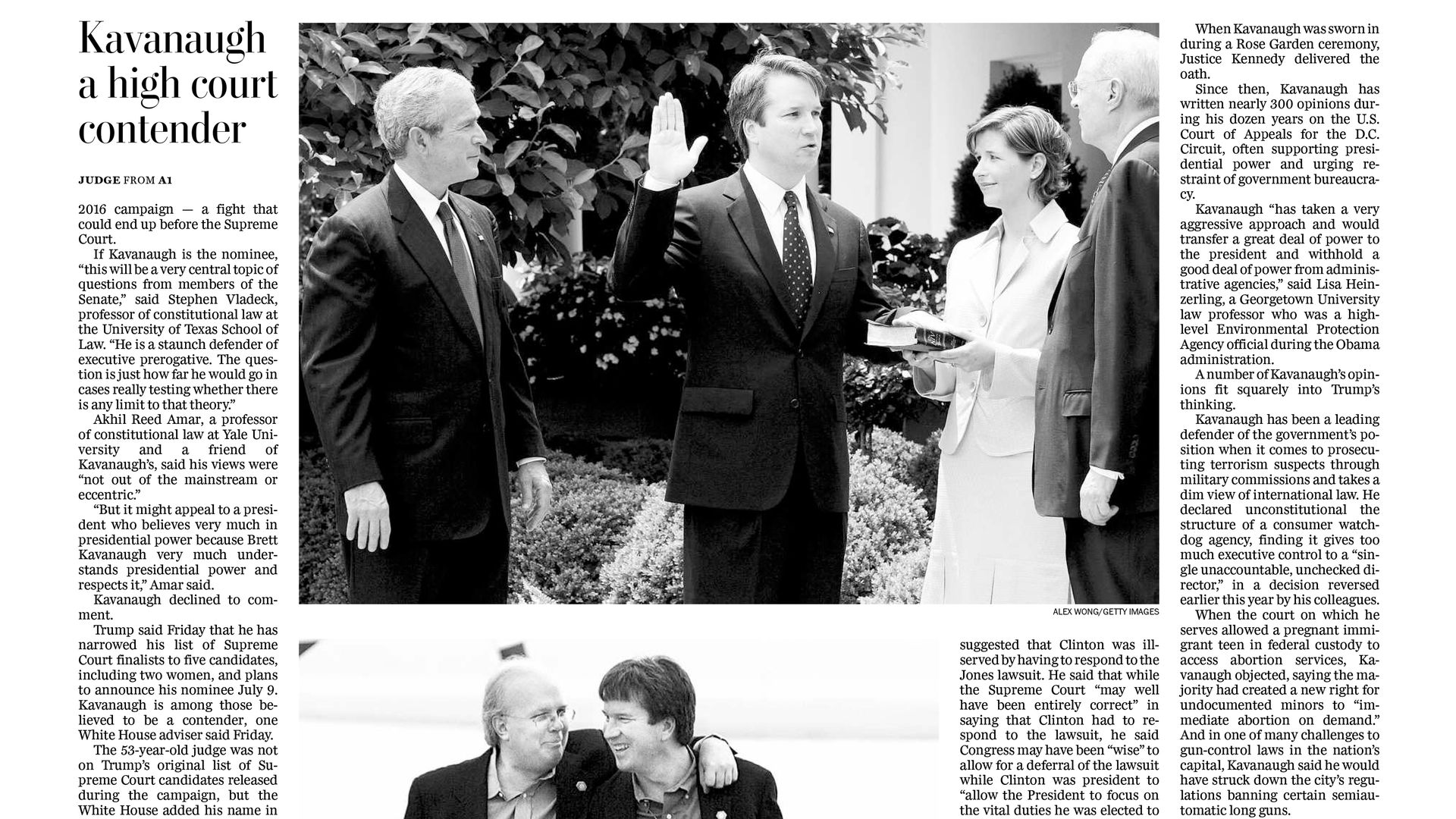 Top Supreme Court contender Brett Kavanaugh received the worst imaginable treatment in The Washington Post on Saturday: a giant photograph of him taking the oath beside George W. Bush coupled with a photo of him hugging Karl Rove.
The big picture: Given Trump's hatred of all things Bush, Kavanaugh would almost be better off if WaPo had doctored up pictures of him leading the Women's March, wearing a Planned Parenthood t-shirt, and waving an "Abolish ICE" sign.
But, but, but: If Trump reads the article accompanying the pictures, he'll find a lot to like. The opening paragraph points out that Kavanaugh "has argued that presidents should not be distracted by civil lawsuits, criminal investigations or even questions from a prosecutor or defense attorney while in office." (Catch that, Robert Mueller?)
What's next? Trump will spend much of the next week interviewing candidates to replace Supreme Court Justice Anthony Kennedy, according to a senior administration official.
Trump has said publicly he plans to announce his pick on July 9.
He's also said that two women are on his shortlist. A source close to Trump told me he's considering Amy Coney Barrett, a judge on the U.S. Court of Appeals for the Seventh Circuit.
What we're hearing: Despite Ted Cruz pitching hard for him, sources close to Trump tell me Utah Sen. Mike Lee has approximately a zero percent chance of being picked as Trump's next Supreme Court justice.
Go deeper