What we're reading: The White House's subtle push for Kennedy's retirement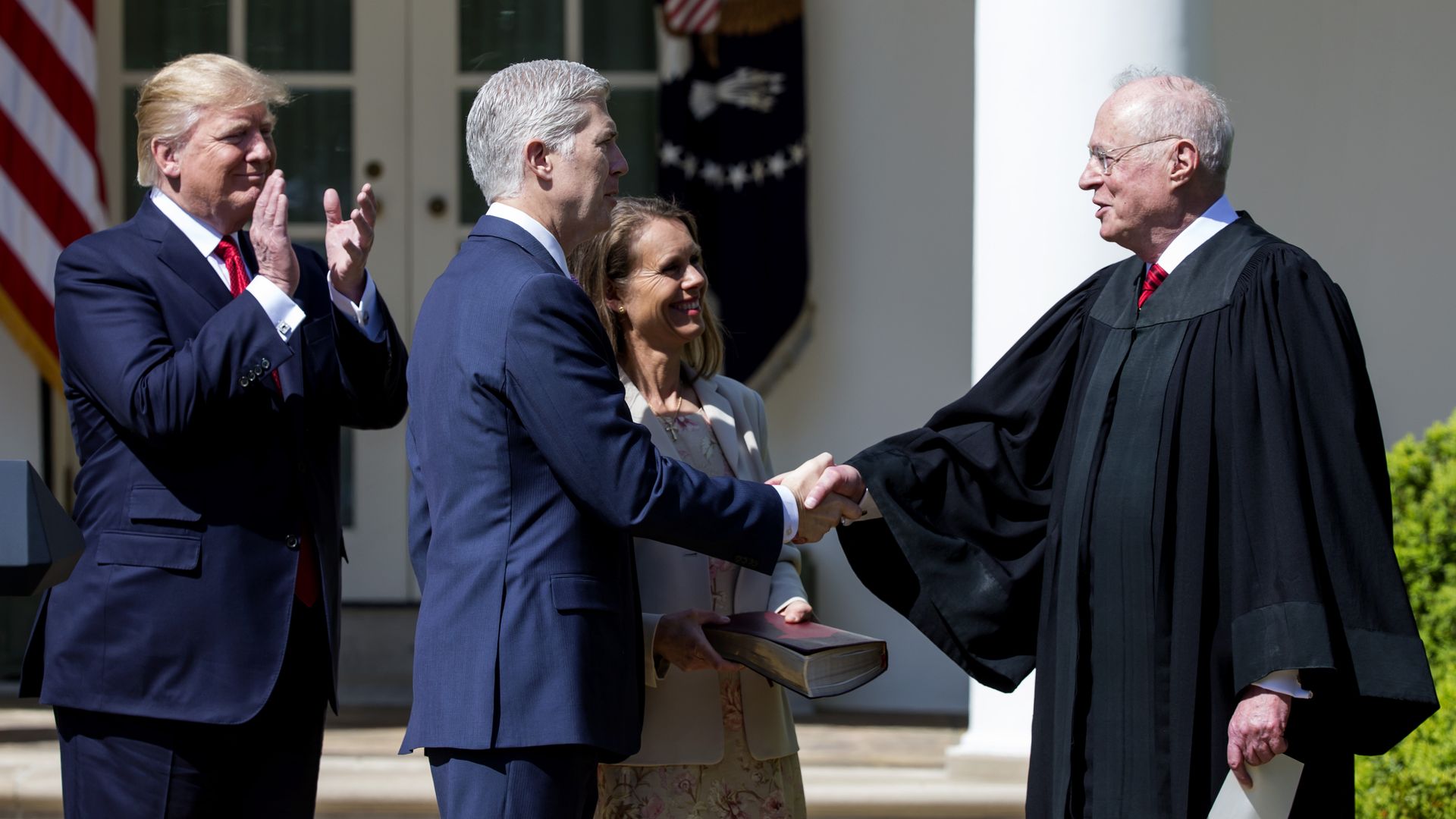 President Donald Trump was quick to praise Justice Anthony Kennedy for his service while simultaneously bashing other members of the Supreme Court, the N.Y. Times' Adam Liptak and Maggie Haberman write in "Inside the White House's Quiet Campaign to Create a Supreme Court Opening."
The big picture: Despite Trump's niceties, people in the White House said "time was of the essence," to replace Kennedy, Liptak and Haberman write. The president recognized that he needed to fill his vacancy before November, because if the Democrats gain control of the Senate in November, Trump's choice for Kennedy's successor may not get through.
The other side: Despite the public praise, "Justice Kennedy is reviled by many of Mr. Trump's supporters" for his votes upholding access to abortion, expanding gay rights, and limiting the death penalty in the United States — all issues that are subject to change with a more conservative Justice on the high court.
Behind the scenes
The White House quietly teed up a way to ensure Trump had a second nomination in his presidency, reports the Times, so "[Trump] would change the complexion and direction of the Supreme Court."
When Justice Antonin Scalia died in 2016, Trump picked Justice Neil Gorsuch, who had served as a law clerk to Justice Kennedy.
After Justice Gorsuch's nomination was announced,

a White House official singled out two candidates

for the next Supreme Court vacancy: "Judge Brett M. Kavanaugh of the United States Court of Appeals for the District of Columbia Circuit and Judge Raymond M. Kethledge of the United States Court of Appeals for the Sixth Circuit, in Cincinnati."
Both Kavanaugh and Kethledge had previously clerked for Kennedy.
"Justice Kennedy's son, Justin ... spent more than a decade at Deutsche Bank, [where] he worked closely with Mr. Trump when he was a real estate developer ... During Mr. Kennedy's tenure, Deutsche Bank became Mr. Trump's most important lender."
"Justice Kennedy has been praised by all for his dedicated and dignified service."
— Trump, during Justice Gorsuch's judicial oath in 2017
Reality check: "There were no direct efforts to pressure or lobby Justice Kennedy," write Liptak and Haberman.
Go deeper:
Go deeper