Unshackled Trump worries allies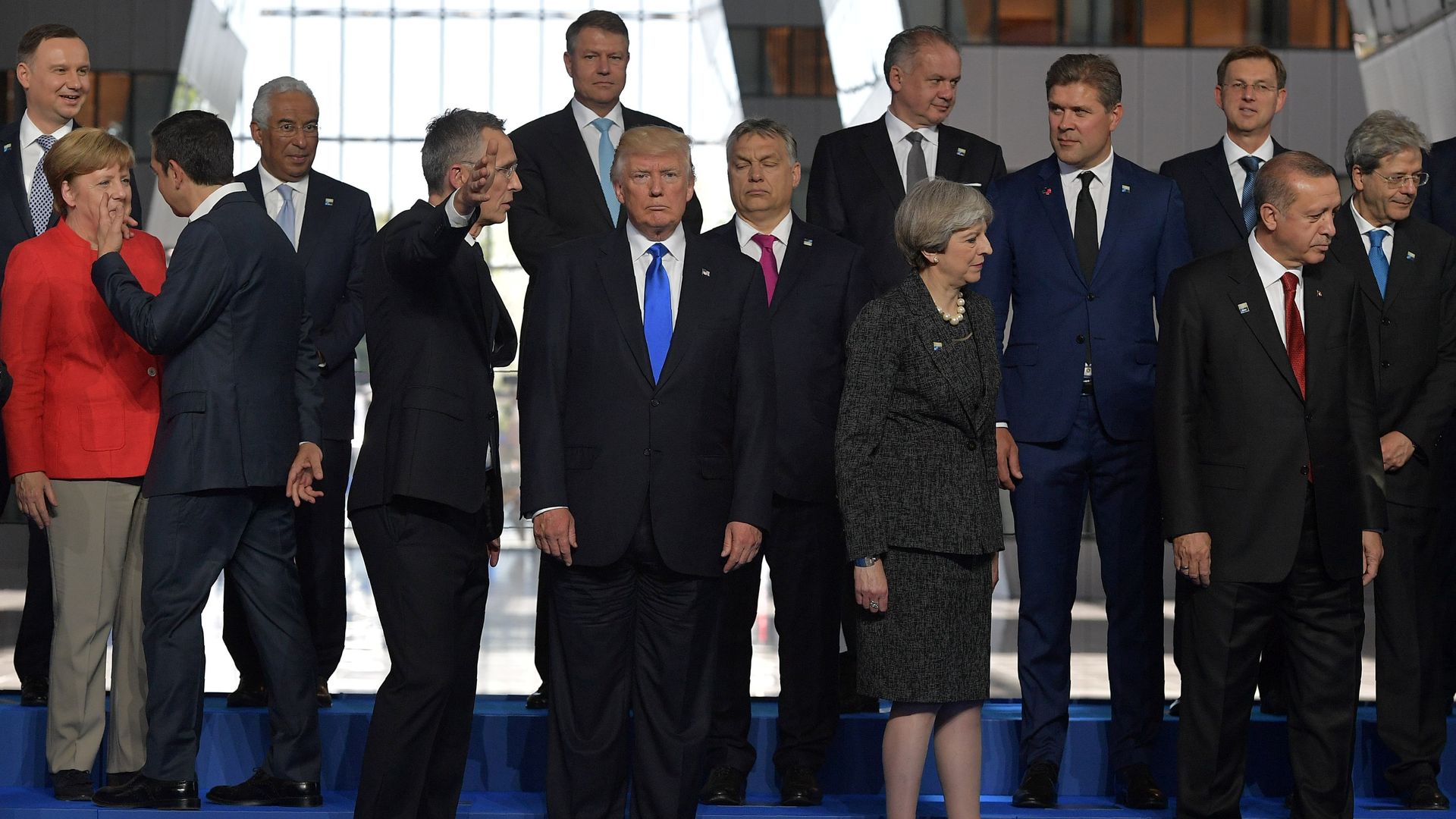 America's closest allies once believed President Trump could be contained — by the likes of James Mattis, or in a pinch Emmanuel Macron, if not by the weight of his office and America's role in the world. In recent months, they've all but given up on that idea.
The bottom line: Despite repeated exhortations from U.S. officials to "pay attention to our actions, not the tweets," Axios' Jonathan Swan reports that European officials are reaching a new, uncomfortable consensus: no one really speaks for Trump but Trump himself.
Case in point: After both his national security adviser and Secretary of State said election meddling would be on the table when Trump meets Vladimir Putin next month, Trump unleashed a tweet this morning again casting doubt on the conclusion that Russia had meddled at all.
As the Putin meeting will be back-to-back with an annual NATO summit, allies fear a repeat performance from two weeks ago, when Trump followed up a prickly G7 summit by castigating Justin Trudeau, before heaping praise on Kim Jong-un.
The tension is already building: Swan reports that Trump told other leaders at the G7 that, in his mind, "NATO is as bad as NAFTA," a deal he considers an unmitigated disaster for the U.S. and a massive waste of money.
In the same meeting, Trump said Crimea probably should belong to Russia because everyone there speaks Russian. He also said Russia should be allowed back in the G8 (it was expelled in 2014 for annexing Crimea).
Alina Polyakova of Brookings notes: "Moscow's aim is to destabilize the West. Luckily for Putin, the West is doing a lot of that work for him."
Alexander Vershbow, a former U.S. ambassador to Russia and deputy secretary general of NATO who is now at the Atlantic Council, says Putin "probably can't believe his lucky stars."
"This has been the Russian and the Soviet objective — to undermine NATO, to cause it to lose its cohesion and resolve — since NATO's founding in 1949."
Vershbow says one worrying scenario, from NATO's perspective, is that Trump could adopt Putin's line that NATO exercises and troops on the bloc's eastern flank are "provocative," echoing his statements about joint exercises with South Korea.
On the other hand, he says, given all the speculation that the summit will be a disaster, even boilerplate statements of support from Trump would be a "tonic" to the alliance: "He likes to be a contrarian, so there's a chance."
Go deeper