What we're reading: Abandoned migrants are dying in the Sahara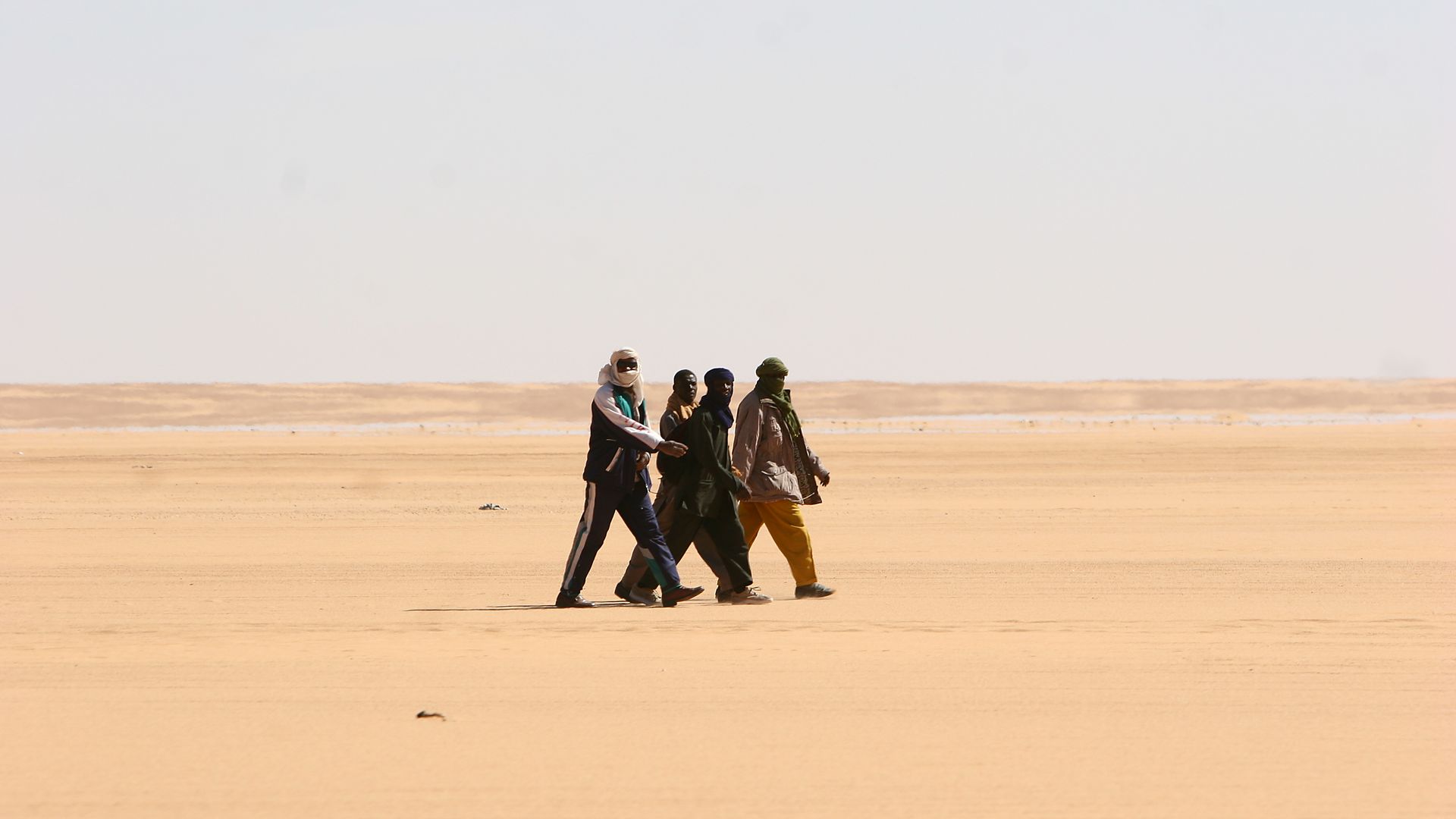 More than 13,000 migrants, including children and pregnant women, have been abandoned by Algeria in the Saharan desert over the last year, causing an unknown number to die, an AP investigation has found.
Why it's happening: Europe has been applying "renewed pressure on North African countries to head off migrants going north to Europe via the Mediterranean Sea," per the AP, and has blocked most crossings from Libya. That has led more migrants to travel through Algeria, where authorities have been rounding them up, dropping them near the border with Niger, and forcing them to walk through the desert until they can reach safety in Niger or potentially be found by U.N. rescue teams.
From the report: "In Niger, where the majority head, the lucky ones limp across a desolate 15-kilometer (9-mile) no-man's-land to Assamaka, less a town than a collection of unsteady buildings sinking into drifts of sand. Others, disoriented and dehydrated, wander for days before a U.N. rescue squad can find them. Untold numbers perish along the way; nearly all the more than two dozen survivors interviewed by the AP told of people in their groups who simply could not go on and vanished into the Sahara."
"'Women were lying dead, men... Other people got missing in the desert because they didn't know the way,' said Janet Kamara, who was pregnant at the time. 'Everybody was just on their own.'"
The big picture: "Within seconds of setting foot on the sand, the heat pierces even the thickest shoes. Sweat dries upon the first touch of air, providing little relief from the beating sun overhead. Each inhalation is like breathing in an oven."
"'There were people who couldn't take it. They sat down and we left them. They were suffering too much,' said Aliou Kande, an 18-year-old from Senegal."
What they're saying: "A European Union spokesperson said the EU was aware of what Algeria was doing, but that 'sovereign countries' can expel migrants as long as they comply with international law," the AP notes.
Go deeper