What they're saying: GOP triumphant while Democrats reel on Kennedy's retirement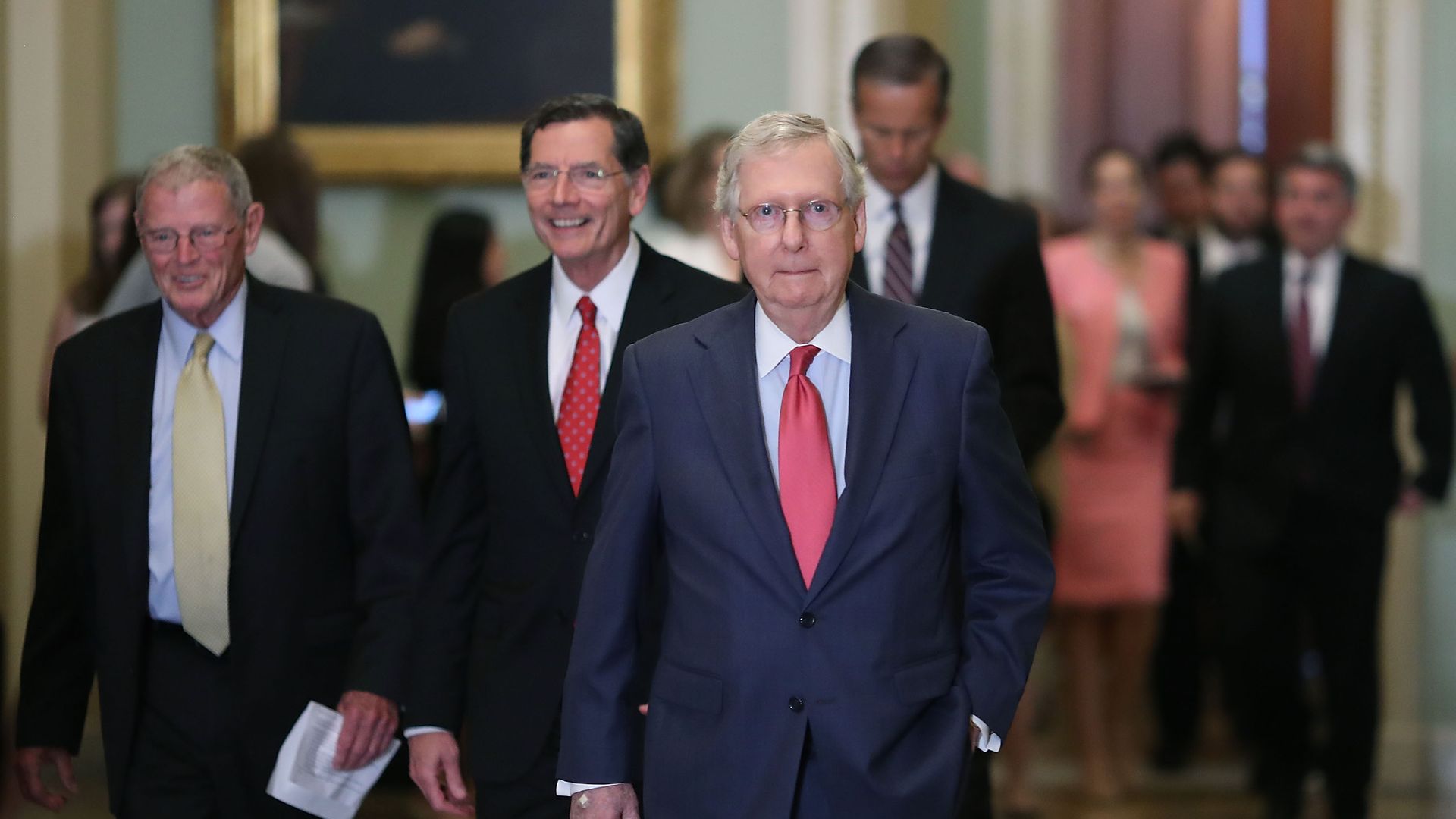 Justice Anthony Kennedy's departure from the Supreme Court has incited triumphant celebration from Republicans and panicked alarm from Democrat eager to have a say over the fate of his successor.
One common theme: Some top Democrats want to delay the confirmation process of the next Justice until after the midterm elections — using Majority Leader Mitch McConnell's dismissal of President Obama's nominee, Merrick Garland in the run-up to the 2016 election, as precedent. But while Senate Minority Leader Chuck Schumer argues that Senate Republicans "should follow the rule they set in 2016: Not to consider a Supreme Court justice in an election year," McConnell is pushing back by stating, "There's no presidential election this year."
What they're saying:
Republicans
President Trump, who said the replacement process "will begin immediately," told supporters at a campaign rally in North Dakota that he's "honored" Kennedy "felt confident in me to make the right choice and carry on his great legacy." Trump added, "Kennedy's retirement makes the issue of Senate control, one of the vital issues of our time."
Donald Trump Jr.: "OMG! Just when you thought this week couldn't get more lit... I give you Anthony Kennedy's retirement fromI give you Anthony Kennedy's retirement from

#

SCOTUS."
Judiciary Chairman Chuck Grassley in a statement: "I expect the President will soon nominate someone for the Senate to consider. I encourage the President to choose a nominee with the credentials, intellect, and commitment to the rule of law necessary to serve on the Supreme Court."
Sen. Susan Collins: "I see Justice Kennedy as being an ideal justice for the Supreme Court and I'm sorry that he's decided to retire at the tender age of 81 ... one of the things I most admire about him is he did not view cases through an ideological lens."
Sen. Lisa Murkowski: "My standards for Supreme Court nominees are extremely high … There is no doubt that the President's nominee to succeed Justice Kennedy can expect exacting scrutiny from the Senate and that is the standard I will apply in evaluating the nominee."
Democrats
Senate Minority Leader Chuck Schumer: "Millions of people are just months away from determining senators who should vote to confirm or reject the President's nominee. And their voices deserve to be heard."
House Minority Leader Nancy Pelosi: "... President Trump and Senate Republicans now threaten to destroy a generation of progress for women's rights, LGBTQ rights, civil rights, workers' rights and health care. As Leader McConnell insisted the last time a Supreme Court seat became vacant in an election year, 'The American people should have a voice' ... The future of our democracy is at stake."
Sen. Richard Blumenthal via Twitter: "The American people shld have a voice. A confirmation vote shld take place after a new Congress is seated. My Republican colleagues shld follow their own precedent."
Sen. Kamala Harris on MSNBC: "We're looking at a destruction of the Constitution of the United States as far as I can tell based on all the folks he's appointing. … He's been appointing ideologues … and people who haven't been found qualified by Bar Associations. So this has got to be one of the most serious fights we've yet to have had with his president. We cannot relent."
Sen. Elizabeth Warren via Twitter: "We won't let @realDonaldTrump & @SenateMajLdr overturn Roe v. Wade & hand the rights of the American people back over to the right-wing interests & billionaires. We're not going back. Not now, not ever. The fight of our lives is here, & I'm in this fight all the way."
The big picture
Confirming a nominee ahead of the election would give Republicans a leg up, while also creating a difficult political situation for red-state Democrats who may be opposed to a conservative Supreme Court Justice but need support from voters ahead of the November elections.
Go deeper: What Anthony Kennedy's retirement means
Go deeper