Patrick McHenry to Mnuchin: Stop Democrats from pursuing postal banking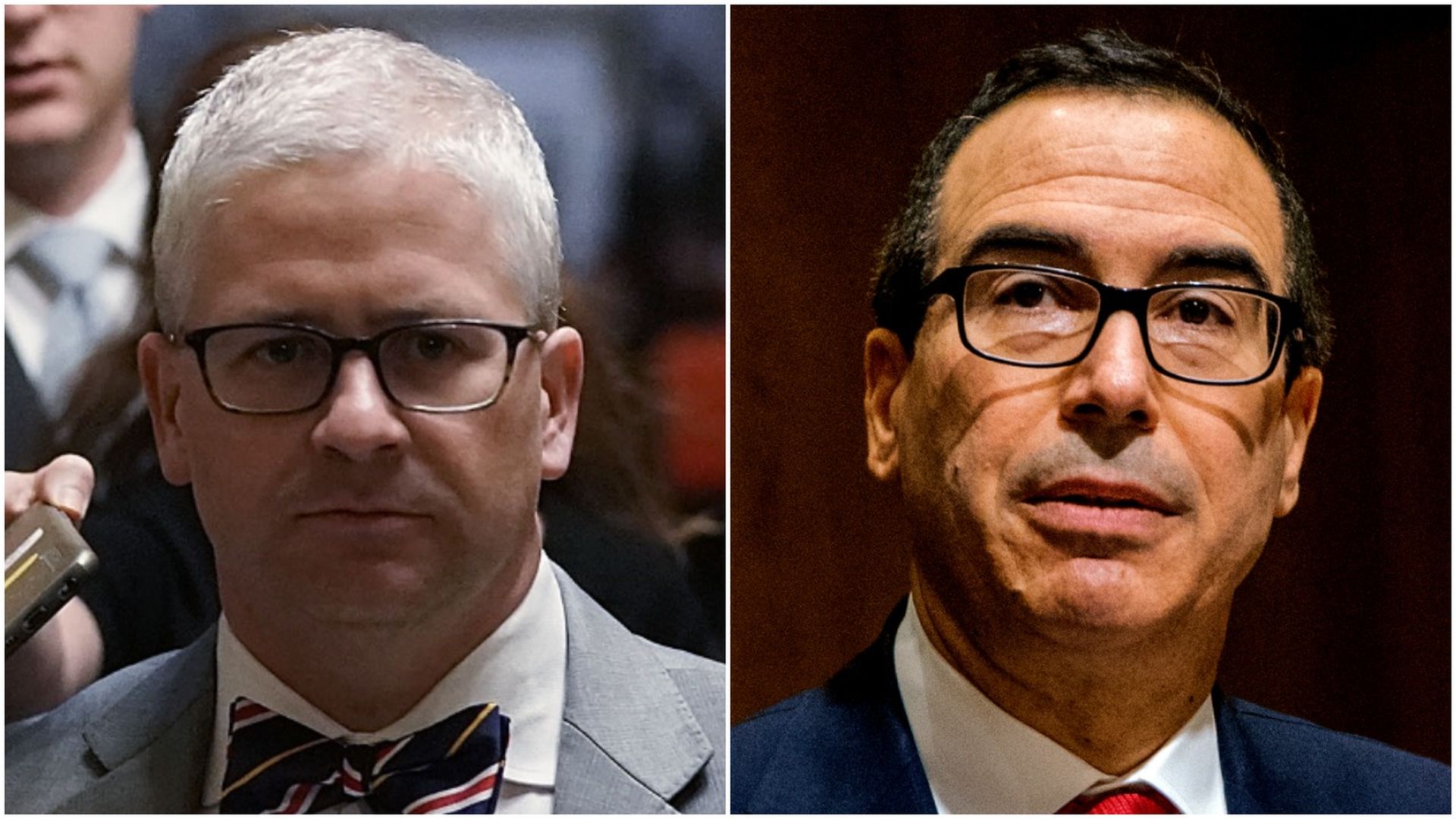 Rep. Patrick McHenry (R-NC), the House's chief deputy whip, has just sent a letter to Treasury Secretary Steve Mnuchin urging him to intervene to prevent several progressive Democrats with an eye on 2020, like Sens. Elizabeth Warren (D-MA) and Kirsten Gillibrand (D-NY), from — in his view — using a backdoor to pass postal banking legislation.
Behind the scenes: An aide to McHenry, who is familiar with the motivation behind the letter, tells Axios that the congressman's interest in the issue is twofold. First, McHenry simply believes the idea of a postal banking system is "a terrible idea." Second, he's concerned about the ways in which Democrats are pushing it. "They know it would have no shot of succeeding legislatively which is why they are working with big labor to enact it administratively," the aide said.
The two sides of the issue:
Proponents of postal banking argue that the U.S. Postal Service should offer services such as small-dollar loans, checking and savings accounts, debit cards, ATMs, check cashing, bill payment and mobile banking. Supporters say doing so will benefit consumers who do not have access to traditional banks, as well as those who would prefer a more public option.
Critics, like McHenry, argue that banks, and small community ones in particular, have already suffered deeply under federal regulations, like those under Dodd-Frank. They also say USPS isn't equipped to handle such as system that puts Americans' money at stake.
The backdrop: Warren may be the driver of Democrats' banking agenda for 2020, as she was in 2016 when postal banking was included as part of the Democratic campaign platform. If so, the postal banking issue might take front and center.
Meanwhile, Gillibrand recently unveiled new legislation that would allow the U.S. Postal Service to take on basic banking functions, including short-term loans, in an effort to provide an alternative to the expensive payday-loan industry.
Between the lines: The Week's Paul Waldman described the issue as being "good politics" for Democrats, "[I]t positions Democrats as advocates for the little guy, up against rapacious villains (the banking and payday loan industries) that no one really likes. And it forces Republicans to defend what is essentially legalized loan sharking..."
Go deeper