NASA chief wants to be "above the fray" on climate change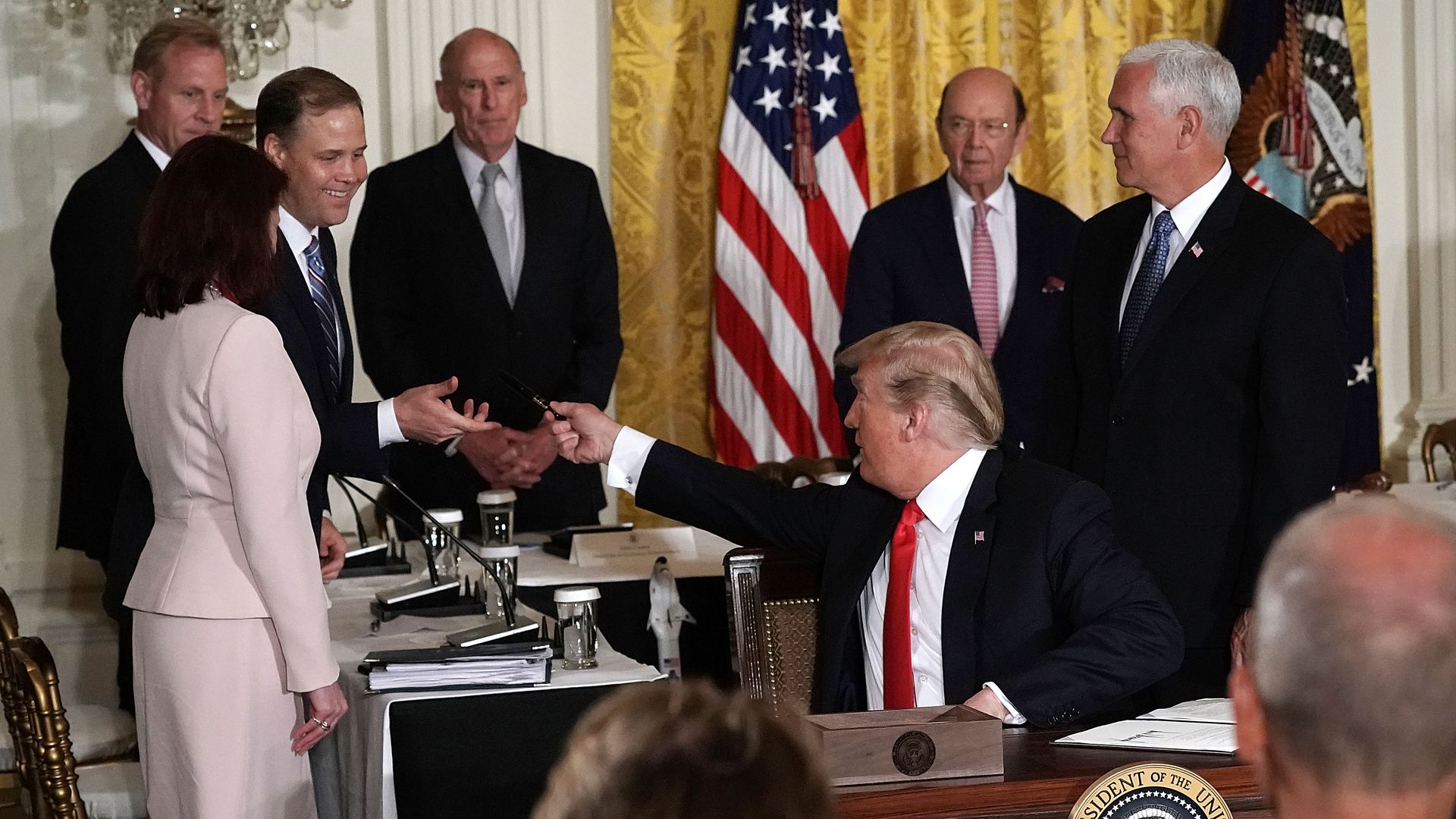 NASA chief Jim Bridenstine said he's not getting pushback from Trump administration officials over his recent, high-profile endorsement of the scientific consensus that human activities are the dominant cause of global warming.
"The administration has been very supportive of my position. Nobody's given me a hard time about it at all"
— NASA administrator Jim Bridenstine, in an interview with Axios
Why it matters: Bridenstine leads one of the world's top climate science research agencies, so his position on this issue will influence support for studies that in turn form the basis for policy decisions. Yet he's out of step with senior Trump officials.
He stands alone: Bridenstine is the only high-profile Trump appointee to become more confident about the scientific consensus on human-caused climate change once he got into office. He said studying climate science is not, and should not be, controversial.
"What I find, Republicans and Democrats can disagree about what to do about what we are learning, but everybody, everybody on both sides of the aisle believes that we should study and understand what is happening to the planet because it is changing and everybody knows that," he said.
Still, the Trump administration proposed steep cuts to NASA's climate programs in the next fiscal year. However, Congress restored most of the funding during the appropriations process.
Going all the way: In May, Bridenstine became the sole Trump administration official to fully endorse the findings of the federal government's National Climate Assessment. Other Trump officials either ignored this report or downplayed it as a product of the bureaucracy.
The old Bridenstine: In an interview with Axios earlier this week, Bridenstine said he has long recognized that the climate is changing. "Since my nomination, there have been a number of, I think, inaccurate narratives about my position on this," he said regarding his climate science stance.
Bridenstine said he understood the problem of climate change while in Congress, and cited his support for an amendment to a defense bill that called for a study on how climate change was affecting our "defense posture."
"... As a Navy person, I've seen firsthand that we are having to defend territory in the Arctic where we never used to have to defend before. That the Russians are doing activities in the Arctic that they never used to be able to do and that we should understand how climate change is affecting our national security posture. So, as a Navy person and somebody on the Armed Services Committee, it's pretty clear that the Arctic ice used to be there and now it's not," he said.
Be smart: Bridenstine does have a history of making comments questioning the causes of climate change. His climate change views, as well as his positions on social issues and background as a politician were the main reasons his nomination barely squeaked by the Senate on a vote of 50 to 49.
In a 2013 floor speech, for example, Bridenstine erroneously claimed that "Global temperatures stopped rising 10 years ago. Global temperature changes, when they exist, correlate with sun output and ocean cycles."
In reality, the top 5 warmest years on record have all occurred since 2010, and the recent National Climate Assessment explicitly rejected natural cycles as causing global warming.
The bottom line: Bridenstine says he aims to keep NASA "above the fray" on climate change, and the same might be said about how he aims to conduct himself in this role. "All we want to do at NASA, is make sure that we are providing the absolute best science so that policy makers can make good decisions," he said.
Go deeper