Diplomats get undiplomatic about Trump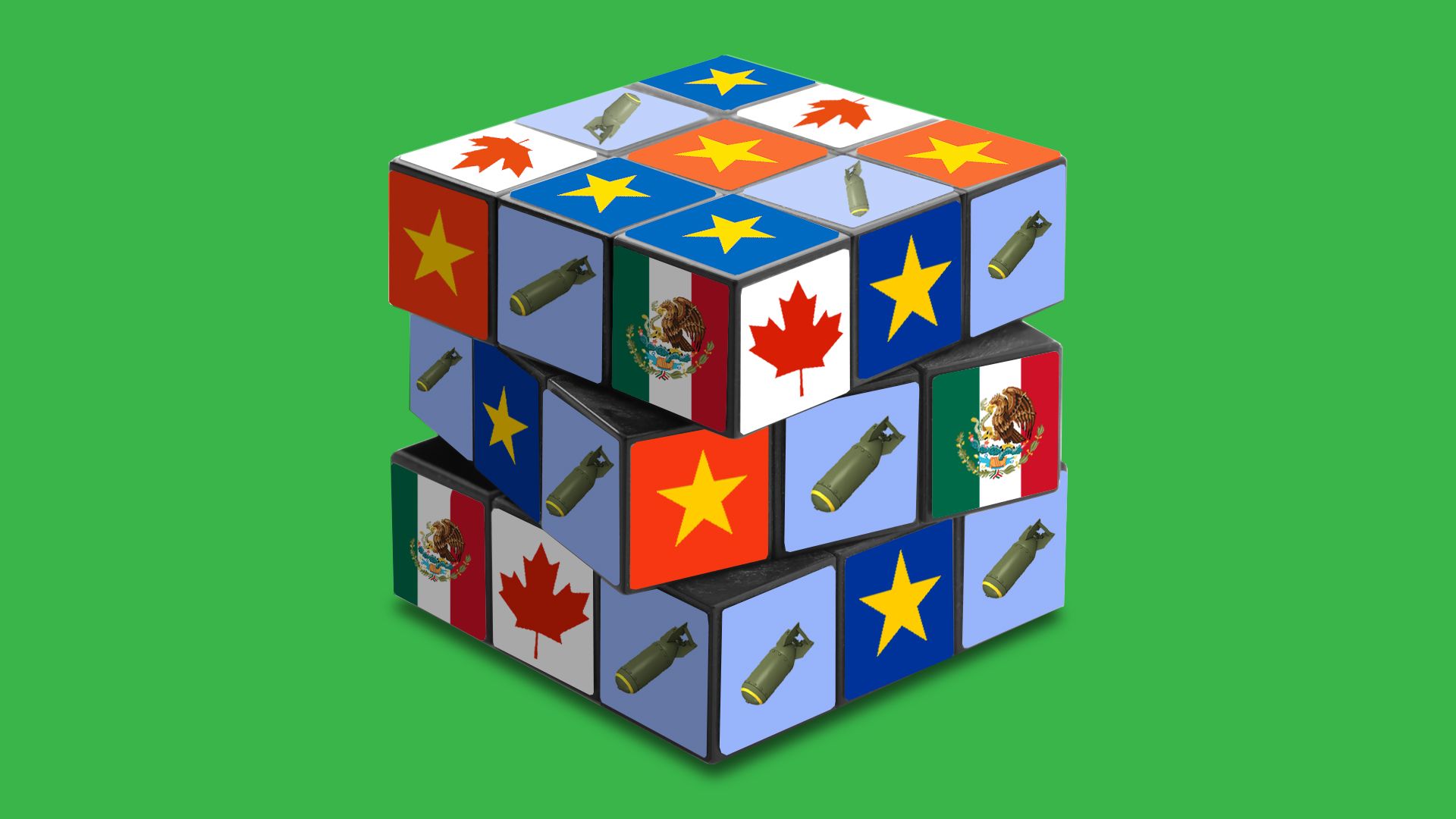 American allies abroad, NATO allies in particular, tell Axios privately that they're rattled by Trump — but love working with Defense Secretary Jim Mattis, and are encouraged by the early signs they're seeing from new Secretary of State Mike Pompeo.
The big picture: European allies say they're jarred by the contrast between Mattis' reassuring words, and Trump's fire-and-fury Twitter feed. They say they see an America that's still very much engaged on the ground in Europe — the military ties are as strong and deep as ever — but a president who's viewed by some of these European officials as an angry landlord demanding rent payments from his tenants.
They're worried about July's NATO summit in Brussels. A bad, divided summit, like the recent G7, would put another crack in the post-World War II international order and would empower Putin. 
All world leaders fear being Justin Trudeau'd with Trump Twitter torture.
Over the past month, I've spent time with more than half a dozen top officials from some of America's closest allies, and all say the same thing:
Here is a transactional president who sees the world as a set of countries that owe America money.
Some are happy to pay a little more — whether it be upping their defense budgets to meet NATO targets, or opening a more favorable trading arrangement for U.S. companies.
But they worry that nothing will be enough to satisfy Trump.
One senior European official went as far as to say the relationship between the U.S. and Europe had reached a state of "crisis."
That feels like an overstatement. But relations with Germany are especially bad:
Trump has kept beating up on Angela Merkel — not only privately over trade in automobiles and German investment in Russian energy, but publicly over her immigration policies.
That same European official said he thought U.S-European relations — inflamed by Trump's tariffs, public posturing and shredding of the Iran deal — are worse than at any point in recent memory.
Be smart: While transatlantic relationships are strained, Trump's Middle Eastern relationships — with the deliberate exception of Iran — are flourishing.
Gulf leaders and the Israelis love Trump, support his aggressive attitude towards Iran, and are relieved Barack Obama is no longer president.
I met yesterday with Yair Lapid — chairman of Israel's centrist Yesh Atid party — and Lapid said Trump is on his way to being the most popular American president ever in Israel.
Go deeper