How one lawsuit could upend home medication delivery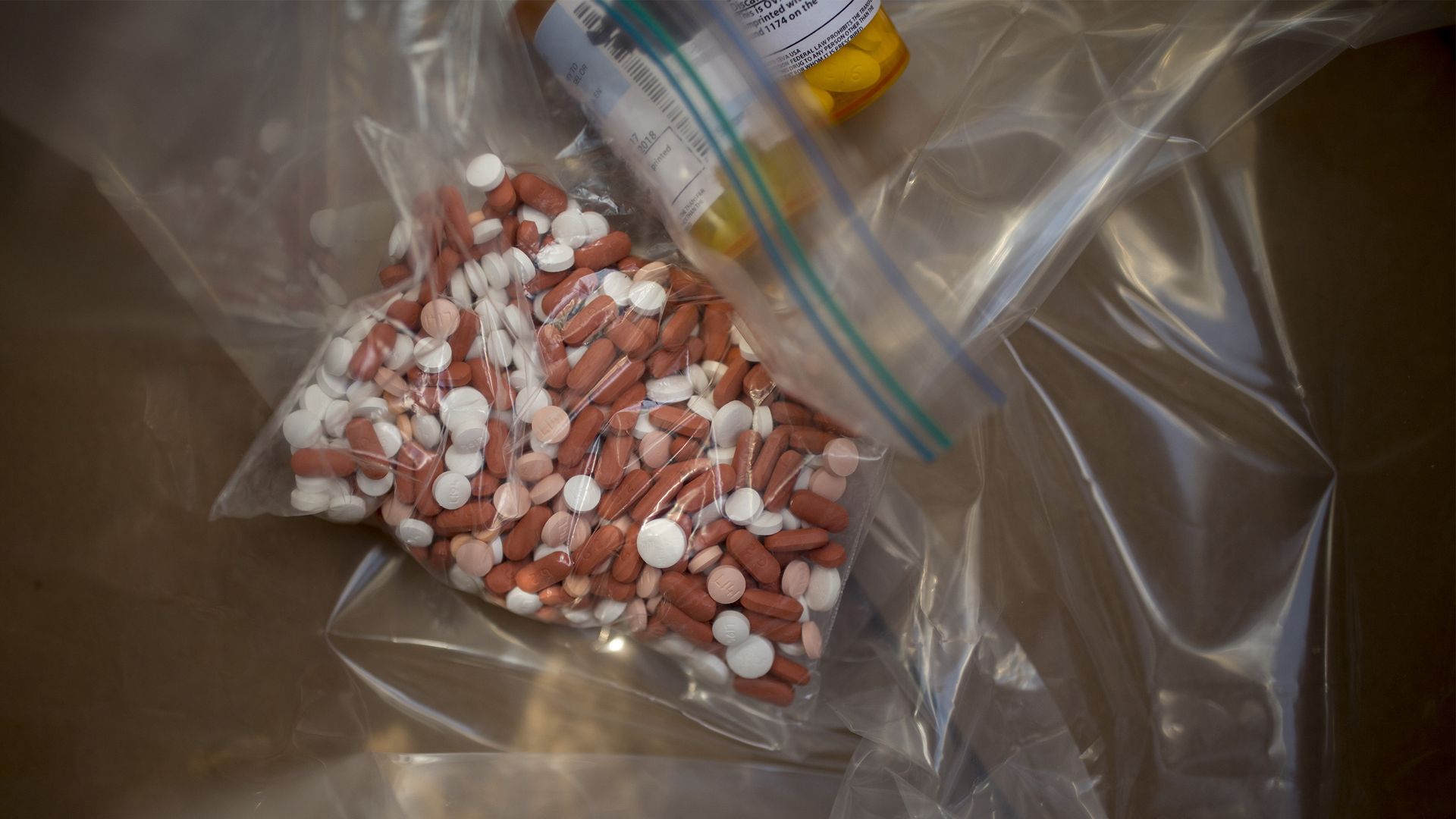 A lawsuit between startup CareZone and pharmacy benefit manager Express Scripts could provide an opening for Amazon to enter the pharmaceutical supply chain.
The bottom line: The dispute is over what constitutes a mail-order pharmacy, a $109 billion business. And CareZone believes it could set the path for Amazon if it's successful against Express Scripts.
The details: Express Scripts is removing CareZone Pharmacy from its network of providers, saying the pharmacy illegally sent prescriptions to states where it is not licensed.
CareZone retaliated with a lawsuit that says its pharmacies and technology do not violate any laws, and accused Express Scripts of engaging in anticompetitive behavior.
Why it matters: It's important for pharmacies to be included in a PBM's network because that allows insured people to use their coverage at those pharmacies.
How it works: CareZone Pharmacy, the target of Express Scripts' action, encompasses two brick-and-mortar pharmacies that dispense medication. CareZone, a legally separate entity, is a smartphone app that helps people get their prescriptions at home, either through mail or courier.
CareZone CEO Jonathan Schwartz, the former CEO of Sun Microsystems, said his company is using the same "agency" model as ride-sharing services. Much like people authorize Uber or Lyft to act as the agent between the driver and passenger, people authorize CareZone to be an agent with their pharmacy and bring them their drugs.
"You're not picking a driver. You're picking a service," Schwartz said.
The other side: The argument boils down to how a mail-order pharmacy is defined. Express Scripts contends CareZone Pharmacy is a mail-order facility because that's how it serves people who live far away from its physical locations.
"We have offered CareZone twice to apply to be in our mail-order network," Express Scripts spokesperson Brian Henry said in an email. "They have yet to respond." Henry would not name the other companies in Express Scripts' mail-order pharmacy network.
Schwartz said Express Scripts is being "duplicitous" in its responses and his pharmacy operation has never mailed anything. Only the technology side delivers drugs, he said.
How Amazon fits in: If CareZone wins this dispute, it could pave the way for other entities, like Amazon, to mimic this new kind of pharmacy business model on its own or through acquisition.
Combined with the existence of "any willing provider" laws — which require middlemen to accept any health care provider (like a pharmacy) that is willing to accept contract terms — this could significantly change home delivery of drugs and make it difficult for PBMs like Express Scripts not to do business with such entities.
"If we force the market open, then Amazon can basically walk into it, and Express Scripts will have some very problematic precedents to deal with," Schwartz said.
When asked if CareZone was in any kind of partnership or acquisition discussions with Amazon, Schwartz said: "We can't comment on that." Amazon also declined to comment.
Go deeper