The Supreme Court decision Silicon Valley is reading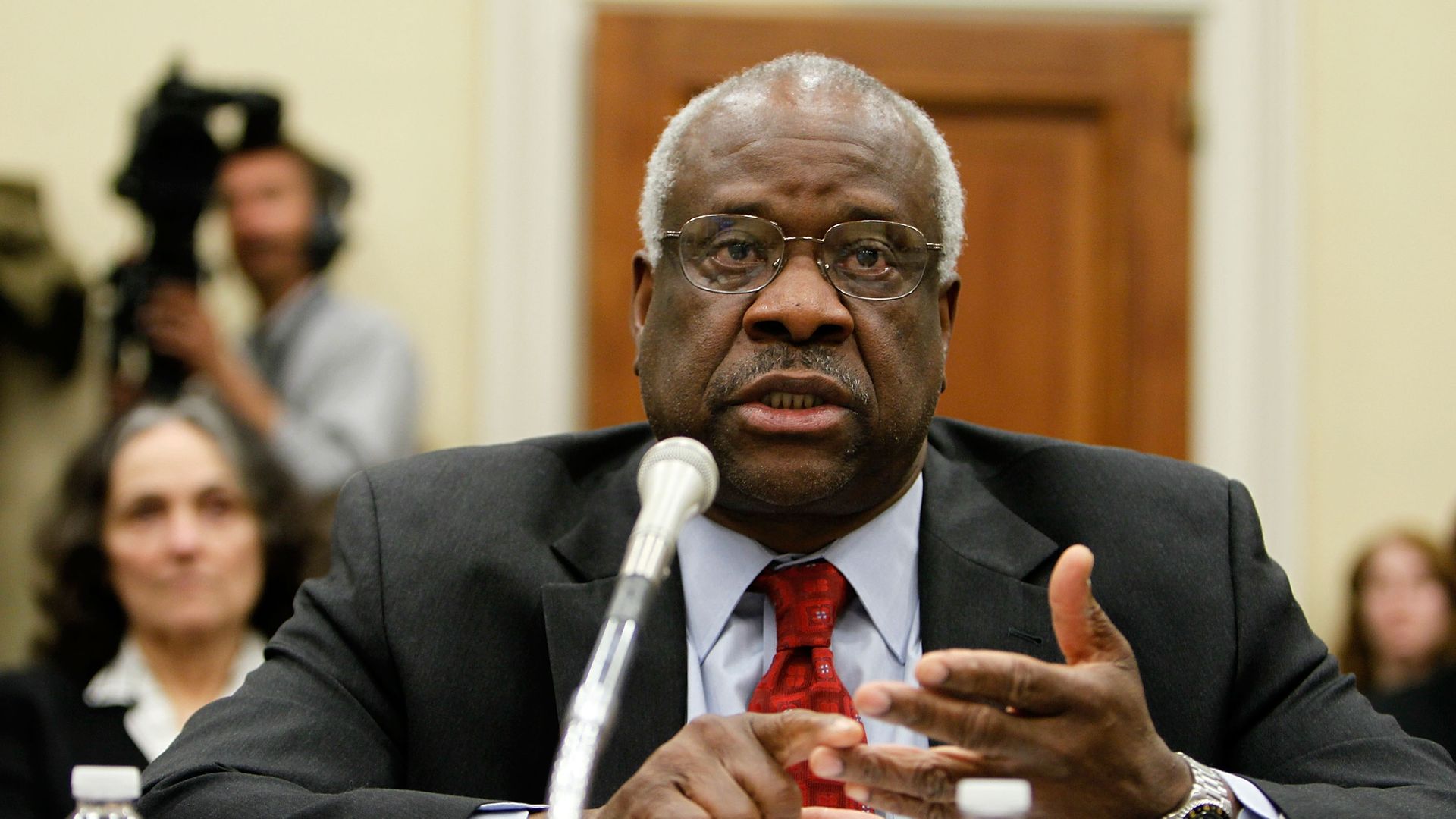 The ripples of a Monday Supreme Court ruling in favor of American Express could be felt on the West Coast, with some arguing it would make it harder for antitrust enforcers to take on big online platforms like Google, Facebook and Amazon.
Why that matters: Many of tech's most profitable firms have created two-sided markets: Google and Facebook serve consumers on one side and marketers on another. Uber links up riders and drivers. Amazon serves customers and also the merchants who use its platform. All these situations make defining a monopoly more difficult.
Justice Clarence Thomas agreed with a lower court that when making an antitrust call on a company that does transactions across a two-sided marketplace, you have to consider whether the whole enterprise is anticompetitive — not just one side of the market. (The case in question concerned American Express' policy discouraging merchants who tried to push customers to use cards with lower merchant fees.)
Yes, but: Thomas split up companies that create two sided markets into two categories, and only applied his analysis to one of them.
He said that his analysis could be applied to "two-sided transaction platforms" that "facilitate a single, simultaneous transaction between participants," including Amex.
But he argued that the courts could consider only one side of a two-sided marketplace "when the impacts of indirect network effects and relative pricing in that market are minor," as is true with a newspaper where readers and advertisers aren't selling anything directly to one another.
Category #2 could be seen as covering Facebook and Google, said Lina Khan, the Director of Legal Policy at the Open Markets Institute, as opposed to companies like Amazon that set up more direct transactions between buyer and seller. "I think instances where you have targeted advertisements funding another business that you're providing to a user, I think those types of cases would risk falling into the type of category that Thomas tries to create," she said of his reference to newspapers.
Khan, who argues for more vigorous antitrust enforcement, said she worried Thomas' ruling creates a murky standard where companies will argue they fall into Category #1 to avoid antitrust enforcers.
The other side: "This case, for the tech industry, simply represents a clarification of the dynamics of two-sided business models captured in a legal decision," said Marianela López-Galdos, Director of Competition and Regulatory Policy at CCIA, a tech lobbying group that filed a legal brief supporting some of Amex's case. "I don't think it gives a free pass to the tech industry."
What's next: Cowen Washington Research Group analyst Paul Gallant wrote in a Monday evening note that he'll be watching for reaction from DOJ antitrust chief Makan Delrahim and Federal Trade Commission chairman Joe Simons — who is going to hold public hearings on the competitive impact of tech platforms — to see how the ruling could affect their approach to tech cases.
Get more stories like this by signing up for our daily tech newsletter, Login. 
Go deeper