The big picture: Why NYC cabbies are committing suicide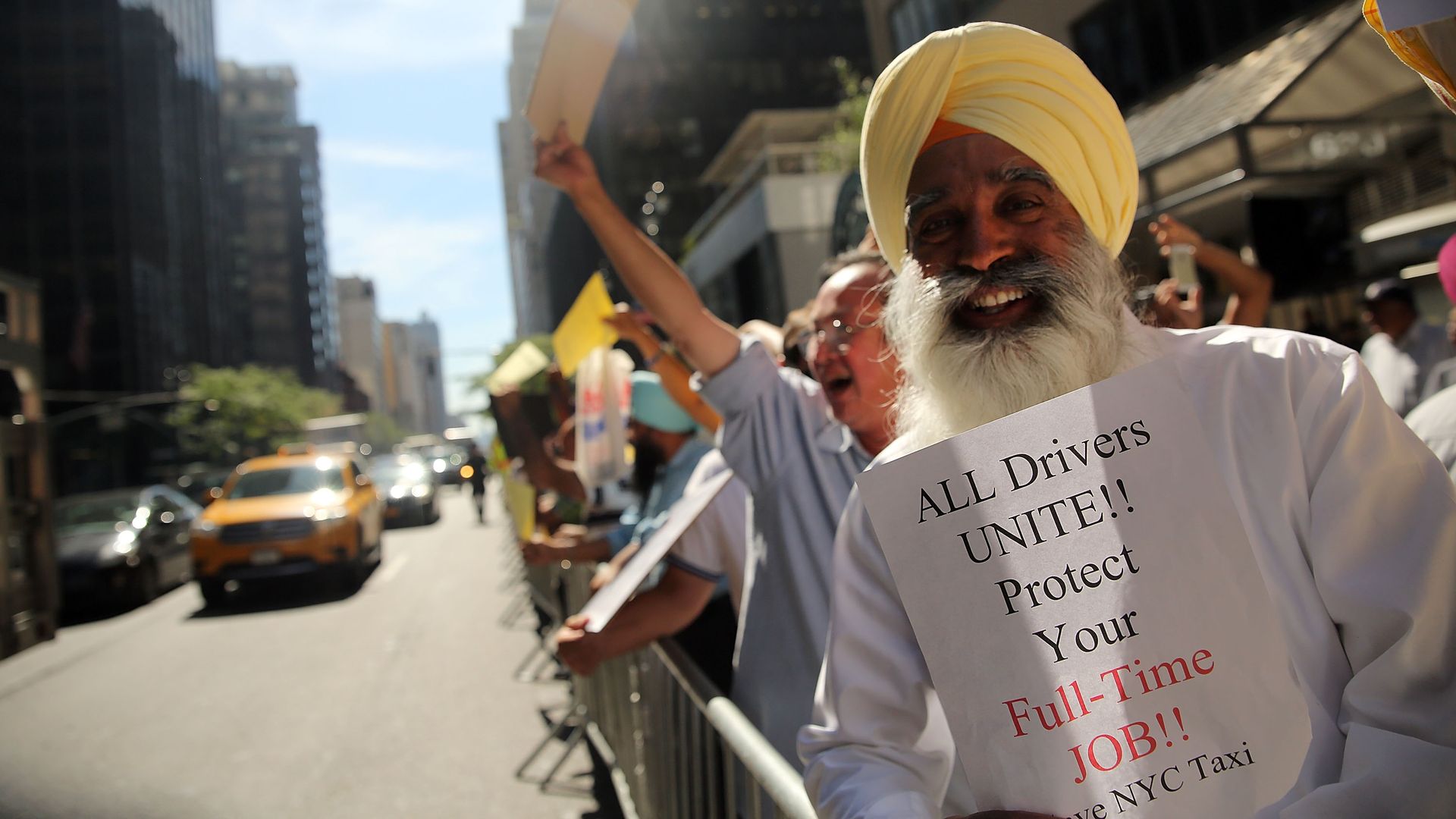 Last Friday, a sixth New York City cab driver — 59-year-old Yemeni immigrant, Abdul Saleh — committed suicide, NBC News reported.
The big picture: Much of the blame is being placed on financial distress spurred by competition with ride-sharing companies in the city.
The competition
The fix
The New York Taxi Worker Alliance (NYTWA) is calling for New York City Hall to "cap the number of vehicles flooding our streets; create a wage floor for drivers in all sectors....establish fare labor standards for FHV drivers and provide immediate relief to struggling yellow cab owner-drivers," according to a press release on Monday.
The NYTWA and Independent Drivers Guild (IDG) are united in wanting more money for drivers, Wired reports: The IDG wants apps to raise the minimum wage by 37%, and the NYTWA wants New York City to raise yellow cab rates.
Both the NYTWA and IDG want NYC "to cap the number of new entrants, as they worry that demand isn't keeping pace with increasing supply of drivers," per Wired.
What they're saying
An Uber spokesperson told Axios: "We are deeply saddened and our thoughts are with Mr. Saleh's family. Any new regulations must not hurt the millions of outer borough Uber riders who have long been ignored by yellow taxis and who don't have access to reliable public transit. We believe that all full-time drivers in NYC - taxi, limousine and Uber alike - should be able to make a living wage and support their families."
NYTWA Executive Director Bhairavi Desai said, per Monday's press release: "We will not allow the status quo of callousness toward struggling drivers to continue for one more day...We will not sit idly by as Wall street behemoths and their shills try to derail regulation or limit it to just one sector of drivers when every driver in every sector...is sinking deeper into profound desperation. Suicide can't be the only way that desperate poor people find mercy."
The IDG said in a statement: "We stand in solidarity with our fellow drivers and will not rest until all of our city's For-Hire Vehicle drivers can make a living wage, start spending time with their families, and be able to retire. Until there are living wage rules to protect for-hire vehicle drivers and a halt on new drivers entering the industry, the desperation will continue. Our deepest sympathies to the family and friends of Mr. Saleh and to all our fellow suffering drivers, whether they drive for taxis, livery, apps or black cars."
Go deeper