Go deeper: Why some immigration hardliners back zero tolerance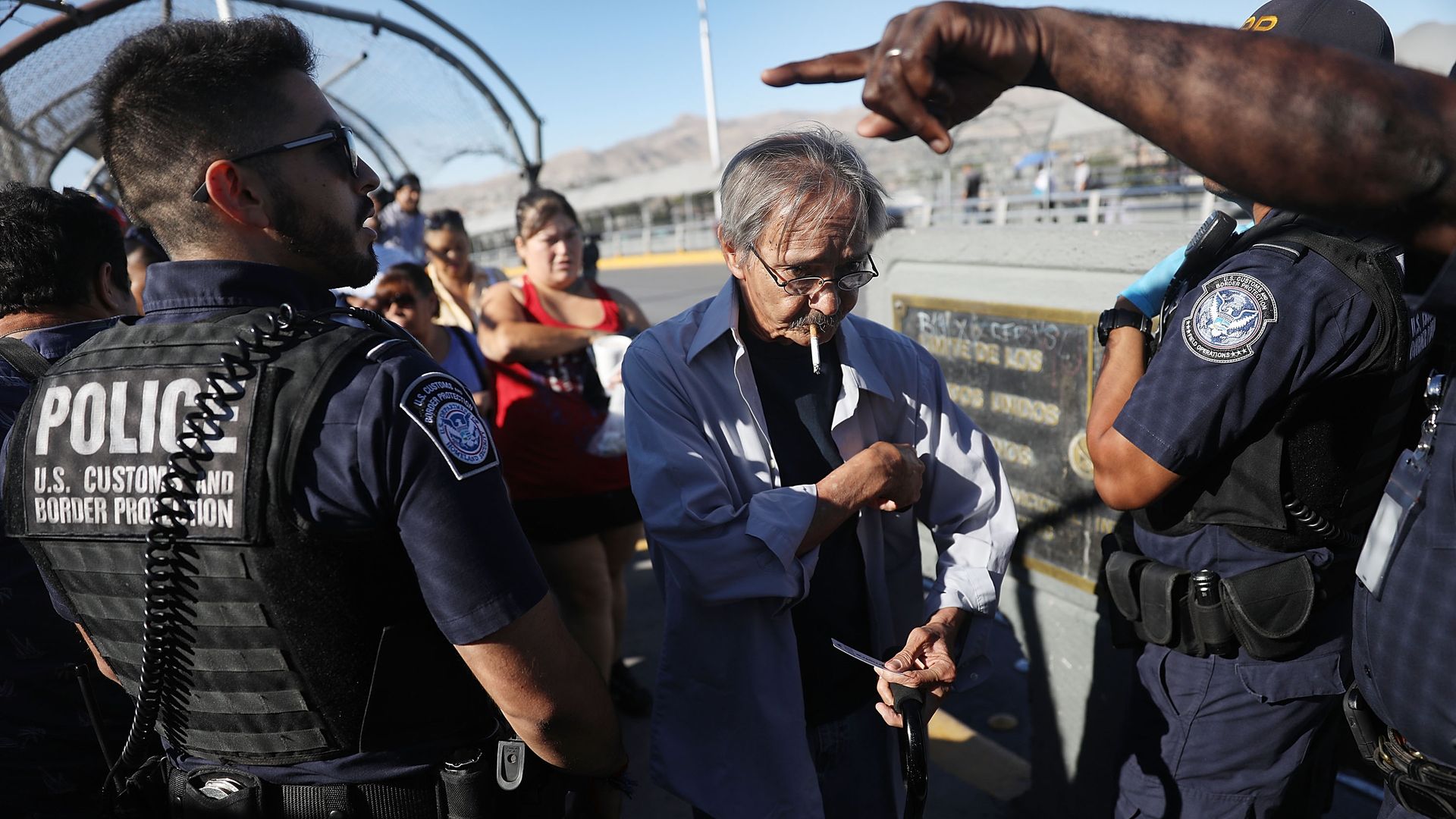 Some conservative groups backing the Trump administration's "zero tolerance" approach to illegal immigration maintain that family separation is necessary to enforce U.S. immigration laws, and feel the media reports surrounding the issue are blown out of proportion.
The big picture: The policy of detaining minors separately from adults at the border has sparked national outrage, with members of both parties urging an end to the practice. Facing pressure, President Trump signed an executive order Wednesday intended to keep families together, but maintained that he is committed to continuing the zero-tolerance policy. The administration and its supporters want to make sure this doesn't lead to families being caught and released in the U.S., which could become an incentive for them to cross the border together.
The details: The Flores Settlement and the Trafficking Victims Protection Reauthorization Act both ensure that minors spend little time in detention centers. Per the Flores Settlement, that time is limited to 20 days. After that, children are released to foster homes or released with their families.
What they're saying: Some hardline immigration groups see this as a loophole that incentivizes families to travel together so that they may be released together.
Mark Krikorian, the executive director of conservative think tank Center for Immigration Studies, cited border patrol data measuring the number of family units apprehended at the border.
The patrol first measured apprehensions in 2013, and reported 15,000 individuals traveling as a part of a family unit.
That number has risen to 75,000 at the southwest border in 2017, which Krikorian said makes this zero-tolerance approach especially necessary.
"The reason the administration has done this is that bringing a child with you has been a ticket to release in the U.S. In other words, the administration isn't so much targeting illegal immigrants bringing kids, it's no longer privileging them."
— Krikorian to Axios
Dan Stein, president of the Federation for American Immigration Reform (FAIR), said that if the policy is given time to take effect, it could deter illegal immigration while also keeping children safer.
"People coming from Mexico are hesitating about coming in because of separation. If you do this for six months, it slows to a trickle and you've discouraged organized crime and it's working," Stein said. He emphasized that the policy could keep people from putting children in the compromising situations associated with immigration, during which they could be subject to health risks and physical danger.
Asylum seekers: Both Krikorian and Stein stressed that asylum seekers should file their claims in their countries of origin or in Mexico to remove burden from the American justice system and keep illegitimate claims out of the country.
Yes, but: Even some who want to curb illegal immigration ended up speaking out against the policy when photos of children, some being detained in poor conditions, surfaced. The issue became seen as a humanitarian crisis rather than a political strategy, ultimately driving Trump to agree to end the practice.
The bottom line: The backlash against the separation of families — a result of the "zero tolerance" policy — doesn't mean supporters of zero tolerance will rethink their positions, because they still won't want to give families an incentive to cross the border illegally and break the law.
Go deeper:
Go deeper