Go deeper: What the Supreme Court's voter purge case means for states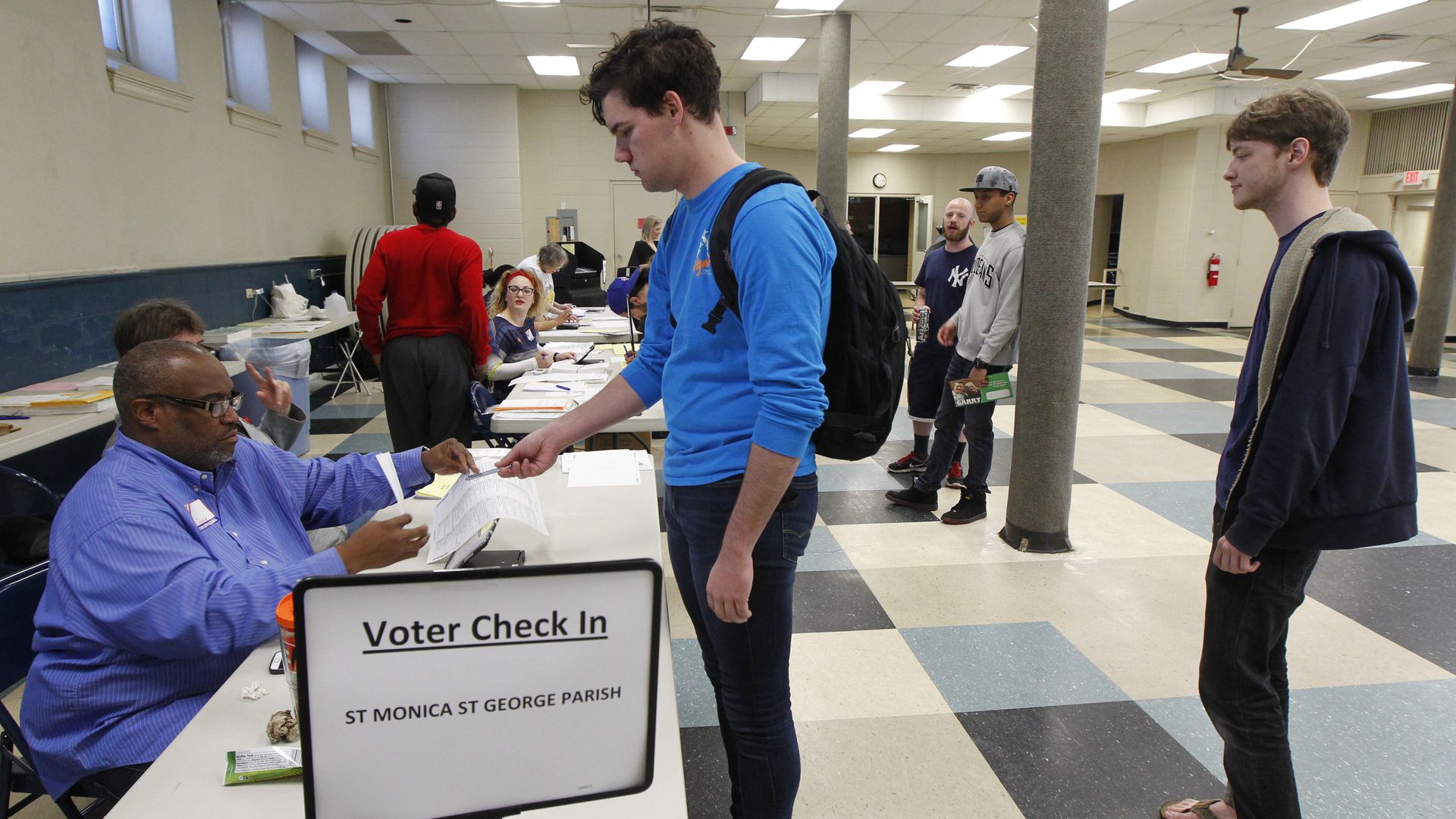 The Supreme Court's recent ruling allowing Ohio to kick thousands of infrequent voters from its registration rolls has deepened partisan divisions over ballot access ahead of one of the most consequential midterm elections in decades.
The big picture: Voting rights advocates point out that the practice disproportionately impacts racial minorities as well as young and poor voters who traditionally vote at lower rates and support Democratic candidates. They believe that Republican majorities in other states may be emboldened by the decision and adopt more aggressive policies.
Ohio Republicans have contended they're simply promoting ballot integrity — and that the process keeps the state's voter registration lists up-to-date in order to combat what they say is widespread voter fraud. "Now with the blessing nation's highest court, it can serve as a model for other states to use," Ohio Secretary of State Jon Husted said in a statement.
The details: All states periodically clean up their voter rolls, but only seven remove voters simply because they're inactive. Some of these states, including Georgia, Montana and West Virginia, have crucial upcoming statewide elections. The latter two have competitive Senate races in November with the most vulnerable Democratic senators seeking re-election in areas President Trump won handily in 2016.
Under Ohio's policy — the most aggressive in the country — the state mails notices to registered voters who haven't voted in two consecutive years, asking them to confirm they still reside at the same address. If they fail to respond and do not vote in the next four years, their names are purged.
Justice Sonia Sotomayor emphasized in a pointed dissent that the order "entirely ignores the history of voter suppression," which spurred the National Voter Registration Act to safeguard voters.
Justice Samuel Alito, writing for the majority, said the court wasn't deciding whether the policy "is the ideal method for keeping its voting rolls up to date. The only question before us is whether it violates federal law [the NVRA]. It does not."
Yes, but: While the order is a huge setback for voting rights, Dale Ho, director of the Voting Rights Project at the American Civil Liberties Union writes in a New York Times op-ed that the "court did not give a green light to states to make sweeping purges of eligible voters without first giving them notice and an opportunity to contest their removal."
Ohio plans to resume its system. The AP reports that the other states with similar policies haven't yet indicated they would tighten theirs.
Go deeper