What we're reading: U.S. is unprepared for a global plague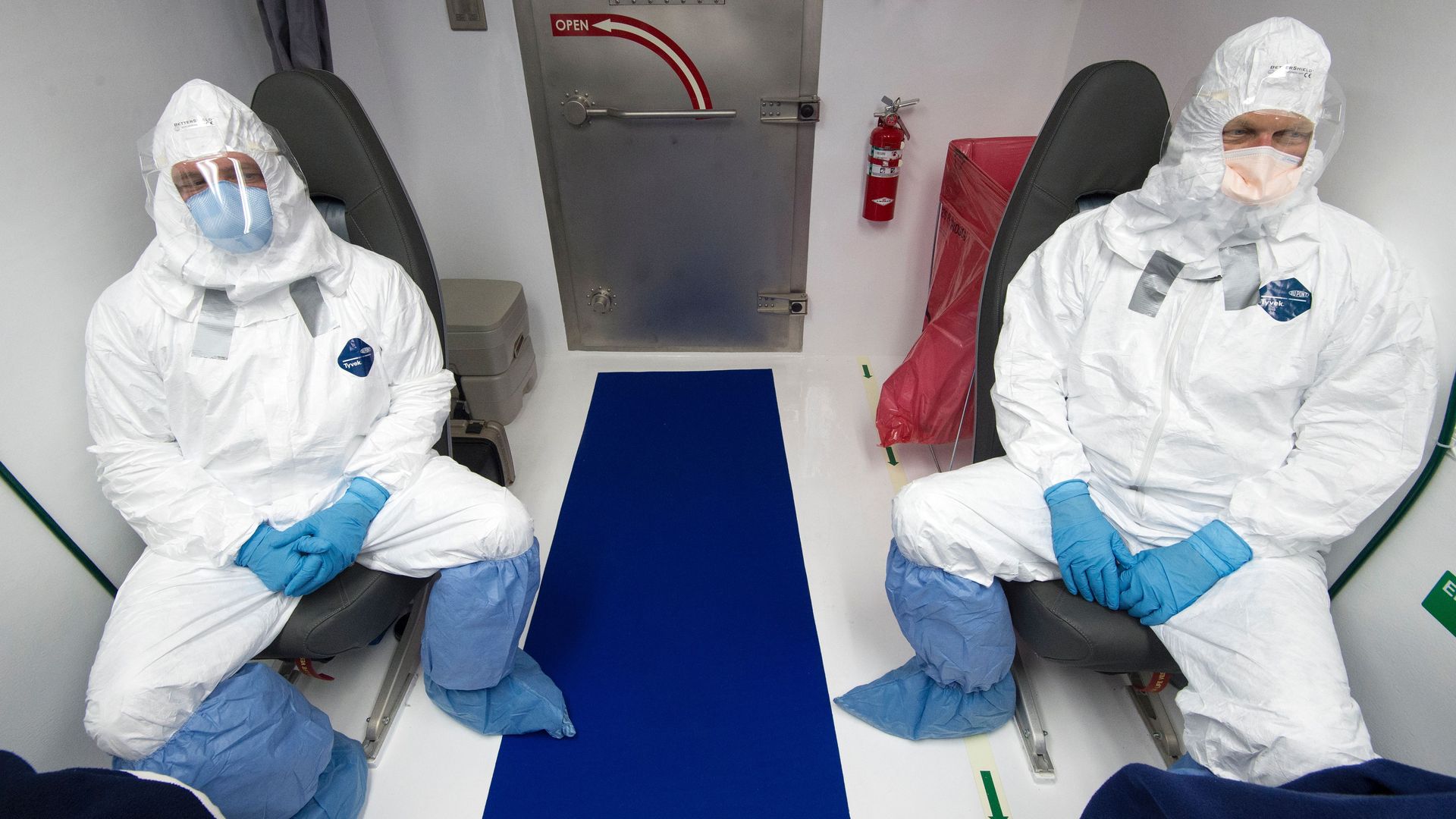 The next global plague is coming, Ed Yong writes in the Atlantic, and the U.S. is "disturbingly vulnerable."
The big picture: The total number of outbreaks every 10 years "has more than tripled since the 1980s," Yong says. Bill Gates told Yong that if there was a severe flu pandemic, more than 33 million people could be killed across the world in 250 days.
"Boy, do we not have our act together."
— Bill Gates
The possibilities
With 7.6 billion people in the world, and more than half of them living in cities, the chance for an epidemic to spread is increasingly high.
Yong writes: "In these dense throngs, pathogens can more easily spread and more quickly evolve resistance to drugs."
The concerns
Treating a plague is expensive: Per Yong, treating three Ebola patients in the U.S. in 2014 cost more than $1 million.
A severe flu pandemic would cost an estimated $683 billion, and "global output would fall by almost 5 percent—totaling some $4 trillion."
It takes time, which people don't always have: In 2009, it took four months before vaccines could begin to be rolled out to treat the new pandemic strain of the flu.
"By then the disaster was already near its peak. Those doses prevented no more than 500 deaths...Some 12,500 Americans died," Yong writes.
It requires a coordinated federal response, which Yong says "is harder than one might think."
In 2016, when President Obama asked Congress for $1.9 billion to fight the Zika virus, "Congress devolved into partisan squabbling," and it took more than seven months to come up with the money ($1.1 billion).
The optimism
The Coalition for Epidemic Preparedness Innovations was created last year, and governments and nonprofits have already pledged $630 million. It's focusing on specific illnesses, and pushing towards testing vaccines and stockpiling them.
The coalition is also working towards "platform technologies" that would be able to create a vaccine for any kind of virus within 16 weeks of its discovery, Yong writes.
The bottom line
Preparing and confronting a pandemic relies on multiple moving parts, from the doctors to the nurses, appropriate hospital isolation for infected patients, vaccine delivery, Congress appropriation, and more. The director of the National Institute of Allergy and Infectious Diseases, Anthony Fauci, told Yong: "It's like a chain—one weak link and the whole thing falls apart. You need no weak links."
Go deeper