Progress remains elusive for women in India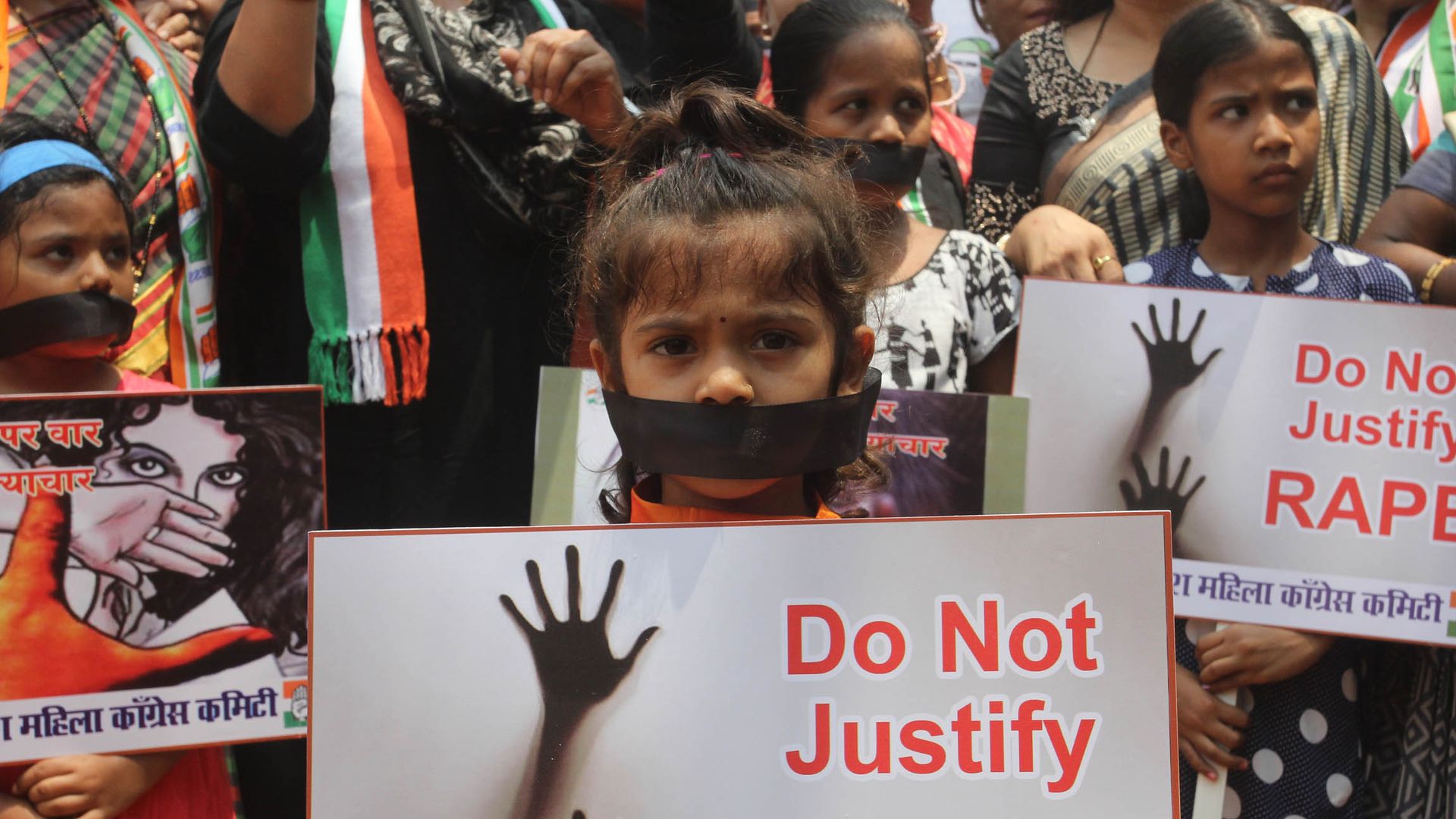 India is the world's largest democracy, a hub for economic growth and innovation, and, by some measures, one of the worst places on earth to be a woman.
The big picture: Policy changes to improve conditions for women are starting to take effect, but repressive cultural norms make progress slow. In fact, as India's economy has grown, women's labor force participation has actually declined. That's unusual for a rapidly developing economy, according to Shamika Ravi of Brookings India. "It's about safety," she says.
"Accessing the job market requires good safe public transport and work spaces," Ravi explains. And parts of the country remain extremely unsafe, with the capital, Delhi, being among the worst.
Horrific stories of rape and violence against women and girls in India have made headlines around the world, most recently when an 8-year-old Muslim girl was raped and murdered in Kashmir and some Hindu nationalist politicians stood by the accused.
Rates of violent crime against women have gone up, though that's largely due to an increase in the reporting of rapes, says Ravi. For decades, rapes would go unreported, especially in rural India, because women feared they would be ostracized.
Steady, but slow, progress
Prime Minister Narendra Modi has made improving the condition for women in India a priority, says Ravi.
Beti bachao, Beti padhao, which means "Save our daughters, teach our daughters," is his flagship initiative for women and girls.
At the village level — in local "Panchayats" — 50% of seats in governing bodies are reserved for women. There's a bill to make that the standard at state and national levels, too — and it has the support of the ruling party.
India's toilet initiative, under which the government is trying to install 75 million public toilets by 2019, is not on its face a women's rights move, but it will increase women's access to sanitation materials, Ravi says. There's also a national effort to provide pregnant women with healthy food options.
But policy changes can only go so far to address the problem. The bigger issue is deep-seated cultural biases against women, Ravi says.
Due to high rates of female infanticide in rural areas (families value male babies more than female babies), India has a serious sex ratio problem. Men outnumber women by tens of millions, reports the Washington Post.
"The consequences of having too many men, now coming of age, are far-reaching: Beyond an epidemic of loneliness, the imbalance distorts labor markets ... and parallels increases in violent crime, trafficking or prostitution in a growing number of locations," the Post's Simon Denyer and Annie Gowan write.
One piece of good news: The rate of child marriage for Indian girls has fallen significantly, due in part to the fact that more girls are getting an education.
Go deeper