Go deeper: New York's allegations in the new Trump foundation lawsuit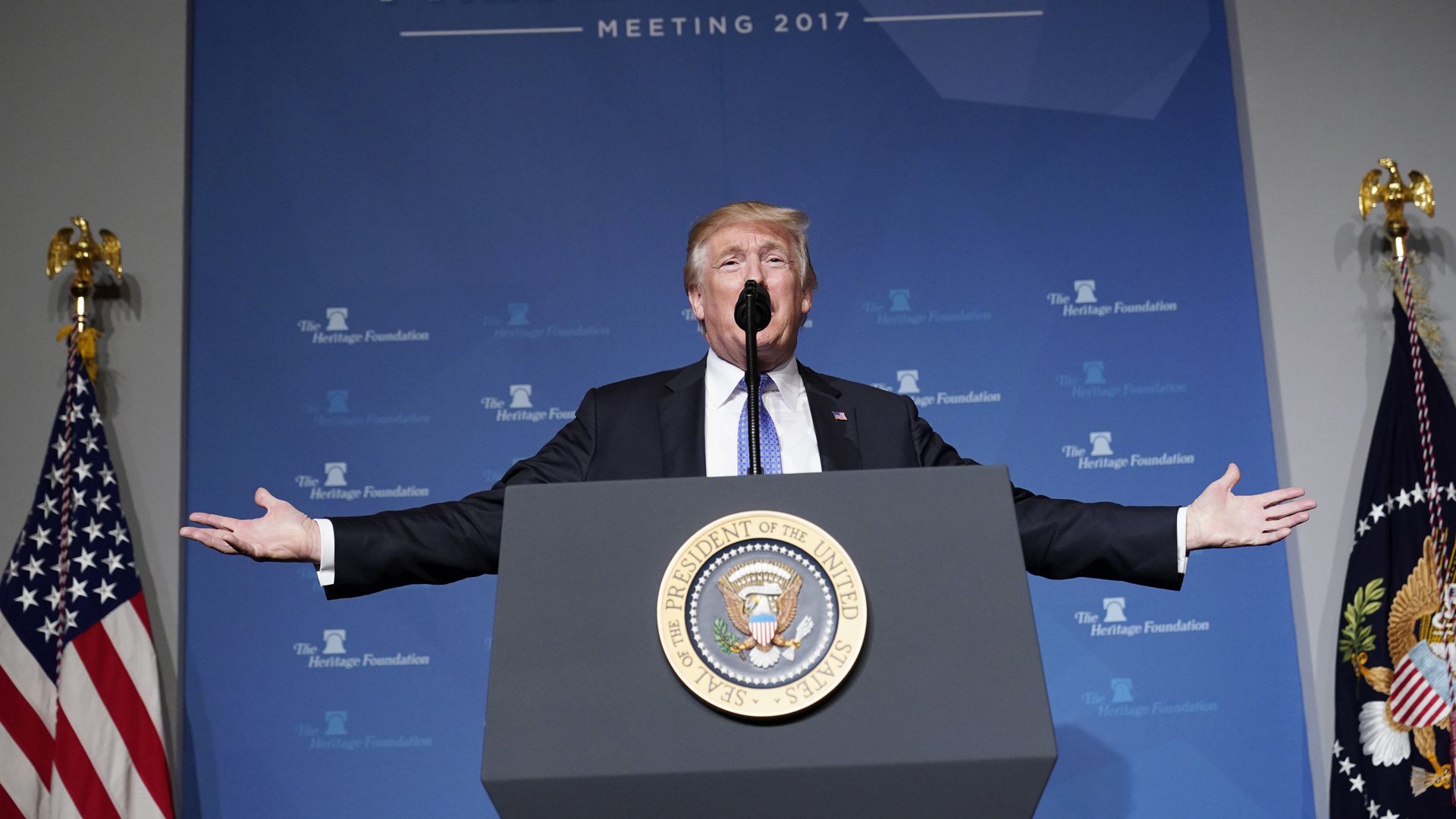 The lawsuit brought against the Donald J. Trump Foundation — which President Trump says he won't settle — details instances of engaging illegally in political activity and self-dealing transactions.
The big picture: New York Acting Attorney General Barbara Underwood, who inherited the investigation from former AG Eric Schneiderman, says Trump used "charitable assets to pay off the legal obligations of entities he controlled, to promote Trump hotels, to purchase personal items, and to support his presidential election campaign."
"Donald J. Trump Special Event for Veterans"
The lawsuit claims the Foundation illegally "[engaged] in political activity" during a fundraiser for veterans.
According to Underwood: "[T]he Fundraiser was a Trump Campaign event in which the Foundation participated."
"The 'And Justice for All' Transaction"
The lawsuit states that the Trump Foundation illegally contributed $25,000 to "And Justice for All," a political organization in Florida.
"Self-Dealing, Related Party Transactions"
September 11, 2007: $100,000 was given to the Fisher House Foundation "to settle legal claims made against Mar-a-Lago."
February 14, 2012: $158,000 was given to the Martin B. Greenberg Foundation "to settle legal claims against The Trump National Golf Club."
November 5, 2013: $5,000 payment was made to the D.C. Preservation League "for promotional space featuring Trump International Hotels in charity event programs."
March 20, 2014: $10,000 payment was made to the Unicorn Children's Foundation "for a painting of Mr. Trump purchased at an auction for that charity."
December 14, 2015: $32,000 was given to the North American Land Trust, "in connection by a pledge by Seven Springs, LLC to fund the management of a conservation easement."
Potential consequences
The lawsuit seeks...
$2.8 million in restitution, plus additional penalties.
To bar Trump from serving as "officer, director, trustee, or equivalent position" for 10 years.
To similarly bar Ivanka, Eric, and Donald Jr. from boards of New York nonprofits (or nonprofits that operate there) for a year.
Charge foundation directors with "several million dollars" in penalties.
Read the lawsuit in full
Go deeper