Certain rapid flu tests don't work half the time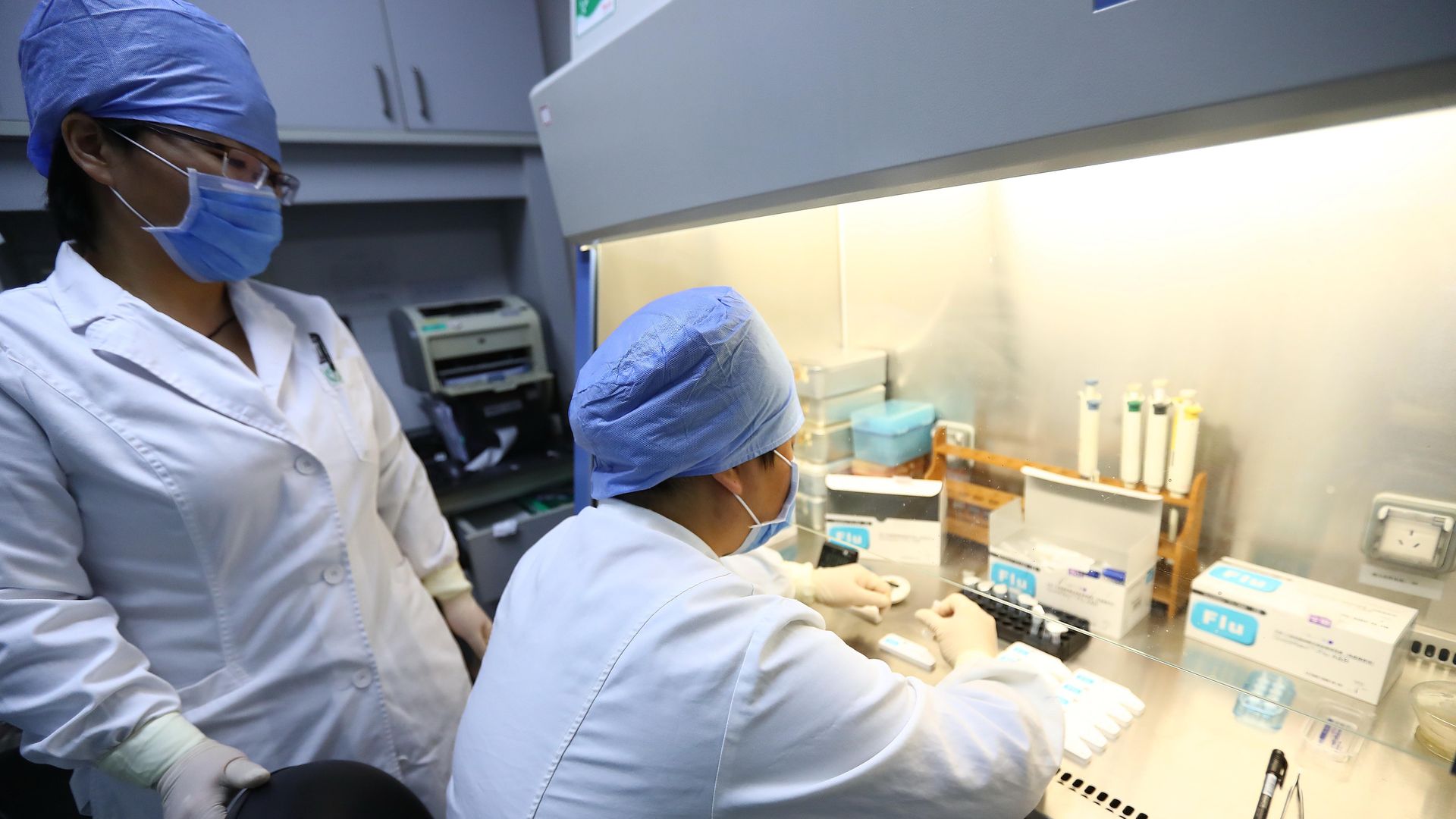 A group of researchers confirmed via a study abstract what has been suggested by the Centers for Disease Control and Prevention — rapid influenza antigen tests (RIATs) are not trustworthy because their sensitivity is too low.
Why it matters: 50% of patients infected with influenza may have had prolonged illness if they were initially misdiagnosed as flu-free and didn't receive the proper treatment, according to the abstract presented Sunday at the ASM Microbe 2018 conference.
"You have to be careful about relying heavily upon rapid flu tests."
— Anthony Fauci, director, National Institute of Allergy and Infectious Diseases
Advice: Fauci told Axios that clinicians and patients should rely upon nasal swabs that look for influenza viral RNA or nucleic acids, or have their patient samples cultured for a couple days. But, treatment should not wait for cultured analysis, he added, because it's most effective at the beginning of the infection.
What the researchers did: Intensive care unit doctors in Taiwan started requiring virus cultures at the same time as RIATs. The team retrospectively analyzed the results for 307 patients with laboratory-confirmed influenza admitted to ICUs over a 10-year period, from August 2009 to July 2017.
What they found: "Decision-making based on RIAT is strongly discouraged and prompt empiric antiviral medication is justified in severe respiratory infection," the researchers say in the abstract, which is not yet peer-reviewed.
Out of the 307 cases, RIAT was checked for 259, and of those, 126 or 49% were wrongly labeled.
Patients who had tested negative for influenza using the RIAT, when compared to the RIAT-positive patients, had a longer average ICU stay of 12 days. This compared to an average length of stay of just 9 days for those labeled immediately positive.
Study limitations: Montreal Children's Hospital's Jesse Pappenburg, who was not part of the study, says "I agree that the scientific literature suggests that rapid diagnosis of influenza can improve patient outcomes through earlier antiviral treatment, especially among patients sick enough to be admitted to hospital."
However, he pointed out that it's difficult to analyze research without seeing the full study data. Pappenburg says he was surprised by the high rate of RIAT-negative samples that turned out to be positive cases, particularly since even during peak weeks of the flu season, only 30–50% of samples usually test positive.
"It may be that older, more severely ill patients are the ones that had false-negative RIAT results; they are also perhaps more likely to have more severe disease. However, it is impossible know because there is no information given comparing the baseline characteristics" of the study participants, Pappenburg says.
The most recent flu season, generally considered the worst one in 8 years, was confirmed by the CDC last week as a "high severity season." And, the cases identified as influenza are likely an underestimation, the CDC's report said, partly due to "poor reliability of rapid test results and greater reliance on clinical diagnosis for influenza."
What's next: The FDA recently reclassified rapid flu tests, so that new purchases must meet the minimum of more than 80% sensitivity.
"Traditional RIATs are still being used in the U.S. but we anticipate that they will be phased out as the U.S. FDA has reclassified influenza rapid tests," Pappenburg says. "Newer antigen detection tests with automated readers are becoming more and more popular and they have better performance than traditional RIATs."
Go deeper