What they're saying: The fallout from the Trump-Trudeau G7 spat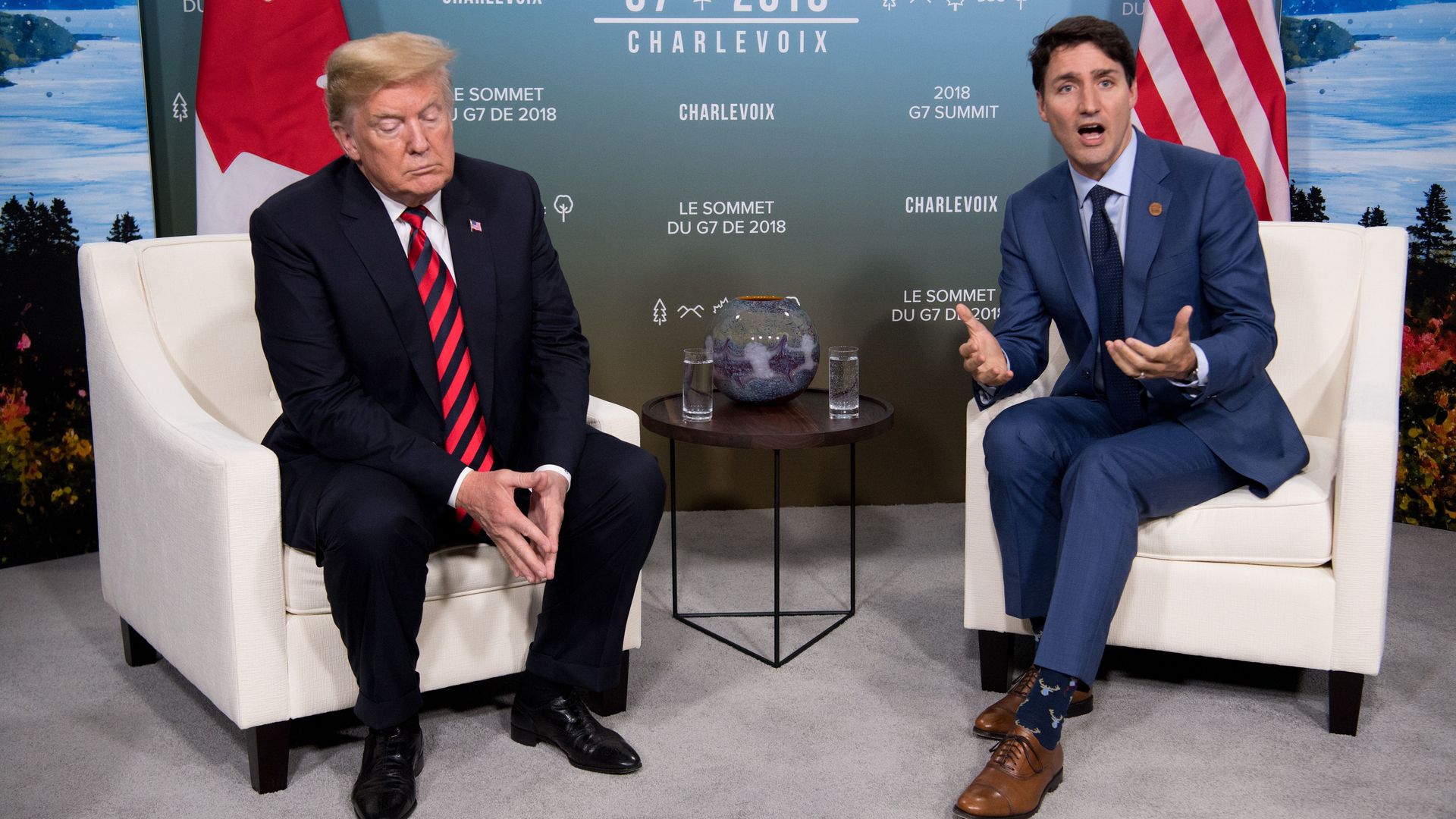 The United States went on the offensive against Canada in the face of a mounting diplomatic and trade crisis as White House advisers on the Sunday shows lashed out at Canadian Prime Minister Justin Trudeau — the morning after President Trump derided him as "very dishonest and weak."
What's happening: The spat has caused other G7 countries — including Canada, Germany, and France — as well as top Trump critics to issue scathing rebukes of the administration's pushback against America's top allies.
The backdrop: President Trump tweeted his decision to not endorse the commitment with fellow G7 nations — just hours after Canadian Prime Minister Justin Trudeau announced that all seven countries had signed the agreement, despite trade tensions. Trump's decision, per his chief economic adviser Larry Kudlow, was "a reaction" to Trudeau's statement at a post-G7 press conference that Canada would stand up for itself and retaliate against U.S. tariffs.
What they're saying:
Canadian Foreign Affairs Minister Chrystia Freeland: "Canada does not believe that ad hominem attacks are a particularly appropriate or useful way to conduct our relations with other countries."
The Élysée Palace, the residence of French President Emmanuel Macron, via CNN: "International cooperation can't depend on anger and small words. Let's be serious and worthy of our people. We spent two days obtaining a draft and commitments. We stick to it. And anyone who leaves and turns their back on them shows their inconsistency."
German Foreign Minister Heiko Maas, per Reuters: "It's actually not a real surprise. We have seen this with the climate agreement or the Iran deal. In a matter of seconds, you can destroy trust with 280 Twitter characters. To build that up again will take much longer."
John Brennan, CIA director under Barack Obama: "Your wrong-headed protectionist policies & antics are damaging our global standing as well as our national interests. Your worldview does not represent American ideals. To allies & friends: Be patient, Mr. Trump is a temporary aberration. The America you once knew will return."
Sen. Bernie Sanders: "I find it very strange that President Trump has such a hard time getting along with the leaders of the world's major democracies but feels very comfortable with despots and authoritarian leaders like Putin, Xi Jinping, Duterte and Mohammad Bin Salman."
Sen. John McCain: "To our allies: bipartisan majorities of Americans remain pro-free trade, pro-globalization & supportive of alliances based on 70 years of shared values. Americans stand with you, even if our president doesn't."
Go deeper