The latest: Trump's G7 battle as he preps for North Korea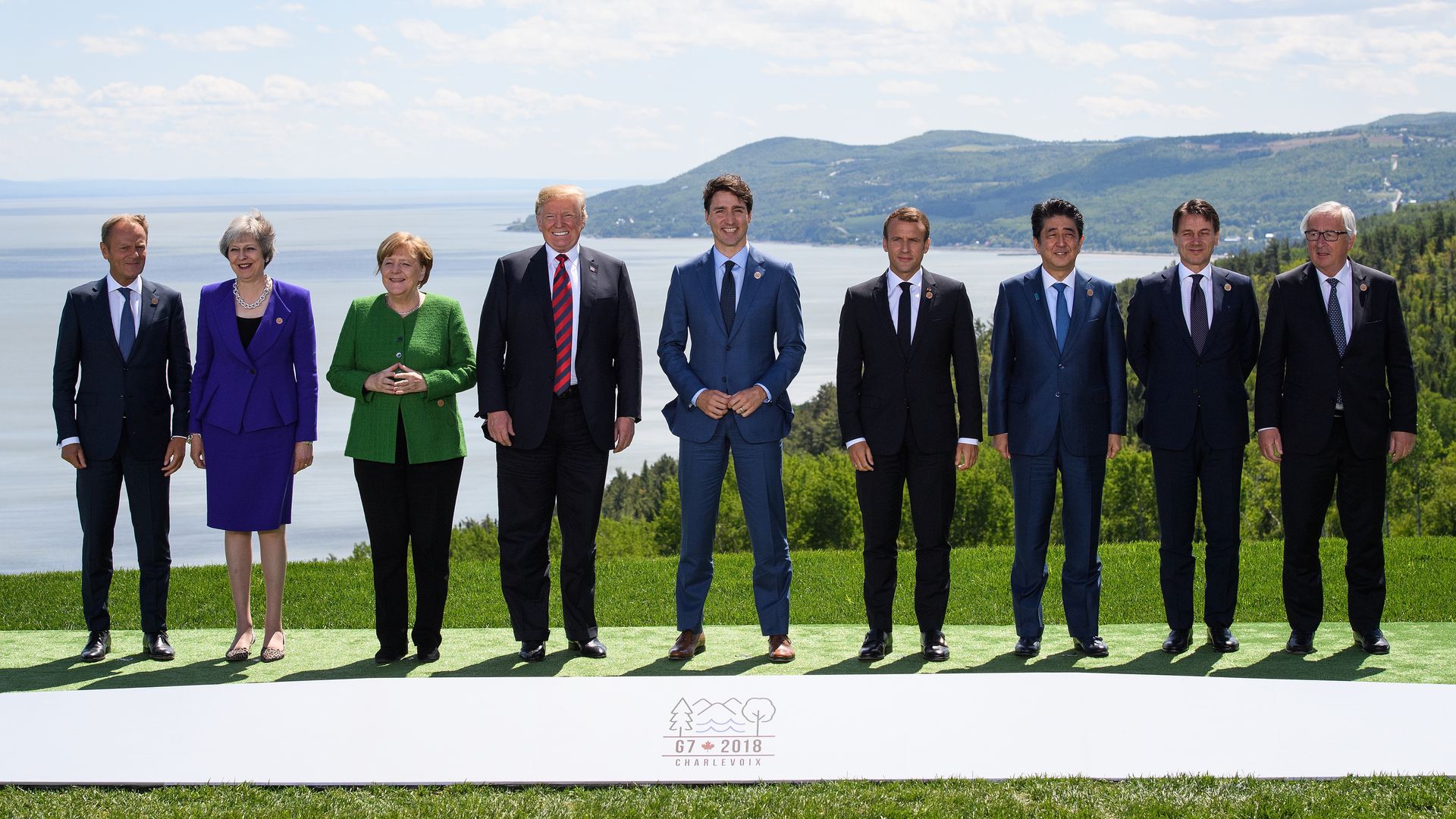 President Trump is in Quebec, Canada for a "skinny" version of a G7 summit with allies he has recently slapped with tariffs. What would normally be an opportunity for industrialized democracies to forge unity on key challenges, will be anything but, Richard Fontaine tells Axios.
The latest: President Trump said on Saturday morning before leaving the G7 summit that his meeting with North Korea's Kim Jong-un is "a one-time shot" for the regime's dictator.
Addressing the media just before catching his flight to Singapore, President Trump said of his G7 counterparts, the "relationships are very good," and he doesn't "blame them" for the issues with trade — "I congratulate the leaders of other countries for so crazily being able to make these trade deals that were so good for their country."
On trade: Trump said the "relationships are very good" with other foreign leaders, but that if trade isn't fixed, "we're not going to deal with these countries." Trump said: "we're like the piggy bank that everybody's robbing."
On reinstating Russia to G7, and re-forming G8: "Having Russia back in would be a positive thing," but "I'm not looking to play games."
On preparation for North Korea: Trump said "we're going in with a very positive spirit," and he'll know " very quickly I'll know whether or not something good is going to happen
Earlier this morning, the president arrived nearly 20 minutes late for his first event of the day: A gender equality advisory council breakfast with fellow G7 leaders.
The big picture, per Erik Brattberg: The prospect of growing U.S. isolation has not deterred President Trump, who will likely use the summit to push his unilateral, economic nationalist trade agenda even harder.
The optics of doing so while simultaneously cutting a deal with ZTE, the Chinese technology giant suspected of posing a national security threat to the U.S., add to allies' sense of victimhood.
What's next: The U.S.-North Korea summit begins in Singapore on Tuesday. Trump said on Saturday that Kim has "an opportunity, the likes of which I think almost…very few people have ever had," and that he believes the reclusive nation "will be able to be a tremendous place in a very short period of time."
Go deeper